By Brian Sozzi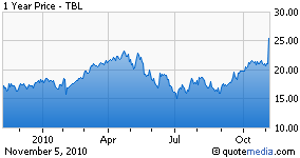 Timberland shares (NYSE:TBL) hiked significantly higher in response to its earnings release on November 4. Buyers beware at current valuations levels. I downgraded my recommendation on Timberland shares to Sell from Hold for our institutional service.
Timberland had a knockout third quarter, if one were solely to obverse the headline EPS print cross the Bloomberg terminal. Though Timberland's big idea approach to product innovation and marketing continues to play out in the financials, with Earthkeepers revenues +400% year over year in North America in 3Q10, there are enough concerns in my humble view that triumph the pockets of growth in the product portfolio.
The stock is valued at 15.3x my new FY11 EPS estimate of $1.67 (from $1.56), which I establish below consensus forecasts given the headwinds I envision blowing onto the shores in upcoming quarters. I think multiple contraction is warranted on Timberland shares as FY11 will represent a year of gross margin and operating margin contraction, based on my modeling assumptions.
Downgrade Details
Classic boot business still instrumental to really unlocking Timberland's financial potential: Unfortunately, the Classics business was down year over year, and CEO Jeff Schwartz let it be known that he was "disappointed." The turnaround of the business is not "working as well or as swiftly as we want", according to Schwartz. I can't say this is a new development as Timberland has thrown the kitchen sink (on the ground teams and cleaning up channel inventories) at returning Classics to a growth glide path. However, directionally the business appears to have lost the modest amount of traction garnered earlier in the year.
Margins: Commentary on gross margin left me with the impression that recent items that have driven expansion are unsustainable into FY11. In 3Q10, Timberland's gross margin expansion of 170 bps year over year was deconstructed as (1) 40% mix (sustainable); (2) 33% lower closeout sales (unsustainable, especially if elevated inventory, or "backlog", must be cleared) and less return allowances, and the remainder "just FX and lower input costs." Clearly, with product costs on the rise a tailwind to gross margin will vanish. Moreover, not only is Timberland "being very thoughtful about pricing and we're just not taking it right up with the spring business", but "prices will come later in the year and it won't fully offset higher input costs." Factor in Timberland's investment in a new ERP system, and the Street may have too much of an optimistic operating margin expectation.
Quality of 3Q '10: Revenue fell short of consensus forecasts, as did operating income. Yet, the release of certain tax reserves brought the 3Q10 tax rate to 28% from 38% in 3Q09.
See It in the Visuals...
Timberland has done a good job at extracting cost efficiencies from its operations. Having shuttered underperforming retail stores some two years ago, and is manufacturing boots from recycled materials, Timberland is indeed in a stronger fundamental position relative to prior years. However, the company's gross margin may have now peaked at a higher level than historical, while sales growth is moderating as wholesalers plan inventories cautiously after rebuilding them in the first part of 2010.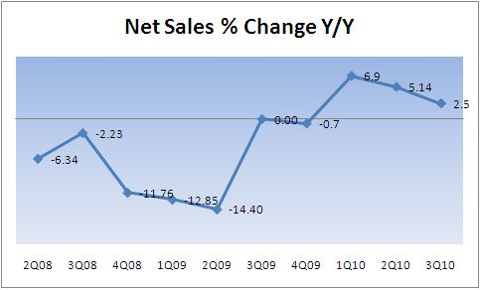 Disclosure: No position