2014 has been a year investors in Core Laboratories (NYSE:CLB) wish to forget. Last week, I wrote in my article "I'm Putting Core Laboratories In The Penalty Box" that I would be sitting on the sidelines for second quarter results. Having been a longtime bull on the company, I felt that management did a disservice to investors by poorly communicating second quarter guidance. As such, I mentioned in my article above that "I cannot recommend buying shares of Core Labs in advance of second quarter earnings despite lower expectations this time around and multiple secular growth drivers behind the company." With the shares taking a 12% haircut following the weak second quarter results, now would be an opportune time to start positioning in and accumulate.
Quick Recap of Second Quarter Earnings
On the surface, the company reported on July 23rd what looked like an in-line quarter with revenues coming in at $268 mil. (y-o-y increase of 2%) and EPS of $1.35 (y-o-y increase of 5%). Keep in mind that management lowered its guidance for second quarter twice so an in-line quarter with consensus expectations meant little to investors. I appreciated CEO David Demshur's frank opening remarks on the conference call when he stated, "Core's operations produced a solid quarter with record second quarter revenue and EPS, but these results were below our standards for performance and we will do better." I believe the management team at Core Labs will do better and three things struck out at me in the company's press release as potential positives heading into the second half of the year.
First, the company has mentioned before that major coring programs have been deferred, slowing revenue growth in its Reservoir Description segment, especially in the deepwater of Gulf of Mexico, GOM. Due to the complexity of deepwater coring, the programs in the GOM generate some of the highest revenue and incremental margins in the Reservoir Description segment. The Reservoir Description segment accounts for nearly 50% of Core Labs' revenues. In the press release, Core Labs mentioned that it has "nine major deepwater coring programs scheduled for the last six months of 2014" in the GOM. However, the company stated, "risk adjusting, Core has included revenue from five of these projects in its second half revenue and earnings guidance." Essentially, the company is stating (and wisely doing so I should add) that it is putting out very conservative second half guidance by only including five of its nine scheduled major coring programs in the GOM. Considering that expectations for 2014 have been running high, it is smart for the company to lower the bar for the second half leaving room for positive earnings surprises should the other 4 major programs proceed as scheduled this year.
Second, the company mentioned that clients are "reduc[ing] the number and length of cores being cut in established and maturing unconventional plays in the Marcellus, Bakken, Niobrara, and Eagle Ford formations." However, the reduction in the established unconventional plays "are substantially being offset by new coring and reservoir fluids projects in emerging plays such as the Tuscaloosa Marine Shale, the Woodford in the South Central Oklahoma oil play, and the Spraberry, Codell and Parkman formations, among others." This is significant in that it signals to me that the secular growth driver for the company, the North American shale energy boom is no where near maturity and a second wave of activity is just beginning. As a result, what we are seeing now in the slowing growth of the company in the last couple quarters should be temporary.
Third, the company noted that the Production Enhancement segment "saw pricing for its most basic perforating charge technology stabilize late in the second quarter of 2014. Core continues to phase out basic perforating charge technology which now represents less than 20% of Production Enhancement revenue." With any technology improvement, look for Core Labs' revenue and margins to improve in this segment as it swaps out older products for newer, costlier enhancement products for its customers.
Timing My Entry with the RSI
With the stock now over 30% off its 52-week high from the most recent sell-off, I believe the company sets up nicely for an end of the year rebound. I would look for the share price to start consolidating around the $140 to $150 level. I will build my position at these levels and will be timing my entry using the Relative Strength Index (RSI). A reading on the RSI near 20 would be where I would accumulate the stock. As of Friday's close, the RSI is now at 26. Looking at the five-year performance of Core Labs on a daily chart, the two major sell-offs in the shares on Oct. 2012 and May 2014 both bottomed with an RSI reading of 20. I expect this time around should be no different.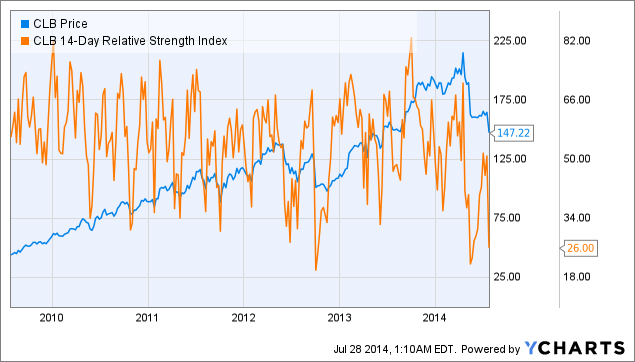 Recommendation
After sitting out through second quarter earnings release, I am now ready and recommend investors to start accumulating shares of Core Labs on the recent weakness. I expect the stock to consolidate and be range bound between $140 to $150. A reading on the RSI of 20 would be an ideal entry point and I am looking to hold the shares for the next 12 months. My 12-month price target is $198 using a PE of 30 on 2015 full year consensus EPS of $6.59.
Disclosure: The author has no positions in any stocks mentioned, but may initiate a long position in CLB over the next 72 hours. The author wrote this article themselves, and it expresses their own opinions. The author is not receiving compensation for it (other than from Seeking Alpha). The author has no business relationship with any company whose stock is mentioned in this article.