OK. I know that I'm taking a risk with writing this article but I have to take a position and stand my ground. Please don't take offense with my viewpoints and as you know, everyone is entitled to an opinion. So I'll share mine.
A few days ago I was in Texas meeting with an investment club and while I was waiting my turn to speak, I listened to others in the crowd announce their stock picks. I was not sure who was in the audience when I arrived so I assumed that I would be speaking to buy and hold investors. Boy, was I wrong.
As soon as the first stock chart went on the screen I knew that I was not in Kansas anymore. The passionate picker went on to talk about his favorite stock and his argument was centered on something resembling astrology. There was no evidence to support the pick other than a "warm and cozy" prediction that the price would go up. To put it bluntly, I was witnessing a form of gambling in which there was no valuation analysis whatsoever - just plain and simple speculation.
Now before you get mad at me, I realize that there have been huge fortunes made in market timing. However, there has also been tremendous wealth created in playing blackjack and poker (my college buddy is a professional poker player and he has been amazingly successful on the card table).
My point is, market timing is neither an art nor a science. It's a game of chance. Here's how Frank J. Williams described market timing in "If You Must Speculate, Learn The Rules":
The speculator is he who buys today with the hope of selling tomorrow or next month at a higher price.
When I took my first trip to Las Vegas over 25 years ago a friend told me that "scared money never wins". I wasn't sure what he meant and I remember sitting at the blackjack table with $300 in my pocket. I knew that's all I had to last 3 days in Vegas and I kept thinking about my friend's advice. It finally hit me when the dealer sent two 8's my way and I had to decide if I wanted to split up the pair. I wasn't in a position to risk more capital on the hope that two face cards would come flying my way.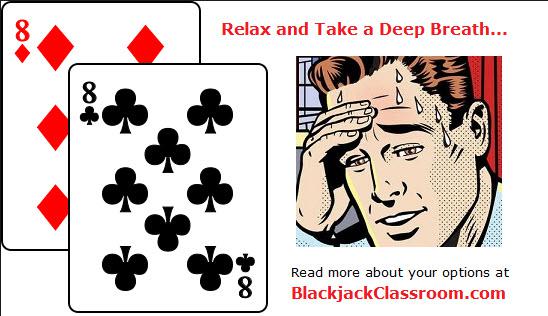 Similarly, market timing involves speculation and investors must be prepared to risk capital on the hopes of accurately predicting movements in stock prices. I thought (Frank) Williams was simply brilliant as he offered these timeless words of wisdom:
Men and women certainly should not speculate until they have paid the landlord, the butcher, and the tailor. They should have no doctor's bill or insurance premiums overdue.
REITs that Rake in the Dividends
Evidence has shown that it's pretty close to impossible to consistently make money timing, and you are much better off investing for the long-term. Accordingly, many ordinary investors all too often act on inflection sentiments when they buy and sell stocks, always looking for instant gratification.
The recipe for getting rich in the stock market is not market timing. It's value investing. That is, finding stocks with above-average appreciation potential and safe and growing dividends; most importantly, buy them at attractive prices.
So as I began my lecture last weekend, I knew that I needed to frame my speech around the most powerful wealth creator on the planet. So here's how I started:
Ladies and gentlemen, in order to take advantage of market declines to buy low; you need a strategy that takes the emotions out of the decision-making process. With dividend reinvestment your investing is on autopilot.
I when on to explain the value of owning REITs and the forced dividend component whereby REITs MUST payout at least 90% of taxable income in the form of dividends. Then I went on to explain:
When you examine the two methods of getting paid to invest - capital gains and dividends - it's natural that dividend paying stocks have special appeal. That is, a stock's capital gains is influenced significantly by what the market does in a given year.
My punch line:
The dependability of dividends is a big reason that investors should consider buying REIT stocks.
So while market timers are simply trading in and out of stocks anticipating a mega-trade, value investors are patiently waiting for an adequate margin of safety (to avoid painful losses). By investing in dividend paying stocks, investors are in a much better position to benefit from the slow and steady power of compounding wealth. In The Little Book of Value Investing, Christopher H. Browne wrote:
Long-term, value investing is like flying from New York to Los Angeles. While you may encounter some air turbulence over Kansas, if your plane is in good shape, there's no reason to bail out. You will eventually reach your destination safely.
A few days ago I wrote an article titled, "Are There Any Blue Chip Bargains?", and I listed 10 REITs that I consider strong buy-and-hold candidates. The problem is, there aren't many REITs on the list that I consider to be bargains, let alone decently priced. One big mistake that investors make is to research a stock, determine that it has strong earnings, and pay no attention to the price. As I review the list of blue chips, I have determined that there are 3 REITs that are trading at ranges that merit a closer look. That's not to say that I would buy these today; however, a modest sell-off could open up an attractive entry point.
Yesterday I wrote an article on Realty Income (NYSE:O). I won't bore you with the details since you can click on the article and get considerable research. As I stated (in the article), Realty Income is trading at "sound value" and while the fundamentals and earnings history justify an above average valuation, I would recommend an entry price of $44.00. That's not too far away from the current price of $44.77.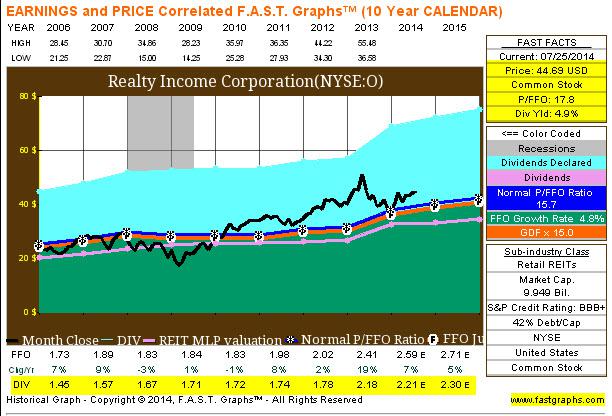 Another blue-chip worth tracking is Omega Healthcare Investors (NYSE:OHI). The company has already announced earnings and I summed up the latest in a recent article here. I am moving my target BUY price for Omega from $30.50 to $34.00; however, shares are still trading higher at $37.94. I'll explain my reasoning for the BUY price in my newsletter. If you don't own this REIT, I suggest you consider adding it to the watch list.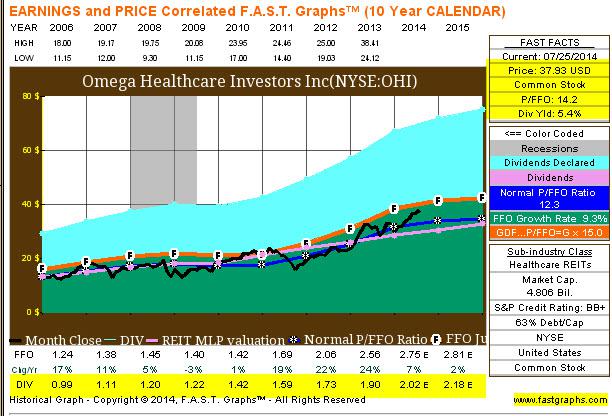 Finally, HCP, Inc. (NYSE:HCP) is a "pitching wedge" away from a BUY. Shares are trading at $42.63 and my Target entry price is $42.00. I don't own HCP today; however I'll be tuned into the earnings results on August 5th, possibly becoming an owner (again) soon. My last article on HCP was written in April (here) and I'll be writing a detailed article on the company post earnings.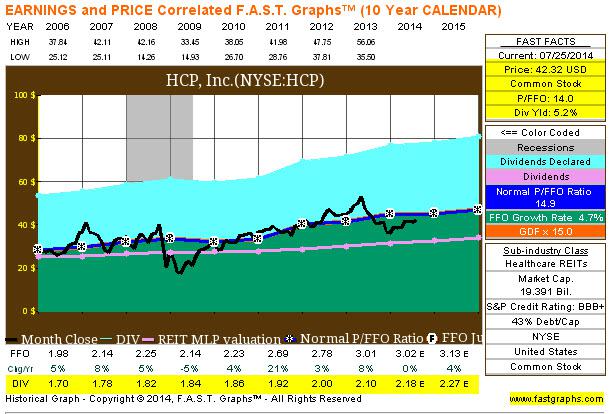 It's highly unlikely that I will be getting a big payday with Seeking Alpha's new "Outstanding Performance Award Winners" program (pays $2,500 for a grand slam idea). Perhaps Seeking Alpha should also award us value investors by comparing the results in 5-10 or 20 years. I'm sure that long-term incentive plan won't fly; however, I consider the reward for a value investor simply the peace of mind knowing that one's principal has been protected at ALL costs. To me it's worth the effort to explain my value investing strategies in hopes that others will benefit. Here's an excellent video (source: Investopedia) that further explains the principles of value investing. Watch it HERE.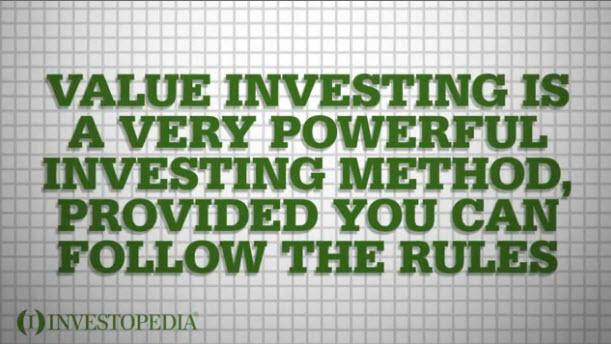 By the way, I always split the 8's as long as I have adequate money left over to get a cab ride back to my hotel. But remember, that's gambling, not investing. Good luck!
Sources: F.A.S.T. Graphs.
Disclaimer: This article is intended to provide information to interested parties. As I have no knowledge of individual investor circumstances, goals, and/or portfolio concentration or diversification, readers are expected to complete their own due diligence before purchasing any stocks mentioned or recommended.
Disclosure: The author is long O, DLR, VTR, HTA, STAG, UMH, CSG, GPT, ARCP, ROIC, HCN, OHI, LXP, KIM, WPC, DOC, UDF, EXR. The author wrote this article themselves, and it expresses their own opinions. The author is not receiving compensation for it (other than from Seeking Alpha). The author has no business relationship with any company whose stock is mentioned in this article.