Positions of Traders
A common report that I follow for commodities is the CFTC's commitments of traders report. The report is released weekly and offers a quick, effective look into the minds of the guys on the floor. For cotton (NYBAL) (NYCTNN), corn (NYCORN), and wheat (NYWEAT), I compiled the net long numbers from the most recent report, released on July 25th, back to the report from March 4th. As seen in the chart below, traders recently became net long cotton futures and options and remain slightly net long.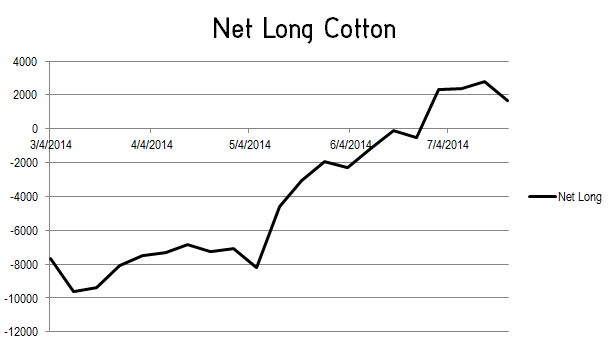 The slightly net long position of traders indicates a bullish attitude. In fact, traders have steadily added to their cotton longs (or taken off cotton shorts) as the price fell. Now that traders are net long, they may be eyeing a bottom in the cotton trade. In the next chart, the net long position of corn traders can be seen.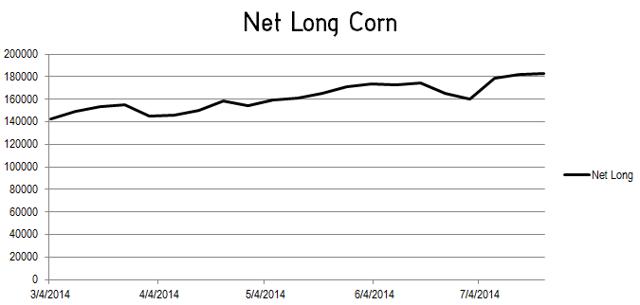 Corn traders have been net long for the past four months, even as corn dropped significantly. In fact, corn traders have added to their longs (or taken off their shorts) even as corn fell. Next, a chart shows the net long position of traders for wheat.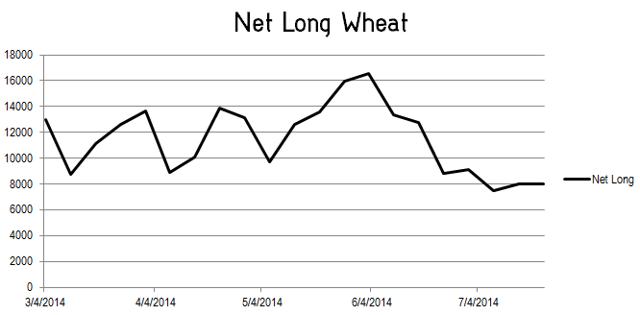 Unlike the clear picture painted by traders in cotton and corn, wheat traders have been all over the place this past quarter. That being said, traders have begun to take off longs (or add to shorts) in the past month. Also unlike cotton and corn, traders have become increasingly bearish wheat as the commodity traded lower.
Of the three charts, I believe that the cotton chart is the most revealing. Cotton traders have been slowly adding to longs (or taking off shorts) as the price has fallen. This means that as cotton trades lower, traders are becoming increasingly bullish. Given this past behavior, it is likely that traders will continue to put upward pressure on cotton if it trades lower. The positions of traders on corn are not that telling as traders have not made too many changes in the past quarter. Instead, corn traders have remained placidly net long even as the commodity fell off sharply. Lastly, the wheat chart doesn't say much as traders have changed their minds many times over the past quarter. In fact, there is no reason why the recent selling of wheat positions is not going to end tomorrow.
Supply and Demand
Obviously, the most important metrics to follow for commodities are supply and demand. Below, I have selected and explained the latest supply and demand statistics from the USDA and its numerous sub-agencies. All charts are mine with statistics coming from the ERS or FAS, both divisions of the USDA. First, let's take a look at the supply and demand picture for cotton.
In the latest FAS report on cotton harvested area projections, measured in millions of ha, world cotton production is expected to gain .25m ha year-over-year.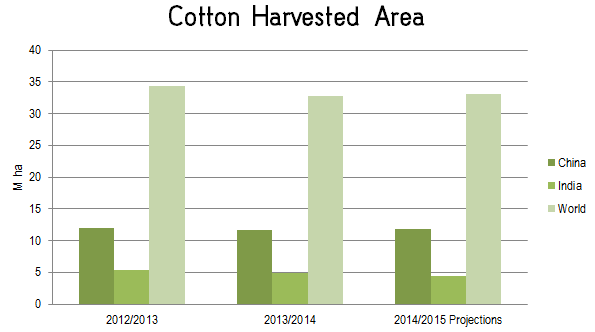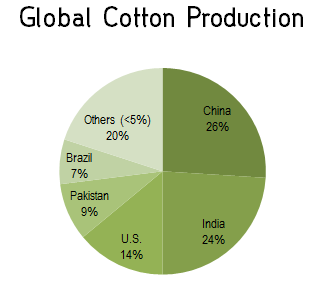 Global production leader China is expected to harvest .1m ha less, while India, the #2 producer of cotton, is expected to harvest .55m ha less, heading into 2014-2015. Despite India's fall, the global increase in harvested area is crucial. While .25m ha is a small increase, it maintains the trend of growing global cotton stocks. A chart depicting global cotton stocks can be seen below.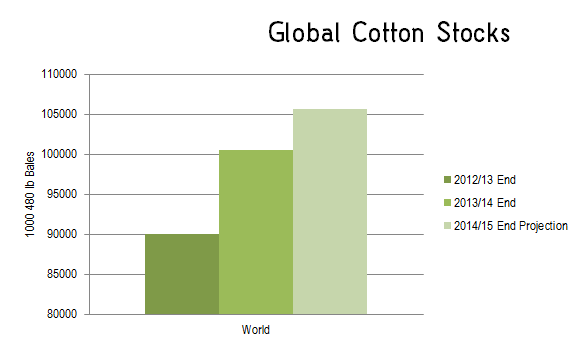 The chart below reaffirms the statistics above on harvested area. However, the chart on cotton stocks indicates decreasing demand as well. This can be deduced, as the increase in year-over-year cotton stocks is greater than the increases in harvested area and overall production. While global harvested area has actually decreased from 2012-2015, global cotton stocks have increased by over 16%! To look deeper into the growing global supply of cotton, let's look at raw production statistics and their recent revisions below.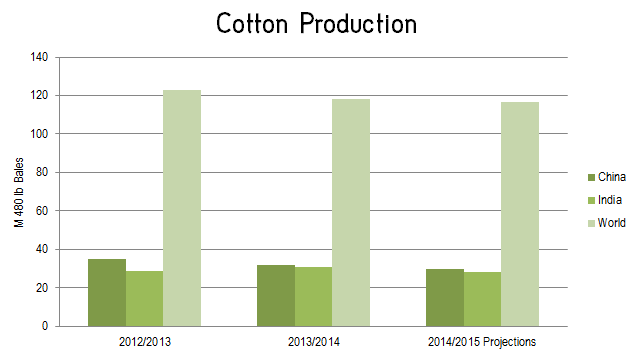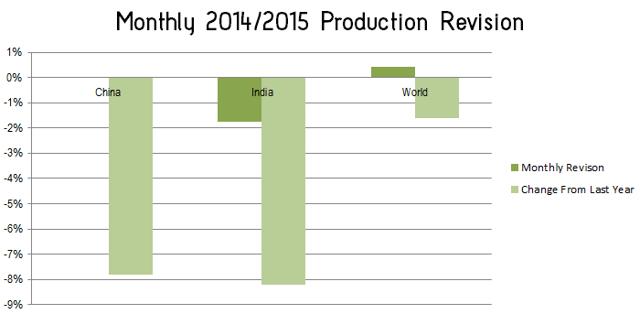 As seen above, global cotton production is on track to continue a slow decline despite a positive global monthly revision. Given that production is declining while stocks are rising, consumption must be falling. Therefore, we can see that the increased supply of cotton is fueled by a fall in demand.
In the most recent WASDE report, global cotton stocks were further revised upward on the back of news that production for Brazil is set to increase more than expected while consumption for China and Pakistan are projected to fall more than expected. In conclusion, 2014/2015 global cotton production was raised 500,000 bales with global stocks now projected at 105.7 million bales.
These supply and demand statistics counter the logic of floor traders. While traders have recently become net long cotton, prices are certainly not set for any type of long-term recovery given current global forecasts.
For corn, global production is set for a miniscule decrease heading into 2014/2015.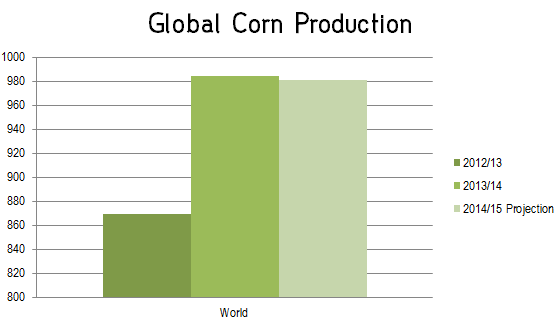 To reaffirm this, the monthly production revision maintains the small decline in global production, as seen in the chart below.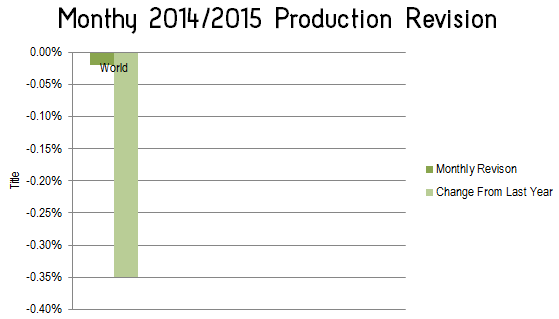 In the latest WASDE report, U.S. average yield is reported at an all-time record. U.S. production statistics and yields are important to watch, as the U.S. is the dominant player in the corn trade. WASDE attributes the record yield to a favorable early July crop. Furthermore, conditions and weather outlook support a continuation of record yields across the Corn Belt. Given these numbers, corn certainly does not look ready to rebound shortly.
For wheat, global forecasts are for a moderate year-over-year decrease in production, as seen in the chart below.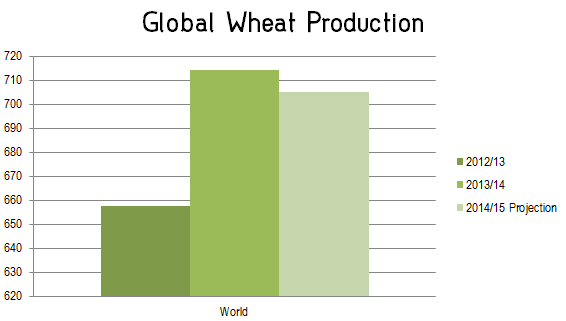 In the latest WASDE report, global wheat projections for 2014/15 were raised by 1.8 million tons. This recent projection sets up the 2014/2015 harvest to be the second largest wheat harvest on record. Also, WASDE bumped up projections of global wheat consumption by 0.9 million tons. Therefore, WASDE projects a net increase of .9 million tons of wheat. Even though the production chart above depicts a decrease in production, supplies are at a three-year high on the back of weak demand. Given that statistic and the fact that wheat traders are net long, prices don't look set for a rebound anytime soon.
Weather & Forecast
In the cotton trade, the latest WWCB report indicates that 52 percent of the cotton crop is in good to excellent condition. This figure boosts the bearish picture as this is 8 percentage points above the same time last year. In south Asia, WWCB reported a monsoon which extended into western India, bringing much-needed rain and encouraging planting of cotton. Good planting weather is important to India as the country produces 24% of global cotton. In addition, excellent weather for cotton plants was reported in the Middle East, Uzbekistan, and South America.
In the corn trade, the latest WWCB report reported an incredibly bearish picture for corn with a very high hit on the U.S. Corn Condition Index. To add, 56 percent of this year's corn crop is at or beyond the silking stage. This is 17 percentage points ahead of last year and slightly ahead of the 5-year average. Lastly, 76 percent of the corn crop was reported in good to excellent condition, 13 percentage points better than the same time last year.
In the wheat trade, the dominant growing regions are China, India, and the U.S. Weather boosting supply for corn and cotton in these nations also boosts wheat production and stocks.
Given the latest estimates for a growing supply of cotton and the net downward imports revisions, cotton looks bearish. On top of a bearish cotton picture, corn and wheat also look set to continue their downward move.
Disclosure: The author has no positions in any stocks mentioned, and no plans to initiate any positions within the next 72 hours. The author wrote this article themselves, and it expresses their own opinions. The author is not receiving compensation for it (other than from Seeking Alpha). The author has no business relationship with any company whose stock is mentioned in this article.
Additional disclosure: Lionfin Capital is a group of investors.