By Walter Davis
In my role as Invesco's Alternatives Investment Strategist, I hear a lot of questions about alternatives - and it's clear that many investors are simply trying to wrap their arms around this large, multifaceted asset class. In this post, I focus on one type of alternative investment - absolute return strategies - that seek to provide consistently positive returns for investors no matter what the market is doing.
What are absolute return strategies?
Simply put, absolute return strategies strive to post a positive return every year. How? They have the ability to take long positions, which make money when an investment rises in price, as well as short positions, which make money when an investment falls in price. The key to a strategy's overall success is manager skill - choosing which investments to make and whether to go long or short. Importantly, investors should understand that, while funds may have an absolute return objective, every strategy has periods in which it may experience difficulty and incur losses.
While there are many strategies that have an absolute return objective, I would like to focus on two types: equity market neutral and global macro. By examining these two strategies, you can easily see that different absolute return strategies can behave very differently from one another. For investors, it is critical to understand the nature of the strategy in which they are investing and have proper expectations of how that strategy may perform.
Equity market neutral - Sometimes in the stock markets, sweeping movements will propel most stocks up or down, regardless of their individual fundamentals. Equity market neutral strategies seek to eliminate the impact of broad market movements by trading related stocks on a long and short basis. (Stocks are related if they are driven by the same fundamental factors, for example, two stocks from the same industry). The key to generating a positive return is to identify the appropriate equities to go long and short. Since these strategies are designed to eliminate the impact of broad market movements, they have historically generated modest returns with low volatility - similar to the historical risk-return profile of bonds, as seen in the chart below. Furthermore, these strategies have low correlation to both equities and bonds. The addition of these strategies may help decrease risk and increase diversification within the portfolio.
Global macro - Unlike equity market neutral strategies, which seek to eliminate the impact of market movement from the portfolio, global macro strategies embrace market movement. They can invest on a long and short basis across the global markets, including equities, bonds, currencies, commodities and derivatives. The key to generating positive returns for these strategies is correctly identifying which markets to invest in and whether to be long or short those markets. Compared with equities, these strategies have historically had modest correlation, significantly lower volatility and comparable returns, as seen below. The addition of these strategies may help decrease risk, increase diversification and expand the opportunity set of a portfolio.
The table below highlights some of the key performance statistics of the strategies. Investors should consult their financial advisors to discuss how these strategies can fit within their overall portfolio and help them pursue their financial goals.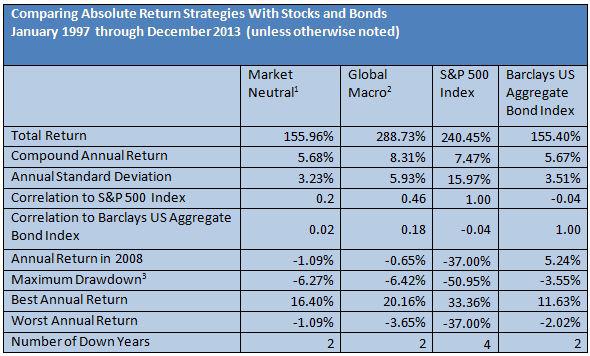 Source: Zephyr StyleADVISOR
Past performance does not guarantee comparable future results. An investment cannot be made directly in an index.
1 As represented by the BarclayHedge Equity Market Neutral Index.
2 As represented by the BarclayHedge Global Macro Index.
3 A drawdown is the largest decline cumulative percentage decline in net asset value as measured on a month-end basis.
| | | |
| --- | --- | --- |
| NOT FDIC INSURED | MAY LOSE VALUE | NO BANK GUARANTEE |
Disclaimer: The information provided is for educational purposes only and does not constitute a recommendation of the suitability of any investment strategy for a particular investor. The opinions expressed are those of the author(s), are based on current market conditions and are subject to change without notice. These opinions may differ from those of other Invesco investment professionals.
All data provided by Invesco unless otherwise noted.
Invesco Distributors, Inc. is a U.S. distributor for retail mutual funds, exchange-traded funds, institutional money market funds and unit investment trusts.
Invesco unit investment trusts are distributed by the sponsor, Invesco Capital Markets, Inc. and broker dealers including Invesco Distributors, Inc. These Invesco entities are indirect, wholly owned subsidiaries of Invesco Ltd.
©2014 Invesco Ltd. All rights reserved