When looking for large gains in the market, one item I track extensively is short interest. Short squeezes can be very rewarding, leading to huge gains in a short period of time. One name I recently looked at for short squeeze potential was SolarCity (SCTY), which at the end of May had more than 24% of its float shorted. At that time, shares were in the low $50s, but a big acquisition sent shares into the mid $70s. At the last short interest update, I wondered if a short squeeze was coming, as short interest hit another new high, more than 14 million shares.
Today, I'm here to provide an important update for investors on where short interest stands. As you probably saw in the title, short interest took a dive at the mid-July update. Short interest for SolarCity dove by nearly 3.3 million shares, a fall of about 23%. This is the first time that we have seen short interest go under 11 million shares since the end of April update. In the chart below, you can see a recent history of short interest for this name, with the dramatic early July drop.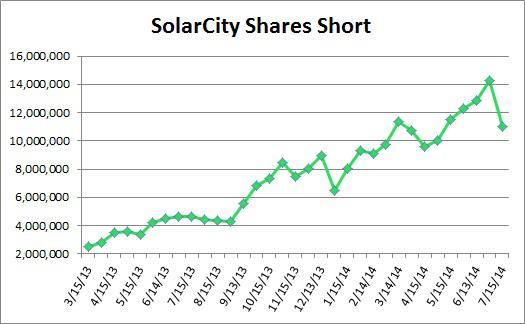 Additionally, Yahoo Finance shows a rise in the float by about 610k shares. When you combine a lower short interest number plus higher float, only about 21% of the float is now short. At the previous update, the number was more than 27.6%. When looking for a short squeeze catalyst, the next major date may be August 7th, when the company reports second quarter earnings. SolarCity still has decent short squeeze potential with more than 21% of the float short. However, investors do need to realize that the recent drop in short interest makes that potential a bit less. That will take a chunk out of the bull case for the moment, but longs still have a reason to be hopeful with a large portion of the float still short. I still like SolarCity for its short squeeze potential, but I'm a little more cautious after a huge drop in short interest.
Disclosure: The author has no positions in any stocks mentioned, and no plans to initiate any positions within the next 72 hours. The author wrote this article themselves, and it expresses their own opinions. The author is not receiving compensation for it (other than from Seeking Alpha). The author has no business relationship with any company whose stock is mentioned in this article.
Additional disclosure: Investors are always reminded that before making any investment, you should do your own proper due diligence on any name directly or indirectly mentioned in this article. Investors should also consider seeking advice from a broker or financial adviser before making any investment decisions. Any material in this article should be considered general information, and not relied on as a formal investment recommendation.