The following is a list of stocks that have seen losses over the last quarter. In addition, all of these stocks have seen an increase in the number of shares shorted during that time.

Several short-sellers have already made money on these names. How long before they book those profits and buy back these stocks? More importantly, will the inevitable short-covering put a floor under these stock prices? Full analysis below.

Short trends data sourced from AOL Money, current short float and performance data sourced from Fiviz. Please note that all short trends described occurred between 7/15 - 10/15.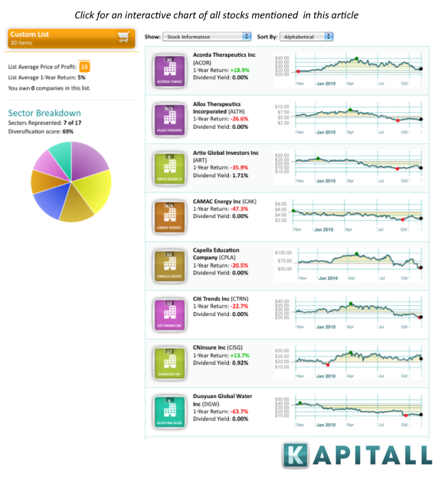 The list has been sorted by change in shares shorted. A reminder: All short trends described occurred between 7/15 - 10/15.

1. Cninsure Inc. (CISG): Insurance Brokers Industry. Market cap of $1.01B. The stock has lost -10.77% over the last quarter, with shares shorted increasing from 439K to 3.03M. Short float at 6.65%, which implies a short ratio of 6.14 days. The stock has gained 11.22% over the last year.

2. Regal Beloit Corporation (NYSE:RBC): Industrial Electrical Equipment Industry. Market cap of $2.19B. The stock has lost -10.64% over the last quarter, with shares shorted increasing from 517K to 2.94M. Short float at 7.72%, which implies a short ratio of 5.66 days. The stock has gained 18.9% over the last year.

3. Power-One Inc. (NASDAQ:PWER): Diversified Electronics Industry. Market cap of $1.03B. The stock has lost -21.54% over the last quarter, with shares shorted increasing from 7.21M to 33.25M. Short float at 35.23%, which implies a short ratio of 5.02 days. The stock has gained 242.4% over the last year.

4. Citi Trends (NASDAQ:CTRN): Apparel Stores Industry. Market cap of $307.93M. The stock has lost -31.5% over the last quarter, with shares shorted increasing from 810K to 1.59M. Short float at 10.96%, which implies a short ratio of 7.43 days. The stock has lost -23.26% over the last year.

5. Acorda Therapeutics, Inc. (NASDAQ:ACOR): Biotechnology Industry. Market cap of $1.03B. The stock has lost -24.71% over the last quarter, with shares shorted increasing from 3.48M to 6.81M. Short float at 17.53%, which implies a short ratio of 9.26 days. The stock has gained 16.92% over the last year.

6. EnergySolutions, Inc (NYSE:ES-OLD): Business Services Industry. Market cap of $412.55M. The stock has lost -13.22% over the last quarter, with shares shorted increasing from 4.93M to 9.27M. Short float at 10.9%, which implies a short ratio of 6.7 days. The stock has lost -46.92% over the last year.

7. Winn-Dixie Stores Inc. (NASDAQ:WINN): Grocery Stores Industry. Market cap of $390.15M. The stock has lost -27.32% over the last quarter, with shares shorted increasing from 2.48M to 4.55M. Short float at 8.28%, which implies a short ratio of 5.92 days. The stock has lost -37.72% over the last year.

8. TCF Financial Corporation (TCB): Money Center Banks Industry. Market cap of $1.99B. The stock has lost -11.03% over the last quarter, with shares shorted increasing from 14.26M to 23.23M. Short float at 18.19%, which implies a short ratio of 11.96 days. The stock has gained 22.89% over the last year.

9. Rubicon Technology, Inc. (NASDAQ:RBCN): Semiconductor Industry. Market cap of $580.61M. The stock has lost -11.81% over the last quarter, with shares shorted increasing from 6.67M to 10.47M. Short float at 78.64%, which implies a short ratio of 11.68 days. The stock has gained 87.34% over the last year.

10. Orthofix International NV (NASDAQ:OFIX): Medical Appliances & Equipment Industry. Market cap of $476.58M. The stock has lost -10.55% over the last quarter, with shares shorted increasing from 724K to 1M. Short float at 5.72%, which implies a short ratio of 8.35 days. The stock has lost -13.18% over the last year.

11. Gildan Activewear Inc. (NYSE:GIL): Textile Industry. Market cap of $3.36B. The stock has lost -10.85% over the last quarter, with shares shorted increasing from 3.01M to 4.1M. Short float at 3.69%, which implies a short ratio of 9.94 days. The stock has gained 53.21% over the last year.

12. Immunogen Inc. (NASDAQ:IMGN): Biotechnology Industry. Market cap of $544.28M. The stock has lost -12.65% over the last quarter, with shares shorted increasing from 6.48M to 8.65M. Short float at 12.87%, which implies a short ratio of 7.58 days. The stock has gained 19.2% over the last year.

13. Duoyuan Global Water Inc. (DGW): Pollution & Treatment Controls Industry. Market cap of $323.38M. The stock has lost -38.19% over the last quarter, with shares shorted increasing from 2.15M to 2.81M. Short float at 22.51%, which implies a short ratio of 5.14 days. The stock has lost -64.11% over the last year.

14. CAMAC Energy Inc. (CAK): Oil & Gas Drilling & Exploration Industry. Market cap of $399.61M. The stock has lost -23.98% over the last quarter, with shares shorted increasing from 3.21M to 4.05M. Short float at 8.91%, which implies a short ratio of 8.05 days. The stock has lost -46.76% over the last year.

15. Iridium Communications Inc. (NASDAQ:IRDM): Communication Equipment Industry. Market cap of $611.17M. The stock has lost -14.87% over the last quarter, with shares shorted increasing from 6.22M to 7.62M. Short float at 13.49%, which implies a short ratio of 21.59 days. The stock has lost -1.47% over the last year.

16. Synovus Financial Corp. (NYSE:SNV): Regional Bank. Market cap of $1.68B. The stock has lost -14.4% over the last quarter, with shares shorted increasing from 80.36M to 98.44M. Short float at 12.72%, which implies a short ratio of 7.25 days. The stock has gained 9.18% over the last year.

17. Strayer Education Inc. (NASDAQ:STRA): Education & Training Services Industry. Market cap of $1.81B. The stock has lost -38.35% over the last quarter, with shares shorted increasing from 3.29M to 3.93M. Short float at 29.1%, which implies a short ratio of 8.57 days. The stock has lost -32.04% over the last year.

18. Artio Global Investors Inc. (NYSE:ART): Asset Management Industry. Market cap of $863.04M. The stock has lost -12.22% over the last quarter, with shares shorted increasing from 1.3M to 1.54M. Short float at 4.21%, which implies a short ratio of 5.51 days. The stock has lost -37.05% over the last year.

19. Allos Therapeutics, Inc. (NASDAQ:ALTH): Drug Manufacturer. Market cap of $393.93M. The stock has lost -23.05% over the last quarter, with shares shorted increasing from 9.77M to 11.51M. Short float at 10.98%, which implies a short ratio of 11.04 days. The stock has lost -34.5% over the last year.

20. Capella Education Co. (NASDAQ:CPLA): Education & Training Services Industry. Market cap of $880.09M. The stock has lost -33.51% over the last quarter, with shares shorted increasing from 2.39M to 2.77M. Short float at 18.35%, which implies a short ratio of 7.36 days. The stock has lost -22.54% over the last year.


Disclosure: No positions