There are multiple ways to fund or supplement your expenses in retirement - selling part of your retirement portfolio each year, getting a reverse mortgage if you own your home, buying high-yielding dividend stocks, owning bonds, etc. But with each of these options, you risk outliving your retirement portfolio or getting income that barely keeps up with inflation (such as with low and volatile bond interest rates) or having dividends stay flat or reduced after a good run.
So the option I like most for retirement income is where you get to hang-on to your assets, watch them grow, and generate income from them with little fear that the company will disappear or reduce/stop paying dividends down the road. This way, you don't have to worry about outliving your retirement savings and can watch your portfolio grow while getting a regular, rising income stream from it. I am talking not merely of solid dividend paying stocks but of solid and consistent dividend growth stocks - the type they call Dividend Aristocrats.
See, Standard & Poor compiles an annual list of large-cap stocks (within the S&P 500 index) that have consistently increased dividends every year, for each of the past 25 years. They call this list the S&P 500 Dividend Aristocrats. This list includes companies such as Coca-Cola (NYSE:KO), Johnson & Johnson (NYSE:JNJ) and 3M (NYSE:MMM). If a company does not raise dividends in any given year, then, poof, it's off the list, and won't come back on for at least another 25 years. So this is a pretty elite list to get on to, and it takes a strong commitment to dividend growth to stay on.
S&P also reports that since 1926, dividends have contributed nearly a third to total equity return while capital gains have contributed about two-thirds, so sustainable dividend income and capital appreciation potential go hand-in-hand in determining total returns.
KO, JNJ, MMM - On the Dividend Aristocrats List for At Least 25 Years
As of June 2014, there were 54 companies on the Dividend Aristocrats list, and the reason I picked Coca-Cola, Johnson & Johnson and 3M is that each of these companies has been on this list for the past 25 years…which means they have each been raising dividends every year for the past 50 years at least…that's something!

Their dividend growth history reassures me, and comforts me that they'll probably be around for the next 25 years and likely keep their dividend growth streak alive so investors can count on them for retirement income for years to come.
But there's more…these three stocks have delivered total annualized returns that have beaten inflation through a combination of share price appreciation and dividends, and rewarded long-term holders handsomely relative to the S&P 500 index. I also like that these three stocks haven't gotten ahead of themselves over the past five years; while the bull market has lifted several shares to valuations above long-term P/E levels, Coca-Cola, Johnson & Johnson and 3M continue to trade at reasonable valuations relative to historical averages and offer compelling value at current levels with P/E ratios that do not exceed 20x (as of July 25, 2014).
Now, there are many sexier stocks out there with higher earnings growth and higher yield in new market segments, and I am not against them. I just think the three stocks I have picked today (or stocks similar to them such as long-term members of the Dividend Aristocrats list) should be an integral part of a retirement portfolio for the dividend income certainty and growth they provide. By all means, also load up on other higher return stocks but make sure you fortify your retirement portfolio with these solid die-hards because these companies still have very strong businesses that continue to grow and generate cash at commendable levels - with products and business models that continue to be highly relevant in today's changing, technologically advanced world.
Coca-Cola, J&J, 3M - Vibrant Companies in Today's World
All three - Coca-Cola, J&J and 3M - have excellent brands, stable diversified revenue streams, strong operations, predictable earnings and cash flow, expanding global markets, excellent credit ratings (AA- and above) and solid growth prospects. They are run by management teams that are aggressively leveraging their corporate might to expand and dominate new markets in ways that smaller or younger companies are ill equipped to do. And are committed to shareholder returns through dividends and share buybacks. Coca-Cola, Johnson & Johnson and 3M each have diversified businesses that include multiple beverage lines and bottling plants for Coca-Cola, diversified health and pharmaceuticals for J&J, and industrial, electronics and health care products for 3M - with market-leading global sales where their products are established category leaders.
Coca-Cola: Coca-Cola needs no introduction. For its second quarter ended June 27, 2014, Coca-Cola saw worldwide sales' volume grow 3% in the quarter (after structural adjustments), with growth coming from international markets. Sales in China were up 10% in the quarter. The company reported 3% adjusted quarterly revenue growth and a 5% jump in adjusted operating income. All this is pretty phenomenal considering Coca-Cola has quarterly revenues of over $12 billion. Coca-Cola generated $4.5 billion in cash from operations, paid dividends and spent $1.1 billion to buy back shares. Coca-Cola has a few growth problems in select markets but they are focused on addressing these problems and will continue to be relevant. I just don't see Coca-Cola and its vast stable of beverages (Coke, Sprite, Minute Maid, PowerAde, Glaceau, etc.) dropping off in popularity and sales anytime soon.
Johnson & Johnson: J&J sells medical devices and diagnostics equipment, pharmaceuticals and consumer goods, with a portfolio of brands that are each ranked #1 or #2 in highly competitive global markets. In Q2 2014, J&J reported a 9.1% annual increase in quarterly sales to $19.5 billion and a 12.2% increase in adjusted earnings per share. J&J attributed this strong growth in sales to new product launches in new markets. The company also increased its FY 2014 earnings guidance to $5.85 to $5.92 per share.
3M: 3M continues to rock, with Q2 2014 quarterly sales hitting a record $8.1 billion, up 4.9%, with earnings up 11.7% and operating income margins up 0.8% over the past year. The company was also active in the M&A arena with the acquisition of 3M operations in Japan. 3M continues to aggressively deploy capital to improve its business and enhance shareholder returns through dividends and $1.4 billion in buybacks in the quarter.
As the table below shows, Coca-Cola, J&J and 3M have tens of billions in annual revenues, with billions in operating cash flow. For example, 3M (the smallest of the three) had $5.8 billion in operating cash flow in 2013, followed by Coca-Cola at $10.5 billion and J&J at $17.4 billion. They have each grown operating income at an 8% to 9% CAGR over the past 20 years on a multi-billion-dollar base (which Warren Buffett will tell you is very hard to do) and continue to focus on cost improvements to boost profit margins. 3M, for example, reported a 0.8% increase in operating margin in Q2 2014, so management is constantly focused on improving efficiencies.

Modest Dividend Yields Add to Solid Total Returns
As I said earlier, these stocks do not carry the highest dividend yields - Coca-Cola offers 3%, J&J 2.7% and 3M just 2.4% - but they offer steadily growing dividends, up 11% for Coca-Cola, 13% for J&J and 7% for 3M on a CAGR basis over the past 20 years. If you consider the Dividend Value approach (which uses dividend and dividend growth as screening parameters in stock selection) and add current yield and dividend growth, you get strong numbers for all three companies that compare well or even beat higher yielding companies that do not match up on annualized growth.

Dividend growth is also a strong and proven indicator of management's confidence in the company's future prospects, financial strength and liquidity. And if you notice their near 50% payout ratios, you'll see that management routinely returns billions of dollars each year to shareholders which prevents excessive cash build-up and prevents management from playing around with corporate cash in ways that damage shareholder wealth or weaken the balance sheet (such as trophy acquisitions or excessive capital investment in pet projects).
Market Beating Long-Term Historical Performance
Since 1989, shares of all three companies have outperformed the S&P 500 index to varying degrees. While J&J has delivered the best share price appreciation by far (up 1,400% since 1989), Coca-Cola (up about 900%) and 3M (up about 700%) have also outperformed the index (up 450%), though to a lesser extent. So on capital appreciation too, these stocks have turned out to be winners for those who bought and held on to shares for the long run. And the lucky few who reinvested dividends are probably sitting on sizable positions. So where $1,000 invested in the index would have grown to about $5,000, the same $1,000 would have grown to over $7,500 with 3M, about $10,000 with Coca-Cola and to about $15,000 with J&J, not counting dividend returns.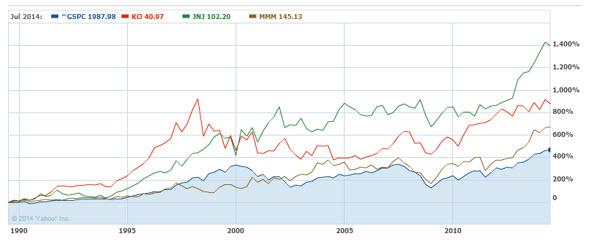 Relatively Undervalued, Strong Share Price Upside
Over the past five years, since the recession and market crash of 2008, the S&P 500 index has outperformed Coca-Cola and J&J, and only slightly underperformed 3M. So our 3-stock portfolio has not run-up as much as the broader market. But that alone is no justification to buy shares at current levels.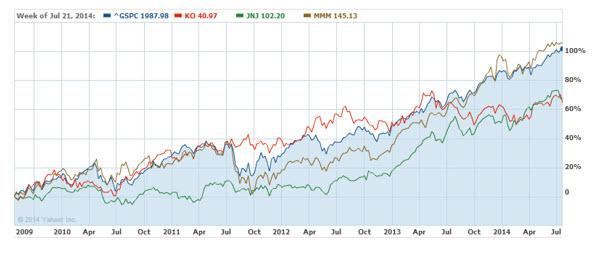 So I compared their current valuations to historical 20-year levels and found that 3M and J&J trade at about the same P/E multiple as their 20-year Average P/E, while Coca-Cola's Current P/E of 19.6x lags historical levels of 22.9x, which I attribute to relative weakness in Coca-Cola's financial performance as it executes on new growth and market share strategies. So valuation ratios are in-line with historical multiples.

And when I studied their recent quarterly and annual reports, I found that they all have vibrant businesses with strong growth prospects, primarily in international markets where their brands are well known.
And, according to FastGraphs, 3M should grow earnings at 11.8%, J&J at 7.3% and Coca-Cola at about 6.3%. For J&J and Coca-Cola, projected EPS growth lags historical performance but I attribute some of this to near-term geopolitical and economic weakness and uncertainty, and high energy prices. When the dust settles, these staples should resume robust sales and earnings growth (and please remember, growing revenue a few percentage points on $30+ billion is a big deal, and growing earnings at double-digit rates is a huge deal!)
Looking ahead, FastGraphs projects solid inflation-beating total returns for each of these stocks, with estimated 5-year total annualized returns of 6.1% to 7.4%, with shares set to rise above current levels. Moreover, product sales for each are minimally immune to economic cycles and should bounce back, especially as oil prices subside and global tensions cool.

On the flip side, I also see these as safe havens that domestic and global investors flock to at times of crisis, so investments in these companies minimize downside risk should markets experience downturns over the next few decades. I also strongly believe that share price drops are no-brainer opportunities to add to one's holdings on these core dividend growth stocks.
Multi-Billion-Dollar Annual Share Repurchases Also Enhance Shareholder Value
In addition to paying out close to 50% of earnings in dividends, management spends a sizable portion of its cash flow on buying back shares, and supports earnings per share to maintain valuation multiples. Buybacks also serve as a buffer that allows management to increase dividends steadily, cutting back on repurchase levels if necessary, and indirectly enables continued dividend growth.

Low Debt, Solid Credit Ratings, Excellent Interest Coverage
J&J has a AAA Morningstar credit rating while Coca-Cola and 3M have a AA- rating. Management has obviously taken advantage of super-low interest rates to load up on low-cost capital but has still restrained debt levels to well below what they can afford to take on. Coca-Cola has the highest debt load at 20% of assets and 54% of equity but its interest expense is merely 5% of operating income. 3M pays just 2% of its operating income towards interest expense. But each of these companies also earns interest on its sizable cash and investments, so net interest expense is even lower than numbers presented here. Suffice it to say, all three spin off health operating cash flow and are deeply profitable, and don't really need to resort to borrowings but do so because of attractive interest rates and to maintain credit liquidity.

Management Measures Up Well
A company's management effectiveness is reflected in their capital investment and shareholder return metrics. On these counts, our Dividend Aristocrats have stellar management teams committed to professional excellence. For example, over the past twelve months, Coca-Cola and 3M management have delivered double-digit returns on equity (25%+) and on invested capital (14%+). And as I said before, delivering such returns off a multi-billion-dollar base is hard to do, highly commendable and speaks volumes of management excellence.

Summary
Coca-Cola, J&J and 3M are highly-dependable dividend growth companies with market leading products, global operations and top-tier operations infrastructure that throws off a lot of operating cash flow. Moreover these stocks trade at attractive valuations relative to historical levels and I'd urge investors to buy them, and ideally reinvest dividends as much as possible to get even more of a compounded growth effect. While there are higher growth and yield stocks, their long-term fundamentals and relative safety likely will not match these Dividend Aristocrats, which should be a core part of any income-seeking portfolio for the long run.
These blue chips are expanding operations in the emerging markets. This will provide free cash flow to enhance a dividend growth investor's annual income. The increase in annual dividends-per-share serves as an annual pay raise for income investors.
Disclosure: The author is long JNJ, KO, MMM. The author wrote this article themselves, and it expresses their own opinions. The author is not receiving compensation for it (other than from Seeking Alpha). The author has no business relationship with any company whose stock is mentioned in this article.