"A good hockey player plays where the puck is. A great hockey player plays where the puck is going to be." - Wayne Gretzky
I have been a skeptic for as long as I can remember. It is simply my nature. This applies to all aspects of my life. In politics I always see campaign slogans like "A chicken in every pot" or "Hope & Change" for the empty populist rhetoric that they are. Obviously this outlook does not make me the happiest person one will ever encounter.
On the bright side, it has made me a way above average investor over the past few decades. I think this is because I tend to avoid momentum stocks and focus on those stocks and sectors that are currently unloved by the market.
This contrarian bent has consistently led to investing outperformance. According to TipRanks, a service that tracks the performance of over 6,800 financial analysts and bloggers' investment recommendations, I have consistently been in the top one percent of all analysts & bloggers followed over the past two years.
There are a couple of lessons I can relay to fellow investors with a contrarian streak. First, a contrarian will almost always be early in their investments as sentiment on undervalued stocks and sectors can take longer than expected to turn. Therefore, I advocate slowly building a position in these unloved equities. I also use out of money puts to gain premium income or lower entry points while pursuing a stake in these against the herd type investments.
Second, one must distinguish between undervalued stocks and "value traps". As long as one can achieve this consistently, the motto of the good contrarian investor "Always Early, Rarely Wrong" can be yours to wear proudly.
I have started to build several positions in two of the most hated sectors of the market recently. They are in Housing and Mining and are as follows:
The housing market looks like it has stalled yet again judging from recent results. However, this sector continues to take two steps forward for every step back. New builds have come in at much lower levels than household formation over the past five years. Combined with mortgage rates hovering new historical lows and slowly loosening credit standards; I think pent up demand in the sector will eventually be released.
I recently started to build a position in UCP Inc. (NYSE:UCP), a small homebuilder with land and developing communities in Northern California and to a lesser extent the Seattle area. Both regions are showing better than average high income job growth due to being technology hubs which bodes well for home sales.
Better yet, the company acquired over 70% of its lot inventory at rock bottom prices during 2008-2010 and as such its book value is substantially understated. Revenues should go from just over $70 million in 2013 to over $160 million this year. Analysts believe the company can produce sales north of $300 million in 2015 as it builds out its communities.
This homebuilder should post a small loss this year but around 50 cents a share of profit in 2015. With just a $100 million market capitalization and net cash on the balance sheet, this is a deep value play. If M&A activity picks up in the sector, I see UCP as a prime buyout candidate due to its locations and its undervalued land holdings.
Miners have been one of the ugliest sectors of the market for years. However, mining companies are starting to act more rational recently by cancelling new mines, selling off non-core assets and reducing operational costs.
I like Freeport McMoRan (NYSE:FCX) here. The company has diversified into faster growing energy assets in North America over the past year which has diversified it away somewhat from the volatile copper market. It also reached agreement with the Indonesian government to resume exports from its huge copper mine there. Although the company did not get everything it wanted in the new contract, the recent agreement at least reduced uncertainty levels on this concern.
The stock is down ~40% from its last peak in 2011 even as the overall market has rallied strongly. The shares also yield a healthy 3.6% and go for around 8x the earnings the company made in 2010 as well as 2011. The stock also has been in a strong uptrend since crossing over its 200 day moving average recently (See Chart).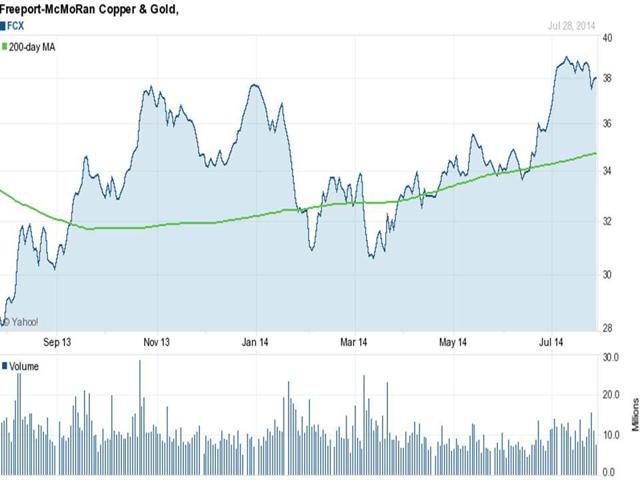 The only thing more contrarian than buying the shares of a large miner these days is buying a large mining concern located in Brazil which is going through a significant economic slowdown. Nonetheless, I have recently starting to build a position in the huge iron producer Vale (NYSE:VALE).
Vale is selling at just six times trailing earnings and just over three times its peak earnings in 2011. The shares also pay better than a six percent dividend yield. The stock has been punished due to low iron ore prices as well as an activist government in Brazil.
However, China recently posted better than expected manufacturing PMI readings and there is a good chance a more pro-business government is in place in Brazil after upcoming elections are completed. If sentiment changes either on Brazil or on iron ore prices, it is hard to see how the stock is not much higher a year from now.
Being a contrarian investor is not an easy path. It takes patience, discipline and the willingness to go against the herd. However, if done properly this investment philosophy can also lead to outsized performance in the market over the long term.
Disclosure: The author is long FCX, UCP, VALE. The author wrote this article themselves, and it expresses their own opinions. The author is not receiving compensation for it (other than from Seeking Alpha). The author has no business relationship with any company whose stock is mentioned in this article.