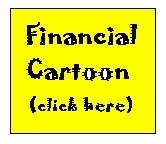 Outlook: Those who were looking for financial markets' excitement couldn't have asked for more of an action-packed week. Investors were treated to a smorgasbord of the three major financial markets' food groups: political (election results), financial (Fed's open market purchases) and economic (unemployment statistics).
All Good: The initial implication of the cumulative impact of the interrelated events noted above is positive for the economy and portions of the financial markets. The Fed is committed to economic growth through an easy monetary policy that simulates inflation and asset values and there were intimations of an extension of Bush's tax cuts.
Domino Effect: The hope is rising asset prices will again encourage investors to deploy their capital in risky assets in an effort to capture that increase in value, thereby further simulating demand, increased production and employment. The specter of Japan's two lost decades on deflationary fears paralyzed its economy—a mistake the current Fed is adamant not to repeat.
Not All Investment Classes Can be Winners: Yet it's hard to understand how under this scenario fixed-income investments do well longer term? If the economy begins to gain traction with increasing production and employment it will likely translate into higher inflation expectations and interest rates. Obviously, higher interest rates are the nemesis of fixed-income (bond) prices. The exception to this scenario is that it will take significant time for the slack in the economy to be absorbed in order to generate such inflation and the Fed can deftly tame its rise.
Two Headed Coin: In any case, if the economy recovers, interest rates are likely to rise—all we're talking about here is timing. If the economy doesn't, interest rates will likely rise anyway. The latter will be a function of the Fed effectively devaluing our currency through quantitative easing with no economic growth to show for it. There is only so much sawdust you can put in a horse's oats before you kill the horse.
Transition into Equities: While I agree that it's financial masochism to fight the Fed, I wouldn't mind leaning into it on the fixed-income side. I personally continue to buy ProShares Short 20+ Treasury EFT (NYSEARCA:TBF) as a re-inflation play as it's the inverse of the 20 year plus treasuries.
It would appear that the Fed would concentrate its efforts on the short end of the yield curve to create a rising yield curve which has been a configuration good for commerce and finance. I would not recommend this investment for others as it is a mid-to-late 2011 investment harvest and the stock may go down in the interim.
Go Financials! In the equity market I am buying the financials. I think the tone has changed on the "Hill" and there will be some "claw back" for the financials relating to regulatory oversight. J.P. Morgan (NYSE:JPM) is the best of breed. Its P/E is still reasonable, its operating margins are strong, it's likely to begin a stair-step increase in its dividend and the banks are central for igniting an economic recovery.
For those who want to avoid stock specific risk, there is the Financial Select Sector SPDR (NYSEARCA:XLF) ETF.
CEF Weekly Review: The 13 closed-end fund (CEF) types on average posted a 1.4% increase for the week ending 11/05/10. The high-low spread was a wide +5.9% versus +0.8% the previous week on an average price appreciation of 1.4% versus 0.2%, respectively. On an aggregate, unweighted basis, the weekly average price change for the 500 plus CEFs was up 1.2%.
The PowerShares CEF Income Composite (NYSEARCA:PCEF), an ETF that invests in taxable income CEFs, was up 2.1% for the week. The S&P 500 was up 3.6% for the week and up 9.9% YTD.
(Click here for YTD CEF Performance. The table is based on a smaller CEF sample size as all the data fields are not available for the CEF universe.)
The Eqcome CEF Fear Index for the week continued to ease. The average price was up 1.2% while NAV was up 0.9%. The CBOE Volatility Index (VIX), which typically moves inversely with the stock market—but is mostly a measurement of volatility based on stock options' premiums—declined 14.2% to register below 20 at 18.26 as it dropped mid-week with post the Fed QE II decision.
The VIX is still near its lowest point since April. Historically it is now at a point of being regarded as a contra indicator.
The S&P 500's average daily share volume again exceeded the 4 billion shares mark for the fourth week in a row—up 16.6% from the previous week to 4.8 billion shares. We'll be looking for confirmation of the market's advance through increased volume.
Money Flow: "Money Flow" into the DJ US Total Stock Market was up 3.7% for the week and up 5.9% for the month. The up/down ratio increased to 1.03 for the week and 1.02 for the month. The Oil & Gas sector experienced the greatest weekly change, jumping 5.3%--the biggest loser the previous week; the health care sector the least, down 1.05%.
Mutual Funds: The total inflows into mutual funds for the week ending 10/27/10 slid 65.3% from the previous week to $3.3 billion. Investors' withdrew $2.3 billion out of equity funds—more than reversing the previous week's inflows. Withdrawals from domestic equity funds expanded to almost $3.0 billion while the increase in foreign equity funds dribbled in at $0.6 billion after having raked in $2.3 billion the previous week. Domestic funds' outflows had been tapering off the previous 3 weeks.
The Bond Bubble Express continued to be the repository for investors' funds increasing to $5.3 billion, down 18% from the previous week. Taxable bond funds inflows decreased from the previous week 18.6% to $4.8 billion; muni funds decreased 13.6% to $0.545 billion. Again, these numbers preceded the monetary expansion announced by the Fed.
Money market funds decreased with a withdrawal of $6.6 billion versus an increase of $24.6 billion the previous week to a total of $2.8 trillion for the week ending November 3rd. Taxable government funds decreased by $2.5 billion, taxable non-government funds decreased by $5.0 billion and tax-exempt funds increased by $0.9 billion. Institutional funds are approximately twice the size of retail at $1.86 trillion. Institutional money funds' balances declined 5.5% while retail holdings declined by 1.1%.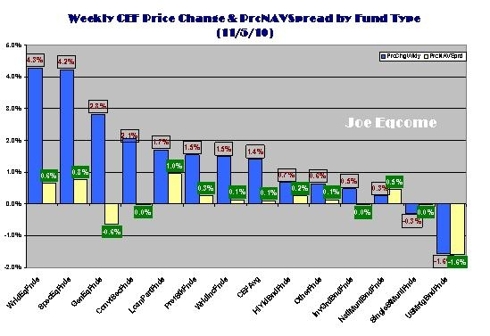 CEF Weekly Fund Type Performance: The 13 CEF fund types weekly performance was for the third week in a row biased towards the equity-oriented fund types with the fixed-income sectors lagging.
WrldEqFnds and SpecEqFnds each generated strong price advances over 4%. The general theme in each of the fund types was commodities related. SpecEqFnds real estate, precious metals and natural resources fueled the advance. USMrtgBndFnds dropped from leading fund type the previous week to last this week with a loss of 1.6%.
The overall investment theme for CEFs—despite the prospect of lower interest rates—was out of debt and into equity. Muni fund types continued to lag with SingleStMuniFnds showing a decline.
Weekly CEF Winners and Losers: One of the CEFs that experienced the greatest positive PrcNAVSprd* was Aberdeen Chile Fund (NYSEMKT:CH). CH price advanced 10.2% while its NAV increased 4.2% generating a 6.0% positive PrcNAVSprd. CH was the beneficiary of the increase in commodity prices in general—copper prices in particular. China and India manufacturing surged in October; both are major consumers of copper in their manufacturing process.
The CEFs having the greatest negative PrcNAVSprd for the week was Nuveen Tax-Advantage Floating Rate Fund (NYSEMKT:JFP). JFP is a small $34 million, unleveraged CEF that has a managed distribution program. It is currently paying a distribution of $.015 monthly at an annualized yield 7.1% and is trading at a slight premium. JFP has reduced its distribution annually earlier in 2009 and 2010 and investors may be anticipating the same for 2011.
Eqcome CEF Portfolio™: Joe maintains three separate CEF portfolios that have different investment objectives: CEFBig10™, CEFMuni10™ and CEFDisc10™ (see website). The first is a balanced equity-income portfolio, the second a tax-exempt income portfolio and the third a portfolio whose objective is capital gains with a secondary objective of current income.
These portfolios will soon be available to retail investors at a nominal fee to maximize equity-income for retirees and retail investors.
Portfolio Allocation: Joe allocates among the different portfolio strategies based on maximization of total return based on his perspective of what portfolios would perform best in different phases of the investment cycle. Joe has reduced his allocation to the CEFMuni10™ from 25% to 20% and has boosted the percentage allocation to the CEFDisc10. (See website for further details.)
Economic & Earnings Outlook: (Click here for next week's economic calendar; click here for earnings' announcements and estimates.)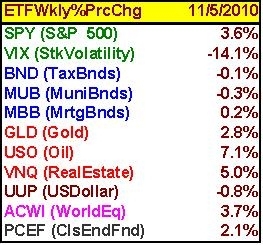 ETFs: For a more detailed EFT performance by sectors, click here.
Insider Trading: Insider trading was light in the first week of November. There were several small accumulations of shares in several of the John Hancock funds. Hugh McHaffie, a trustee of several of the Hancock funds, purchased on average $11,000 in stock of HPS, HPI, HTD, HPF and PDT. They all appeared to be initial accumulation of a position.
Another Trustee of several of these funds, Deborah C. Jackson, was accumulating shares in September.
(Click here for a hyperlink to the Joe Eqcome's CEF Weekly Insider Report.)
CEF Distribution Announcements This Week: The following is a link to a table of CEF distribution announcements this week as well as the previous week's with yet expired ex-dividend dates. The list is not intended to be inclusive. (Click here for Joe Eqcome's Weekly CEF Distribution Announcements.)
Significant CEF Corporate Events: Special Opportunities Fund (SPE) announced an issue of a new class of convertible preferred stock ($25 per share) through a transferable rights offering to its common shareholders of one right for every 5.5 shares of common stock held on a yet to be determined record date with over with oversubscription privileges. The rights will be traded on the NYSE for at least 20 business days as well as the newly issued convertible preferred stock.
The convertible preferred stock will pay a quarterly distribution at a rate of 3-1/4% per annum and will be retired in 5 years at $25 per share. In addition, it will be convertible into common stock at the ratio of 1.5 shares of common stock for each share of preferred stock (adjusted for any distributions made to common stockholders). At any future date that the net asset value of the Fund's common stock reaches $20 per share (adjusted for any distributions made to common stockholders) the convertible preferred stock will become callable by the Fund at $27.50 per share.
CEF Focus Stock(s) for the Week: Based on a comparison of current premium/discounts of over 600 closed-end funds (CEF) to their relatively premium/discounts on both a 4 quarter and 4 month average, both Fiduciary/Claymore MLP Opportunity Fund (NYSE:FMO) and Eaton Vance Risk-Managed Diversified Equity Income Fund (NYSE:ETJ) appear to be at attractive entry points based on this metric alone.
(For background, methodology and analysis see article entitled, "CEF Rolling PremDisc Spreads Presage Price Change: FMO & ETJ" (11/4/10).)
Disclosure: Author owns a diversified portfolio of CEFs and ETFs and is long stocks in the CEFBig10™, CEFMuni10™ and CEFDisc10™, TBF and JPM)
CEFMuni10™ and CEFDisc10™, TBF and JPM) [*] All things being equal, price and NAV should move in tandem. A price movement greater than the NAV generates a positive PrcNAVSprd and may be interpreted as negative on a near-term basis and indicate that the stock is overvalued relative to its NAV which in theory is the stock's intrinsic value. The opposite would be true for a negative PrcNAVSprd.