There are a few key stories playing out in the energy sector right now; how Russia is going to treat large multinational oil companies and what the US and allies are going to do about Kurdish oil sales. As it stands now, the US legal system has ruled in a low court that any oil from Iraq is the property of the country itself and not that of semi-autonomous regions such as Iraqi Kurdistan. There is talk that this shipment was a test run to see how the US would react, and now that it appears imports will not be allowed we are interested as to how Iraqi Kurdistan and Turkey plan to sell crude moving forward. Europe is always an option, but if the west has little interest in circumventing Iraq's central government then we could see this crude enter the black market and sell at a discount; much like the system that terror group ISIS uses to sell production from areas it controls.
While that is important news, right now investors are far more concerned with Russia and the potential sanctions which could be handed down moving forward. With all of the major oil companies involved in Russia, the level of concern we see in the market right now makes sense and it is that worry we want to discuss today.
Chart of the Day:
We went bullish on BP in the $45-46/share range and that has held as support when it has been tested. With the company keeping the dividend steady, we feel that investors have yield protection but do recognize that if the shares break through the $50/share level that the stock will most likely have to build up a new base of support before attempting another move higher.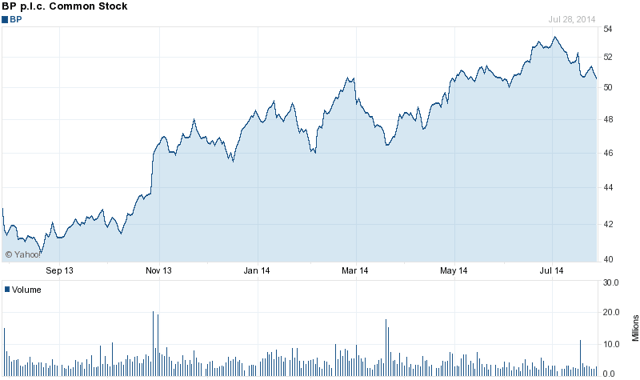 Source: Yahoo Finance
Commodity prices are as follows (at time of submission):
Gold: $1,298.60/ounce, down by $4.70/ounce
Silver: $20.63/ounce, up by $0.063/ounce
Oil: $100.64/barrel, down by $1.03/barrel
RBOB Gas: $2.8531/gallon, up by $0.0039/gallon
Natural Gas: $3.74/MMbtu, down by $0.007/MMbtu
Copper: $3.225/pound, down by $0.0185/pound
Platinum: $1,486.30/ounce, down by $4.30/ounce
A Russian Headache
As BP (NYSE:BP) released their quarterly earnings, many were paying attention; not only to get an idea of how the underlying business is performing but also to get an idea of the company's view on the West's sanctions on Russia. As one can imagine, the company stated that further sanctions could lead to losses for the company as their economic interests in the country are devalued, both the equity stake in Rosneft (OTCPK:RNFTF) and the actual properties, as well as hurting the relationships that BP has built up over the years with those in power in various areas of Russia. While there was some good news in the report, much of the attention seemed to be solely on BP's large exposure to Russia and the increasing costs to grow production.
BP also stated that production would fall in the third quarter due to typical seasonal issues. While the second quarter was strong, fears surrounding the company's production and business interests in Russia and Iraq have taken a front seat, as they should, and shall remain in the spotlight so long as geopolitical events dictate that investors focus on these areas.
BP Not Alone
While BP is grabbing the headlines this morning, investors should be casting a wider net, as there are other companies that could be impacted by the potential for further sanctions. The two names which immediately come to mind are Royal Dutch Shell (NYSE:RDS.A) (NYSE:RDS.B) and Exxon Mobil (NYSE:XOM), western companies that along with BP are helping rebuild and modernize the Russian energy industry. The least likely to be impacted in a major way is Exxon Mobil, as the company is new to the country and still setting up its long-term plans.
Royal Dutch Shell has been a big winner as of late, but it could be in for a pullback if further troubles arise in Nigeria and Russia.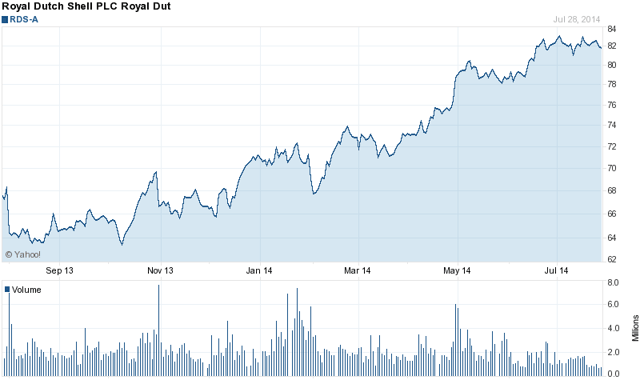 Source: Yahoo Finance
Royal Dutch Shell, however, is an entirely different story. Like BP, Shell is aligned with a large Russian energy company and provides capital and expertise to develop large projects, but it does not have the overall exposure to Russia that BP does. Shell does have assets in a lot of hot spots, but most of their risk is managed with minimal assets in Ukraine and the real headache for them being Nigeria where they constantly have to shut down production and deal with oil theft (which was recently reported at $1 billion).
With the recent ruling that Russia must pay $50 billion to former Yukos shareholders and talk of new sanctions looming, it is no surprise that investors are beginning to worry that Russia may in fact act upon its previous threats. At the top of the 'List of Worry'; the possibility that Russia begins to seize assets owned in Russia by western companies.
As these fears once again enter the market, our thinking is that pullbacks on Russian fears are buying opportunities rather than a time to sell. This has worked out well before for us, and with key Russian diplomats distancing themselves from talk of nationalizing assets of foreign companies, we think that long-term investors can profit as the war of words temporarily destroys value.
Disclosure: The author has no positions in any stocks mentioned, and no plans to initiate any positions within the next 72 hours. The author wrote this article themselves, and it expresses their own opinions. The author is not receiving compensation for it (other than from Seeking Alpha). The author has no business relationship with any company whose stock is mentioned in this article. BP has previously been recommended.