A small cap stock technology stock that we follow, Cognex Corporation (NASDAQ:CGNX), reported earnings today and jumped 17%. The company, which designs and manufactures "machine vision" technology used in automating manufacturing, pulled back earlier this year along with most small cap tech stocks. In April, however, the company began to rebound after news of a $40 million deal with a large customer that will be recognized in the third quarter. Now with its strong second quarter earnings report, the company reached an all-time high, up more than 14% for the year.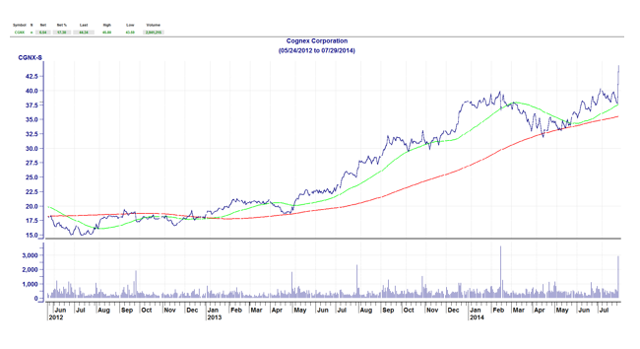 Source: Telemet Orion.
Company Description
With a market cap of $3.2 billion, Cognex is the world's leading provider of vision systems, vision software, vision sensors and surface inspection systems used in manufacturing automation.
Machine vision uses high-tech cameras to improve product quality, eliminate errors and lower manufacturing costs. One common example is the bar code scanner. Other typical manufacturing applications include detecting defects, monitoring production lines, guiding assembly robots, and tracking, sorting and identifying parts.
The machine vision market is expected to grow as much at 15% per year to $2 billion by 2018. Cognex believes that virtually every manufacturer can achieve better quality and manufacturing efficiency by using machine vision.
Cognex's products are used mainly in semiconductor, solar and consumer electronics industries though the company is increasingly moving towards less cyclical sectors like pharmaceuticals, logistics, beverages, and food. The company is also expanding rapidly into emerging markets and already got 69% of 2012 revenue from international markets. The company plans to grow by expanding its technology to new applications and new markets as well as through targeted acquisitions.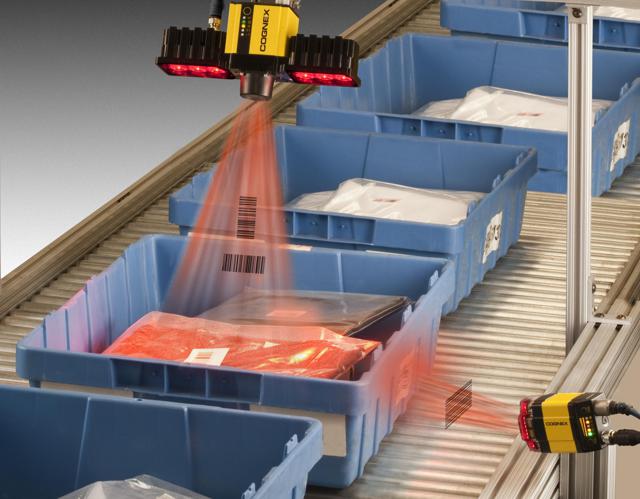 Source: cognex.com.
Earnings Results
Earnings Per Share for Cognex's second quarter came in at an impressive 29 cents, soundly beating the consensus estimate of 23 cents and up more than ten cents from the second quarter of 2013. Revenue of $109 million also beat the average analyst estimate of $103 million and was up more than 25% from last year's second quarter.
Management was excited to report the results:
'What a quarter!' exclaimed Dr. Robert J. Shillman, Chairman of Cognex. 'Our record-breaking financial results were above our expectations. We were highly profitable and delivered record earnings per share even with continued investments in engineering and sales to drive future growth.'

'Our second quarter performance was outstanding,' said Robert J. Willett , Chief Executive Officer of Cognex. 'The strong upward momentum in our business is driven by past investments we made in our technology and sales team. It's gratifying to see our hard work deliver these great financial results. Even more exciting is the substantial growth that we expect to report for Q3.'
All three of Cognex's divisions contributed to the strong growth. Factory automation revenue was $83.8 million, up 25% over last year and 12% on a sequential basis, due to strong performances by both ID and vision products, the company said. Surface inspection revenue was a record $16.5 million in the second quarter, up 36% year over year and 72% over the prior quarter. Revenue from the semiconductor and electronics capital equipment market, was $8.5 million, up 20% year over year and 38% over the first quarter of 2014.
Cognex has a rock solid balance sheet with no debt and nearly $500 million in cash. The company said that the recovery in Europe and growth in the automotive business in Asia contributed to the strong results. Next quarter Cognex expects revenue to rise more than 50% from the second quarter, offsetting higher costs due to increasing investment.
Conclusion
We continue to like Cognex because it is a disciplined, innovative and financially strong company that is part of a major trend of factory automation and "machine vision." The company is also successfully expanding into growing markets abroad while performing well domestically. As the P/E has now risen to an expensive level above 40, based on past earnings, we will keep an eye on the company's valuation and monitor its earnings.
Disclosure: The author is long CGNX. The author wrote this article themselves, and it expresses their own opinions. The author is not receiving compensation for it. The author has no business relationship with any company whose stock is mentioned in this article.
Disclaimer: This is a brief stock update and is not meant to be an exhaustive report or recommendation. We encourage readers to consult their adviser or do their own due diligence before purchasing any stock.