The following is a list of stocks that are approaching an inflection point, based on moving average trends. For this article, we define an inflection point as the convergence between the 50-day and 200-day moving averages.

When these two moving averages cross, it often represents a shift in investor sentiment. If the 50-day MA moves above the 200-day MA (bullish), it's called a "Golden Cross" signal. If, on the other hand, the 50-day MA crosses below the 200-day MA (bearish), it's called the "Death Cross".

To compile this list, we started with a universe of stocks that have recently seen the SMA50 move above the SMA200 (i.e. a bullish signal). We then narrowed down the list by only focusing on stocks that broke through this inflection point on high volume (i.e. technical confirmation of the breakout). For each stock we'll list the Relative Volume indicator, which expresses Friday's volume as a multiple of the 3-month average volume.

All data sourced from Finviz.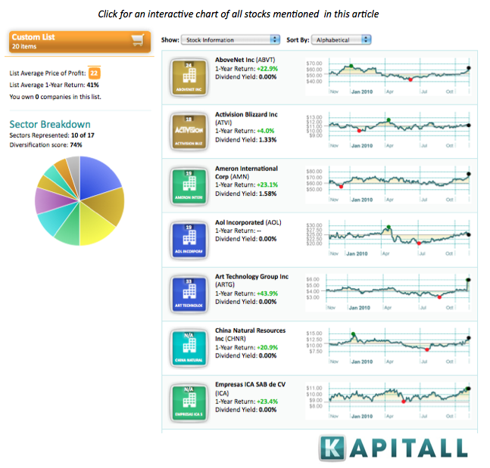 The list has been sorted by Friday's Relative Volume indicator.

1. Eurand N.V. (NASDAQ:EURX): Biotechnology Industry. Market cap of $560.42M. Friday's Relative Volume at 5.91. SMA50 at $10.07 vs. SMA200 at $9.82 (current price at $11.69). Short float at 4.81%, which implies a short ratio of 11.41 days. The stock has lost -10.7% over the last year.

2. China Natural Resources Inc. (NASDAQ:CHNR): Industrial Metals & Minerals Industry. Market cap of $302.15M. Friday's Relative Volume at 5.78. SMA50 at $10.83 vs. SMA200 at $10.8 (current price at $13.3). Short float at 0.79%, which implies a short ratio of 5.76 days. The stock has gained 20.9% over the last year.

3. International Rectifier Corporation (NYSE:IRF): Semiconductor Industry. Market cap of $1.91B. Friday's Relative Volume at 4.41. SMA50 at $21.12 vs. SMA200 at $20.95 (current price at $27.5). Short float at 5.93%, which implies a short ratio of 7.12 days. The stock has gained 45.66% over the last year.

4. Rosetta Resources, Inc. (NASDAQ:ROSE): Independent Oil & Gas Industry. Market cap of $1.54B. Friday's Relative Volume at 4.4. SMA50 at $22.65 vs. SMA200 at $22.41 (current price at $29.2). Short float at 6.07%, which implies a short ratio of 5.62 days. The stock has gained 107.53% over the last year.

5. EZCORP Inc. (NASDAQ:EZPW): Credit Services Industry. Market cap of $1.28B. Friday's Relative Volume at 4.27. SMA50 at $20.02 vs. SMA200 at $19.71 (current price at $24.47). Short float at 4.92%, which implies a short ratio of 8.51 days. The stock has gained 77.58% over the last year.

6. Mohawk Industries Inc. (NYSE:MHK): Textile Industrial Industry. Market cap of $3.92B. Friday's Relative Volume at 4.2. SMA50 at $52.41 vs. SMA200 at $51.78 (current price at $57.08). Short float at 10.29%, which implies a short ratio of 8.12 days. The stock has gained 31.28% over the last year.

7. Lihua International, Inc. (NASDAQ:LIWA): Copper Industry. Market cap of $349.68M. Friday's Relative Volume at 4.15. SMA50 at $8.93 vs. SMA200 at $8.68 (current price at $12.00). Short float at 7.01%, which implies a short ratio of 6.1 days. The stock has gained 45.28% over the last year.

8. AboveNet, Inc. (NYSE:ABVT): Internet Service Providers Industry. Market cap of $1.6B. Friday's Relative Volume at 3.29. SMA50 at $53.42 vs. SMA200 at $52.34 (current price at $62.69). Short float at 5.71%, which implies a short ratio of 9.5 days. The stock has gained 22.92% over the last year.

9. Arena Resources Inc. (ARD-OLD): Oil & Gas Drilling & Exploration Industry. Market cap of $1.42B. Friday's Relative Volume at 3.04. SMA50 at $35.98 vs. SMA200 at $35.66 (current price at $35.98). Short float at 5.75%, which implies a short ratio of days. The stock has lost -11.29% over the last year.

10. Sterling Bancshares Inc. (NASDAQ:SBIB): Regional Bank. Market cap of $599.47M. Friday's Relative Volume at 2.79. SMA50 at $5.29 vs. SMA200 at $5.22 (current price at $5.88). Short float at 9.05%, which implies a short ratio of 8.93 days. The stock has gained 15.75% over the last year.

11. Smith Micro Software Inc. (NASDAQ:SMSI): Application Software Industry. Market cap of $518.51M. Friday's Relative Volume at 2.69. SMA50 at $10.06 vs. SMA200 at $9.41 (current price at $15.13). Short float at 6.74%, which implies a short ratio of 5.74 days. The stock has gained 116.45% over the last year.

12. North American Palladium Ltd. (PAL): Industrial Metals & Minerals Industry. Market cap of $808.03M. Friday's Relative Volume at 2.54. SMA50 at $4.1 vs. SMA200 at $3.87 (current price at $5.48). Short float at 2.81%, which implies a short ratio of 1.9 days. The stock has gained 110.77% over the last year.

13. Art Technology Group Inc. (ARTG): Internet Software & Services Industry. Market cap of $943.92M. Friday's Relative Volume at 2.51. SMA50 at $4.13 vs. SMA200 at $3.99 (current price at $5.97). Short float at 4.13%, which implies a short ratio of 1.99 days. The stock has gained 43.86% over the last year.

14. Ameron International Corporation (NYSE:AMN-OLD): General Building Materials Industry. Market cap of $701.52M. Friday's Relative Volume at 2.49. SMA50 at $64.53 vs. SMA200 at $64.32 (current price at $75.84). Short float at 3.69%, which implies a short ratio of 7.1 days. The stock has gained 25.38% over the last year.

15. Empresas ICA, S.A.B. de C.V. (NYSE:ICA): Heavy Construction Industry. Market cap of $1.77B. Friday's Relative Volume at 2.37. SMA50 at $9.98 vs. SMA200 at $9.87 (current price at $10.95). Short float at 0.52%, which implies a short ratio of 4.2 days. The stock has gained 23.45% over the last year.

16. AOL, Inc. (NYSE:AOL): Internet Information Providers Industry. Market cap of $2.66B. Friday's Relative Volume at 2.33. SMA50 at $24.31 vs. SMA200 at $23.64 (current price at $24.92). Short float at 5.83%, which implies a short ratio of 7.67 days.

17. Activision Blizzard, Inc. (NASDAQ:ATVI): Multimedia & Graphics Software Industry. Market cap of $13.84B. Friday's Relative Volume at 2.22. SMA50 at $11.12 vs. SMA200 at $11.10 (current price at $11.30). Short float at 4.34%, which implies a short ratio of 2.17 days. The stock has gained 5.41% over the last year.

18. Principal Financial Group Inc. (NYSE:PFG): Asset Management Industry. Market cap of $9.55B. Friday's Relative Volume at 2.2. SMA50 at $26.07 vs. SMA200 at $25.93 (current price at $29.8). Short float at 3.3%, which implies a short ratio of 3.33 days. The stock has gained 19.34% over the last year.

19. Sanofi-Aventis (NYSE:SNY): Drug Manufacturer. Market cap of $93.63B. Friday's Relative Volume at 2.2. SMA50 at $33.07 vs. SMA200 at $32.55 (current price at $35.88). Short float at 0.11%, which implies a short ratio of 1.26 days. The stock has gained 2.11% over the last year.

20. Timberland Co. (NYSE:TBL): Apparel Footwear & Accessories Industry. Market cap of $1.33B. Friday's Relative Volume at 2.18. SMA50 at $19.61 vs. SMA200 at $19.23 (current price at $25.39). Short float at 3.69%, which implies a short ratio of 3.76 days. The stock has gained 52.13% over the last year.

Disclosure: No positions