The following is a list of high growth companies, as defined by projected EP growth rates over the next five years. In addition, the management teams of these companies have proven themselves to be more efficient than their competitors over the last five years.

To create the list, we started with a universe of high growth stocks. We then reduced the size of the universe by only focusing on management teams that have managed to achieve higher return on assets, return on equity and return on invested capital, when compared to competitors.

We're not going to go into detailed analysis for each company. The goal here is to give a growth-oriented investors a starting point for their own analysis.

Management data sourced from Reuters, short float data sourced from Finviz.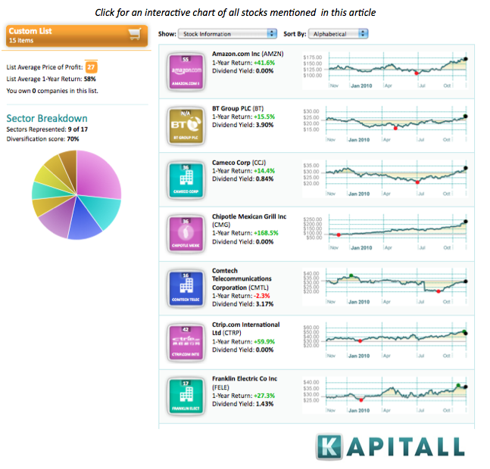 The list has been sorted by return on invested capital.

1. Questcor Pharmaceuticals, Inc. (QCOR): Biotechnology Industry. Market cap of $798.26M. EPS projected to grow by 28.0% over the next five years. 5-year average return on assets at 34.19% vs. industry average at 9.94%. 5-year average return on investments at 45.63% vs. industry average at 12.83%. 5-year return on equity at 48.30% vs. industry average at 16.56%. Short float at 12.29%, which implies a short ratio of 9.24 days. The stock has gained 212.41% over the last year.

2. Southern Copper Corp. (NYSE:SCCO): Copper Industry. Market cap of $39.64B. EPS projected to grow by 28.27% over the next five years. 5-year average return on assets at 26.70% vs. industry average at 12.97%. 5-year average return on investments at 30.99% vs. industry average at 16.12%. 5-year return on equity at 45.48% vs. industry average at 18.52%. Short float at 3.72%, which implies a short ratio of 3.04 days. The stock has gained 43.3% over the last year.

3. Ctrip.com International Ltd. (NASDAQ:CTRP): Consumer Services Industry. Market cap of $6.47B. EPS projected to grow by 29.61% over the next five years. 5-year average return on assets at 20.01% vs. industry average at 5.14%. 5-year average return on investments at 27.63% vs. industry average at 7.83%. 5-year return on equity at 28.02% vs. industry average at 12.64%. Short float at 4.56%, which implies a short ratio of 3.11 days. The stock has gained 59.89% over the last year.

4. Myriad Genetics Inc. (NASDAQ:MYGN): Drug Manufacturer. Market cap of $1.95B. EPS projected to grow by 28.27% over the next five years. 5-year average return on assets at 21.53% vs. industry average at 9.53%. 5-year average return on investments at 23.89% vs. industry average at 11.86%. 5-year return on equity at 23.89% vs. industry average at 15.48%. Short float at 5.96%, which implies a short ratio of 4.58 days. The stock has lost -15.12% over the last year.

5. Netflix, Inc. (NASDAQ:NFLX): Music & Video Stores Industry. Market cap of $8.78B. EPS projected to grow by 26.56% over the next five years. 5-year average return on assets at 13.04% vs. industry average at 7.57%. 5-year average return on investments at 19.61% vs. industry average at 10.29%. 5-year return on equity at 22.34% vs. industry average at 14.88%. Short float at 23.18%, which implies a short ratio of 2.01 days. The stock has gained 198.1% over the last year.

6. Amazon.com Inc. (NASDAQ:AMZN): Online Retail Industry. Market cap of $76.65B. EPS projected to grow by 28.12% over the next five years. 5-year average return on assets at 8.16% vs. industry average at 6.62%. 5-year average return on investments at 18.29% vs. industry average at 11.01%. 5-year return on equity at 36.06% vs. industry average at 18.67%. Short float at 3.61%, which implies a short ratio of 2.13 days. The stock has gained 41.59% over the last year.

7. New Oriental Education & Technology Group (NYSE:EDU): Education & Training Services Industry. Market cap of $3.99B. EPS projected to grow by 26.14% over the next five years. 5-year average return on assets at 13.02% vs. industry average at 7.57%. 5-year average return on investments at 17.87% vs. industry average at 10.29%. 5-year return on equity at 18.32% vs. industry average at 14.88%. Short float at 3.58%, which implies a short ratio of 3.33 days. The stock has gained 47% over the last year.

8. Lam Research Corporation (NASDAQ:LRCX): Semiconductor Equipment & Materials Industry. Market cap of $5.85B. EPS projected to grow by 28.50% over the next five years. 5-year average return on assets at 13.44% vs. industry average at 4.57%. 5-year average return on investments at 17.78% vs. industry average at 6.13%. 5-year return on equity at 20.80% vs. industry average at 6.91%. Short float at 4.38%, which implies a short ratio of 2.16 days. The stock has gained 39.72% over the last year.

9. Chipotle Mexican Grill, Inc. (NYSE:CMG): Restaurants Industry. Market cap of $7.14B. EPS projected to grow by 26.86% over the next five years. 5-year average return on assets at 11.12% vs. industry average at 3.86%. 5-year average return on investments at 12.38% vs. industry average at 5.12%. 5-year return on equity at 14.47% vs. industry average at 9.44%. Short float at 14.05%, which implies a short ratio of 6.09 days. The stock has gained 168.53% over the last year.

10. Comtech Telecommunications Corp. (NASDAQ:CMTL): Communication Equipment Industry. Market cap of $892.4M. EPS projected to grow by 35.0% over the next five years. 5-year average return on assets at 8.78% vs. industry average at 5.57%. 5-year average return on investments at 10.30% vs. industry average at 8.40%. 5-year return on equity at 13.78% vs. industry average at 9.71%. Short float at 7.74%, which implies a short ratio of 4.87 days. The stock has lost -1.47% over the last year.

11. Cameco Corp. (NYSE:CCJ): Industrial Metals & Minerals Industry. Market cap of $13.07B. EPS projected to grow by 34.0% over the next five years. 5-year average return on assets at 7.76% vs. industry average at 6.94%. 5-year average return on investments at 9.66% vs. industry average at 8.40%. 5-year return on equity at 13.49% vs. industry average at 11.88%. Short float at 1.09%, which implies a short ratio of 2.84 days. The stock has gained 15.53% over the last year.

12. Zep, Inc. (NYSE:ZEP): Cleaning Products Industry. Market cap of $414.85M. EPS projected to grow by 29.80% over the next five years. 5-year average return on assets at 5.65% vs. industry average at 0.92%. 5-year average return on investments at 8.79% vs. industry average at 1.26%. 5-year return on equity at 15.97% vs. industry average at 1.85%. Short float at 3.86%, which implies a short ratio of 7.72 days. The stock has gained 9.71% over the last year.

13. Navios Maritime Holdings Inc. (NYSE:NM): Shipping Industry. Market cap of $630.05M. EPS projected to grow by 27.05% over the next five years. 5-year average return on assets at 7.07% vs. industry average at 5.03%. 5-year average return on investments at 8.54% vs. industry average at 6.68%. 5-year return on equity at 20.25% vs. industry average at 12.39%. Short float at 0.96%, which implies a short ratio of 2.03 days. The stock has gained 23.08% over the last year.

14. Franklin Electric Co. Inc. (NASDAQ:FELE): Industrial Electrical Equipment Industry. Market cap of $845.11M. EPS projected to grow by 38.0% over the next five years. 5-year average return on assets at 7.28% vs. industry average at 4.61%. 5-year average return on investments at 8.52% vs. industry average at 6.39%. 5-year return on equity at 12.19% vs. industry average at 4.86%. Short float at 4%, which implies a short ratio of 7.06 days. The stock has gained 29.56% over the last year.

15. BT Group plc (NYSE:BT): Telecom Services Industry. Market cap of $20.36B. EPS projected to grow by 27.60% over the next five years. 5-year average return on assets at 5.06% vs. industry average at 4.05%. 5-year average return on investments at 7.95% vs. industry average at 5.70%. 5-year return on equity at 68.26% vs. industry average at 8.46%. Short float at 0.01%, which implies a short ratio of 1.13 days. The stock has gained 20.92% over the last year.

Disclosure: No positions