The following is a list of oversold stocks, as defined by the Relative Strength, or RSI(14), indicator. All of the stocks in this list have RSI(14) values below 40, which usually signals oversold conditions.

In addition, all of these stocks have seen significant institutional selling over the last three months.

If you're a contrarian, this excessive pessimism might raise a flag. We're not going to into detailed analysis here, the goal is to give you a starting point for your own analysis.

Institutional data sourced from Reuters, RSI(14) and short float data sourced from Finviz.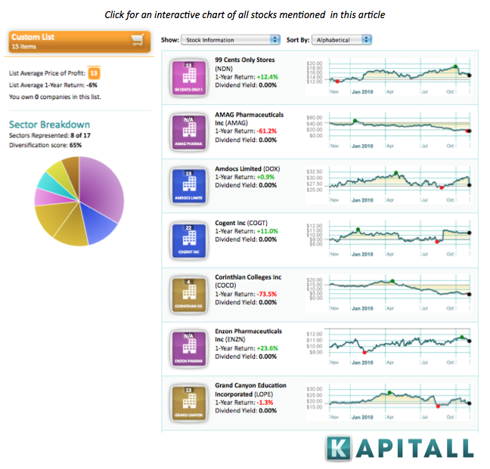 The list has been sorted by the change in institutional ownership over the last three months.

1. Cogent Inc. (COGT-OLD): Business Software & Services Industry. Market cap of $931.93M. RSI(14) at 33.05. Institutional investors currently own 38,822,889 shares vs. 48,603,029 shares held 3 months ago (-20.12% change). Short float at 4.52%, which implies a short ratio of 1.21 days. The stock has gained 11.01% over the last year.

2. Corinthian Colleges Inc. (NASDAQ:COCO): Education & Training Services Industry. Market cap of $355.45M. RSI(14) at 31.36. Institutional investors currently own 92,486,232 shares vs. 100,026,341 shares held 3 months ago (-7.54% change). Short float at 25.17%, which implies a short ratio of 2.8 days. The stock has lost -73.49% over the last year.

3. AMAG Pharmaceuticals, Inc. (NASDAQ:AMAG): Diagnostic Substances Industry. Market cap of $347.11M. RSI(14) at 29.93. Institutional investors currently own 27,568,163 shares vs. 29,663,865 shares held 3 months ago (-7.06% change). Short float at 12.59%, which implies a short ratio of 4.52 days. The stock has lost -61.25% over the last year.

4. TORM A/S (NASDAQ:TRMD-OLD): Shipping Industry. Market cap of $471.93M. RSI(14) at 34.72. Institutional investors currently own 368,492 shares vs. 395,739 shares held 3 months ago (-6.89% change). Short float at 0.01%, which implies a short ratio of 0.36 days. The stock has lost -32.51% over the last year.

5. Res-Care Inc. (RSCR): Personal Services Industry. Market cap of $385.4M. RSI(14) at 35.41. Institutional investors currently own 29,992,890 shares vs. 31,479,620 shares held 3 months ago (-4.72% change). Short float at 2.5%, which implies a short ratio of 1.37 days. The stock has gained 10.08% over the last year.

6. Tyson Foods Inc. (NYSE:TSN): Meat Products Industry. Market cap of $5.7B. RSI(14) at 38.23. Institutional investors currently own 255,755,584 shares vs. 265,713,725 shares held 3 months ago (-3.75% change). Short float at 6.78%, which implies a short ratio of 3.82 days. The stock has gained 20.7% over the last year.

7. Amdocs Ltd. (NYSE:DOX): Business Software & Services Industry. Market cap of $5.51B. RSI(14) at 28.9. Institutional investors currently own 170,797,024 shares vs. 176,255,544 shares held 3 months ago (-3.10% change). Short float at 1.54%, which implies a short ratio of 2.22 days. The stock has gained 0.86% over the last year.

8. Enzon Pharmaceuticals Inc. (NASDAQ:ENZN): Biotechnology Industry. Market cap of $656.58M. RSI(14) at 39.76. Institutional investors currently own 60,156,096 shares vs. 62,038,379 shares held 3 months ago (-3.03% change). Short float at 9.21%, which implies a short ratio of 13.26 days. The stock has gained 23.6% over the last year.

9. Philippine Long Distance Telephone Co. (NYSE:PHI): Telecom Services Industry. Market cap of $10.82B. RSI(14) at 33.5. Institutional investors currently own 33,082,946 shares vs. 34,007,837 shares held 3 months ago (-2.72% change). Short float at 0.41%, which implies a short ratio of 5.99 days. The stock has gained 15.91% over the last year.

10. 99 Cents Only Stores (NYSE:NDN): Discount, Variety Stores Industry. Market cap of $1.02B. RSI(14) at 29.6. Institutional investors currently own 53,443,617 shares vs. 54,909,006 shares held 3 months ago (-2.67% change). Short float at 8.27%, which implies a short ratio of 5.71 days. The stock has gained 12.39% over the last year.

11. Huaneng Power International Inc. (NYSE:HNP): Electric Utilities Industry. Market cap of $6.84B. RSI(14) at 33.57. Institutional investors currently own 6,557,759 shares vs. 6,690,022 shares held 3 months ago (-1.98% change). Short float at 0.32%, which implies a short ratio of 2.34 days. The stock has lost -11.19% over the last year.

12. MedAssets, Inc. (NASDAQ:MDAS): Healthcare Information Services Industry. Market cap of $1.08B. RSI(14) at 36.69. Institutional investors currently own 49,951,501 shares vs. 50,933,844 shares held 3 months ago (-1.93% change). Short float at 10.29%, which implies a short ratio of 7.29 days. The stock has lost -19.74% over the last year.

13. Savient Pharmaceuticals, Inc. (NASDAQ:SVNT): Biotechnology Industry. Market cap of $792.95M. RSI(14) at 25.88. Institutional investors currently own 69,564,071 shares vs. 70,834,348 shares held 3 months ago (-1.79% change). Short float at 14.66%, which implies a short ratio of 2.79 days. The stock has lost -15.37% over the last year.

14. Grand Canyon Education, Inc. (NASDAQ:LOPE): Education & Training Services Industry. Market cap of $833.01M. RSI(14) at 38.56. Institutional investors currently own 38,557,851 shares vs. 39,206,528 shares held 3 months ago (-1.65% change). Short float at 10.94%, which implies a short ratio of 6.3 days. The stock has lost -1.3% over the last year.

15. Taseko Mines Ltd. (NYSEMKT:TGB): Copper Industry. Market cap of $871.75M. RSI(14) at 32.68. Institutional investors currently own 39,689,875 shares vs. 40,295,009 shares held 3 months ago (-1.50% change). Short float at 0.57%, which implies a short ratio of 0.32 days. The stock has gained 48.73% over the last year.

Disclosure: No positions