We are moving into earnings season for a small group of domestic Florida insurers, or DFIs. The companies' stocks have performed extremely well over the last few years due to both fundamental factors and valuation expansions. However, we believe upside is likely limited and investor caution is warranted.
Florida Homeowners insurance is dysfunctional marketplace. Occasional massive losses caused by hurricanes coupled with the political hot-button issue of insurance pricing, has made long-term profitability questionable, if at all possible. Following hurricane Andrew in 1992 and the active seasons of 2004 and 2005, most large national carriers have either abandoned Florida altogether or scaled back operations significantly. As a result, 75% of the market is divided amongst DFIs and the state-owned Citizens Insurance Company.
We recently published a detailed report on the market titled "The Unsustainable State of Florida Property Insurance Industry." We suggest investors read it as a backgrounder on Florida insurance and the DFI segment. It covers industry history, recent developments, key drivers, and identifies problematic business models.
Over the last several years, multiple factors have coalesced to create a profitable environment for DFIs. First of all, there have been no hurricanes or major storms since 2005. It is the longest hurricane-free period on record. Additionally, non-catastrophic losses are below historical averages, and quite importantly, the cost of reinsurance has declined substantially.
Catastrophic hurricane risk is immense for DFIs. They tend to be small and thinly capitalized, making reinsurance essential to their ability to pay claims. It also makes reinsurance a major expense item. In contrast to national carriers, which cede approximately 20% of premiums for reinsurance, DFIs typically cede 35%-55% of premiums.
Reinsurance prices declined so significantly in the June Florida catastrophic reinsurance renewal season that some journalists called it a "bloodbath" for reinsurers. In the article, Ed Noonan, CEO of Validus (NYSE:VR), was quoted saying "We have large ILS [insurance linked securities] managers who are simply saying: 'Whatever they quote we'll put out a multi-hundred million dollar line for 10 percent less'." With that kind of competition to invest capital, it's no surprise that rates have collapsed.
As an illustration of the extent to which prices have eroded, Citizens floated a CAT bond in 2012 yielding 17.5%. They issued a bond with similar terms in 2013 at 10%, and a riskier bond in 2014 at 7%. To paraphrase Warren Buffet in explaining his departure from the reinsurance market, rates have come down, but the risk has not.
The stocks of reinsurers have not suffered due to the lack of pricing power for their product. Many reinsurers including Renaissance Re (NYSE:RNR), Montpelier Re (NYSE:MRH), Blue Capital Reinsurance Holdings (NYSE:BCRH), Partners Re (NYSE:PRE), and Validus Holdings are at or close to 52-week highs, as counterintuitive as it may seem. There may be mitigating factors for some reinsurers, but pricing indicates that returns for the segment should decline going forward.
The price erosion may be a problem for the reinsurers who sell it, but it is a benefit to DFIs. The declining price for this major expense item has helped profitability in recent years. That said, reinsurance is only one of three key levers of DFI profitability. Premium pricing drives the top-line, and in addition to reinsurance costs, losses are the critical wild-card expense item. Over the past several years, all three have been aligned to create a profitable environment, but that has begun to change.
Premium pricing is set to decline, which may not be a surprise as it is a gubernatorial election year in Florida and insurance is an important political issue. The state's insurance commissioner announced earlier this year that rates will be going down. Citizens also recently announced it will lower prices 2.9% on average. Thus, one of the key drivers of recent DFI performance is turning negative.
In addition to the pricing issue, HCI Group (NYSE:HCI) and Heritage Insurance (NYSE:HRTG) will likely face challenges to their assumption-driven growth strategy. Citizens has shrunk dramatically in recent years, leaving a smaller pool of lower quality policies for the companies to assume.
Pricing pressure will take time to emerge and other factors should remain neutral to positive near term, so we expect Q2 2014 earnings to be decent. However, we think the supportive environment is fully baked into prices. The table below shows the price performance and price to book multiple for the group.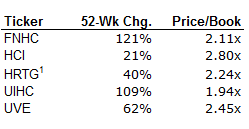 Source: Yahoo. (HRTG IPO'd at $11 and is up 40% in the two-month post-IPO period.)
The table shows that DFIs have performed well in the last year. Over a two-year period, performance for the group has been spectacular, with stocks rising from 150% to 400%. Gains have been driven, in part, by a dramatic price/book multiple expansion. At the end of 2012, the group traded below 1x book. The average is now over 2x.
Although we expect a decent earnings season and a reasonable outlook, we d not find DFIs attractive. One key profit driver is turning negative, and with reinsurance costs and losses both at lows, it is difficult to see how results can improve from current levels. Additionally, we think further multiple expansion as a driver of DFI stock prices is unlikely.
The earnings season kicked off with Federated National (NASDAQ:FNHC) on July 29 in the morning, followed by United Property and Casualty (NASDAQ:UIHC) after the close. They will be followed by Heritage Insurance on Aug. 4, HCI Group on Aug. 5. Universal Insurance (NYSEMKT:UVE) will release a pre-recorded audio presentation in lieu of a live conference call on Aug. 6.
Conclusion
The two sides of Florida catastrophic risk -- DFIs and reinsurers -- have both performed very well over the last one to two years. In our view, a strong dose of caution is recommended for both groups. The extreme price erosion for Florida catastrophic risk reinsurance indicates that companies with high exposure to the area may experience declining returns going forward. This is enough to warrant caution, in our view. If reinsurers are owned, it is imperative to have a granular understanding of company exposure.
DFIs operate in a highly cyclical P&C sub-segment that is marginally, if at all, profitable long term. Recent results reflect what we think is likely the best possible environment for the companies, rather than sustainable earnings power. This, combined with lofty price to book multiples, leads us to conclude that the stocks have little upside from current levels and substantial downside. As is often the case, recent financial performance does not necessarily imply a good investment. Ben Graham addressed the concept eloquently when he wrote in his book The Intelligent Investor:
The risk of paying too high a price for good-quality stocks -- while a real one -- is not the chief hazard confronting the average buyer of securities. Observation over many years has taught us that the chief losses to investors come from the purchase of low-quality securities at times of favorable business conditions. The purchasers view the current good earnings as equivalent to 'earning power' and assume that prosperity is synonymous with safety.
We believe Mr. Graham's observation is a particularly appropriate cautionary note for buyers and owners DFIs at this point in the cycle.
Disclosure: The author is short UVE. The author wrote this article themselves, and it expresses their own opinions. The author is not receiving compensation for it. The author has no business relationship with any company whose stock is mentioned in this article.