Telenav (NASDAQ:TNAV) provides mobile navigation services, competing with Apple and Google Maps. Currently, they have two real end markets, which include mobile systems, and autos. Sprint, AT&T, and Ford make up approximately 78% of their total revenue as of their last quarter. Alternative solutions and competition in the mobile navigation industry will continue to grow, which spells out trouble for this unprofitable business.
On the surface, it may seem as if Telenav is confident in its future because they have bought back $10m worth of shares in the last 12 months. This represents 20% of the shares outstanding; however, in six months, no insiders have purchased shares of the company and there were 21 sales, totaling 250,185 shares. Buying back shares while insiders sell off their holdings seems dubious, and exactly how management might react if they also believed their fundamental business model was flawed. This strategy basically allows insiders to transfer money from the cash on the balance sheet to their own pockets, albeit indirectly and more discretely.
Valuation and Growth
As of Telenav's last quarter, their trailing 12-month EPS was -$0.16. In addition to reporting an earnings loss, Telenav's revenue is declining. Analyst estimates for FY 2015 have Telenav's revenues declining about 6.5%. With negative levered free cash flow of around 16.76m, there is no reason to expect that the business as it currently exists has any value besides what it holds in cash and the liquidation value of its assets. Here Telenav actually shines. As of the most recent quarter, Telenav is trading at 0.96 price/book (P/B) ratio and holds approximately 73% of its stock price in cash as of the close on July 28, 2014.
However, given its current trajectory, the company will continue to burn through the cash on the balance sheet in order to try and save a lost business model. Without new growth opportunities, there is no way the company can save its income statement. Telenav has very concentrated revenue streams, which means losing just one client would be detrimental to the business. It is possible for Telenav to lose its current clients in two ways: if a company decides to build out its own navigation system, as Tesla Motors (NASDAQ:TSLA) did, or to a competitor with widely used software, such as Apple (NASDAQ:AAPL) or Google (NASDAQ:GOOG).
The most disappointing trend in Telenav's business is the decline in its profit margins. On the most recent earnings call, Telenav's CEO stressed that they are implementing cost-cutting strategies. However, the effects of these strategies seem to have little impact on results, as can be seen in the chart below.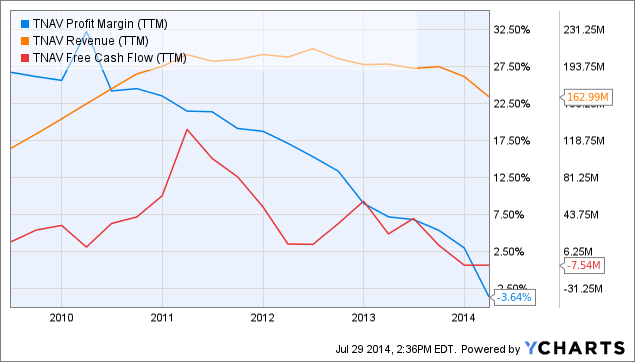 TNAV Profit Margin (TTM data by YCharts)
Risks
There are two major risks to initiating a short position on Telenav. First, if the company can get its growth back by expanding its value proposition to clients, or provide a new service/product to the marketplace Telenav may be able to turn its sinking ship around. This seems highly unlikely given their competitors are the largest and most innovative technology companies on the planet. The company also does not seem to have any major ideas in the pipeline.
The second risk is that Telenav is able to strengthen its operating efficiency and deliver profit to its investors. This would mean the company would no longer need to burn through its cash and its business would have some intrinsic value. However, the market is currently rewarding growth companies, and a small but stable earnings picture will not be enough to outperform the market indices. Also, consider this note in the risk factors section taken directly from the 10-Q filing with the SEC:
We have incurred and expect that we will continue to incur losses in fiscal 2014 and we do not know when, or if, we will return to profitability, as we make further expenditures to enhance and expand our operations in order to support growth and diversification of our business.
Even in a bullish scenario for Telenav, it is unlikely they will get both profitability and growth. It will be one or the other.
Conclusion
Telenav is a declining business with an obsolete product that will continue to fall until it stabilizes itself on its balance sheet or cash. If management makes clear that they are willing to spend their cash to invest in their declining business, then further downside from what the company currently holds in cash could be expected. This is currently $3.73, representing a 27.15% decline. So long as Telenav remains below its 50-day moving average it can be shorted with favorable expected risk to reward. Also, keep an eye on their earnings reports for any improvement in operating efficiency or acceleration in revenue.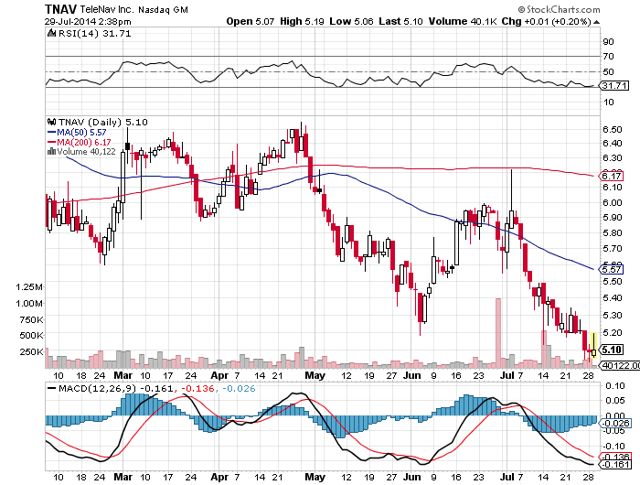 Disclosure: The author has no positions in any stocks mentioned, but may initiate a short position in TNAV over the next 72 hours. The author wrote this article themselves, and it expresses their own opinions. The author is not receiving compensation for it (other than from Seeking Alpha). The author has no business relationship with any company whose stock is mentioned in this article.