Given Apple (NASDAQ:AAPL) and IBM (NYSE:IBM) have a history of cancelled projects and failed partnerships (more on this later), the recently announced partnership's success rate is extremely low. My research suggests that the Apple + IBM alliance is a reactionary step taken for the following purposes:
To fight BlackBerry's (BBRY) comeback in devices.
To counteract interest in BlackBerry's phablet as Apple's phablet may not be ready this year, and interest in the iPad is waning.
To counteract the effectiveness of BlackBerry's various partnerships with Amazon (NASDAQ:AMZN), NantHealth, EnStream and Foxconn.
To increase Apple's enterprise client base.
To increase IBM's enterprise client base.
To buy time for Apple and IBM as they try to stem the loss of clients in a competitive landscape (Apple's loss to Google's Android and to Samsung, and IBM's loss to Oracle and SAP, for example).
To fight Average Selling Price erosion (hardware pricing and margins declining) by finding new avenues for growth.
To fight the decline in client loyalty as ease of access to information online encourages customers to research and shop around (even the DoD looks for the lowest tendering bid and recently favored Lockheed Martin over IBM for services).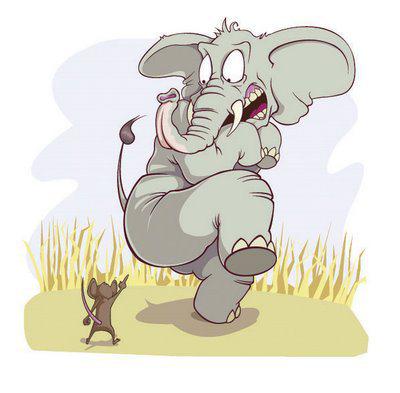 Source: Earth Energy Reader, WordPress
Under such circumstances, does the Apple + IBM alliance mean anything?
Too Late, the Mouse Has Friends in High Places
Evidence suggests that the alliance is not only ineffective, it is a gimmick. BlackBerry's wave of partnerships is too widespread for Apple and IBM to defend against. BlackBerry is goal-driven and working at a full recovery using a multi-pronged approach. The entire BlackBerry team has an exceptional work ethic. They are on track to release five devices this year (Z3, Passport, Classic, Khan, and Manitoba), and looking to supplement a device comeback with investments in new areas which should pay off in 3 to 5 years' time.
A good summary of the effectiveness of existing partnerships is as follows:
Amazon. Brings more apps to BlackBerry devices. Helps to close the sale with consumers. Works well to ensure the Z3 is well received in Indonesia and India. Will further assist in translating the launch of the Passport and Classic into revenue from devices.
NantHealth. Allows BlackBerry to benefit from Patrick Soon-Shiong's network and expertise. Already making a sizable contribution to the advancement of technologies usable in improving elder care and the care of cancer patients (see infographic below). NantHealth provides 12,000 miles of fiber-optic infrastructure to solve the loss of historical data, provides real-time actionable data to 50% of US oncology practices, and solves patient forgetfulness by increasing medical adherence 27% (making adherence now 98%). Its supercomputers are the fastest genomic sequencing machines capable of processing data at the rate of 1 patient per 47 seconds. By managing over 3 billion vital signs, it eliminates problems created by illegibility, missing data and lost records. Bringing search capabilities to healthcare further enhances the accuracy of information available for patient care. Its services are working toward the elimination of the 32% deviation from evidence-based treatment plans, and in doing so, working to enhance the quality of treatment given to cancer patients.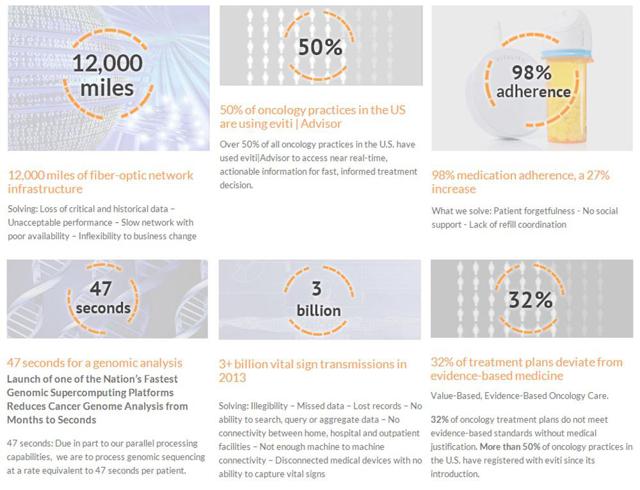 Source: NantHealth
EnStream. Accelerates NFC adoption and gives BlackBerry a chance to benefit from every mobile payment. As the bridge providing a secure payment solution and connecting mobile operators with banks, BlackBerry's deal is one that is pay-per-use rather than one-time. The more NFC payment picks up, the better the payout for BlackBerry. Currently, there are 20,000 locations across Canada supporting contactless payment. Worldwide, acceptance exceeds 350,000 merchant locations. By leveraging existing point-of-sale technology rather than asking merchants to replace their system, adoption is further incentivized. Rumor suggests that iPhone 6 will support NFC. While we will have to wait for Apple to confirm this, what is noteworthy is that Apple has been trying to launch iBeacon as a compelling alternative for some time, and while it has gained some traction as a location tracker and shopping habit monitoring device that provides consumers with additional information and perks such as coupons, its benefits have been limited since credit card companies and banks have not gone onboard. While this remains the case and Apple remains unable to provide end-to-end security, BlackBerry benefits. When NFC becomes widely available on the iPhone, more banks and credit card companies will seek to implement a mobile payment alternative that will cater to their clients. BlackBerry will be able to leverage its existing relationships and experience providing NFC services to Indonesian banks (via BBM Money) and Canadian banks (in conjunction with EnStream) to tailor solutions that fit various countries.
Foxconn. Since Apple decided to pit Foxconn with its smaller Taiwanese rival, Pegatron, the relationship between Foxconn and Apple is tense at best. Foxconn's profit margins on each iPhone is low by comparison to Apple. They would not have forgotten the hardship involved in assembling the iPhone 5 and the losses incurred when Apple returns 6 to 8 million of them. The iPhone 6 is probably just as difficult to assemble and the failure rate just as high given the material specifications are probably similar (anodised aluminum, pigmented glass, ceramic glass, commitment to thinness). With regard to the scandals revolving around labor issues, Apple pointed a finger at the OEM and insisted it should do better by the employees by raising wages and yet showed no desire to raise payments to Foxconn to help it provide for the improved working conditions. Apple is the Wal-Mart (WMT) of mobile. It squeezes suppliers. In the shorter term, the supplier may be stuck with the short end of the stick. In the longer term, suppliers get smarter. In the Wal-Mart scenario, inferior products with skimpier features are made for sale at the retail giant. In the Foxconn-Apple scenario, I think Foxconn will burn the midnight oil to assist BlackBerry with product design to uphold its end of the partnership in order to ensure a successful turnaround. BlackBerry's success will give Foxconn better margins and a much-desired antidote to Apple's poisonous pursuit of profits and stubborn insistence on using materials difficult to work with for the production of iDevices.
Secusmart. Announced today, the acquisition of Germany's Secusmart brings voice security to BlackBerry devices. It will allow BlackBerry to upsell devices by offering clients the ability to have the same level of encryption as Germany's Chancellor Angela Merkel. While the US enterprise may not be so hot about supporting BlackBerry (as per the Ford announcement of a switch to iPhones), it remains that enterprise support for BlackBerry outside of US borders is strong. Given foreign governments have no interest in operating under the thumbs of the NSA and being spied upon, this development will further strengthen BlackBerry's appeal worldwide.
Trend Micro. BlackBerry partners with Trend Micro to bring BlackBerry Guardian to devices. The tool will vet malware and be free and available to the Passport and Classic. It will scan Android apps from the Amazon storefront and other install sources and alert users to suspicious apps.
BlackBerry is a relationship-based company. The fuel for its turnaround is powerful partnerships. Some of the partnerships will be acquisition-based. By purchasing a company, BlackBerry effectively keeps the acquired company's technology out of reach of competitors. The successful leveraging of the expertise of partners will give it sufficient ammunition to counteract an Apple + IBM alliance. While I have highlighted a total of six, it must be noted that it is actually more than six. Each leader that commits to assisting BlackBerry with its turnaround will have its own network of partners. These are now indirectly accessible to BlackBerry. What we have is a network of partners, and they are growing by the day.
Yet Another Apple + IBM Failure in the Making?
A trip down memory lane (or rather, a quick stroll through Wikipedia) will quickly reveal that Apple and IBM have never had a partnership that lasted. Three times they came together, and three times they dissolved the alliance.
OpenDoc. Created by Apple in 1992 to challenge Microsoft's OLE framework for managing documents, it eventually became a coalition involving IBM and WordPerfect. While several hundred developers signed up, the project was eventually discontinued. Microsoft hired away three ClarisWorks developers who worked on OpenDoc integration into ClarisWorks and this accelerated the end of OpenDoc.
Taligent. Started in 1988 by Apple to replace the MacOS, it became a joint venture with IBM and Motorola, and the central focus was to compete with Microsoft Cairo (parts of which later became Win95). Taligent was eventually discontinued and it became a subsidiary of IBM. In 1998, it was fully dissolved and the remaining engineers became IBM employees.
PowerPC. The instruction set that formed the basis of Power Architecture-based processors was developed by the Apple IBM Motorola alliance (also known as AIM) in 1991. It was used in the Macintosh line from 1994 to 2006, and as manufacturing issues plagued the alliance, Apple eventually transitioned to Intel (NASDAQ:INTC).
Further evidence from my research suggests that the Apple + IBM announcement is weak as their actual offering to enterprise is inconclusive. Their commitment to create 100 apps is questionable, as IBM's list of software products shows that Big Blue has a very loose definition of "products" which leaves the question of apps open to interpretation.
Is an app a program that does a particular task or a group of tasks?
Will apps that have a similar name and perform related tasks be considered part of a suite? Is an entire suite really one app? If so, then marketing a whole series of apps with similar names as being separate will be a marketing gimmick.
Given App B originated from App A, and App B was the result of tweaking App A for a particular sector of business, do we now have two distinct apps or really one app? Unfair marketing practices may cause buyers to sign up for IBM and Apple's services but in the long run suffer from disappointment as the performance of its products are not as robust as imagined.
Below is a snapshot of a portion of the IBM product list (a complete listing is found here). For the purpose of discussion, this is sufficient: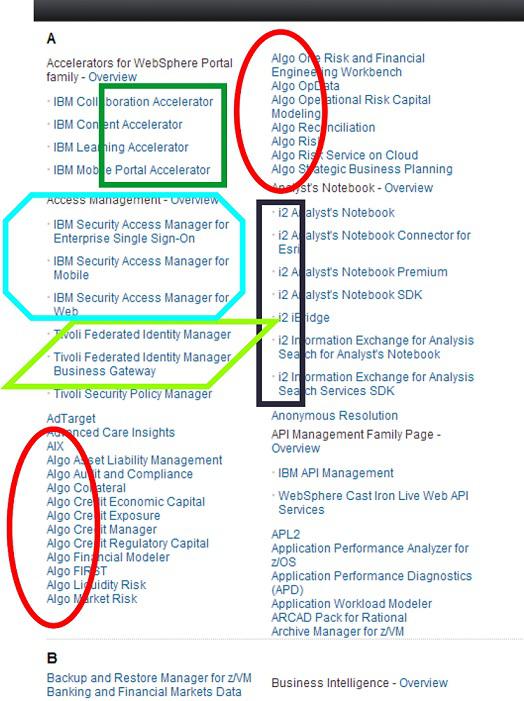 Source: IBM
Should we be given to think that all Accelerators are one app? All Algos and i2s a part of one suite? Are access managers and identity managers another class of apps? What are we really dealing with?
Other more intense questions that come to mind include:
Is IBM planning to convert existing products to iOS?
Truly developing products from scratch takes time and commitment to debugging and testing. How can IBM effectively debug and beta-test its products given it actually has a smaller client base than AirWatch, MobileIron and Good Technology?
Can Apple and IBM provide quality support for their apps? BlackBerry has 24/ 7 support. Can they match that?
After digging through SEC filings, here is what I found regarding the various players in the EMM industry: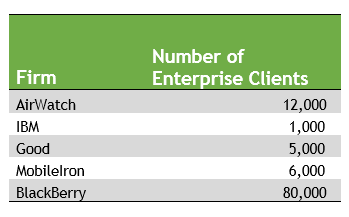 Source: SEC Filings
IBM is at a distinct disadvantage. Reading Gartner's Report would not tell you that. Visiting IBM's website would not tell you that. Interestingly, going to Good Technology or MobileIron's site would also not tell you enterprise client numbers. Only AirWatch and BlackBerry post their numbers in easy to find locations.
Gartner is Wrong... Again
Gartner's Magic Quadrant is a promotional tool. It would seem that the quadrants have mystified many IT professionals for years while at the same time providing incorrect assessments and proliferating errors in thinking. As far back as 2012, ZDNet released an article called Why does the IT department continue to listen to Gartner? in which Gartner's errors are made apparent. Some things don't change. Gartner's mistakes continue to be overlooked.
While all EMMs in the "Gartner Leader" quadrant advertise their status in large print, none are willing to give a curious visitor to their website easy access to the Gartner Report. For access, everyone demands to have contact information. As an investor doing my own due diligence, this raises red flags. My question becomes, "Why is that?"
After looking into the situation deeper and obtaining a copy of the elusive report, I think I have the answer. Gartner has been wrong multiple times in the past and it is wrong once again. To keep the party going, everyone needs to hope no one points out the erroneous conclusions because at that point, only BlackBerry benefits.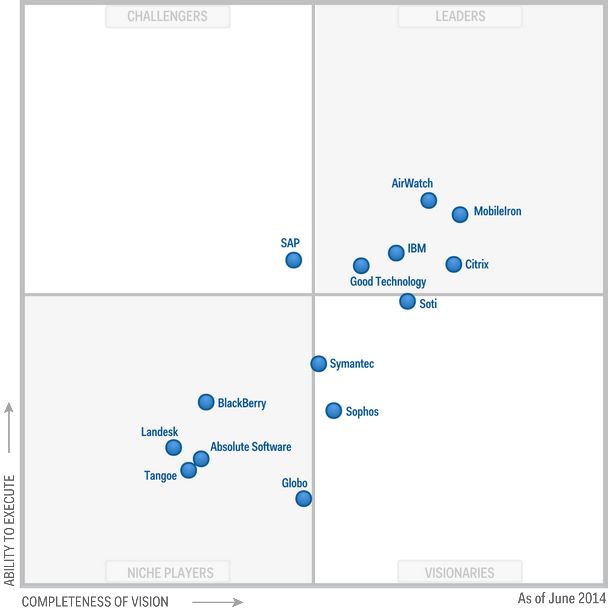 Source: Gartner
Apple + IBM: Not Cheap Enough or Good Enough
Apple and IBM were never effective at counteracting the personal computer movement, and the movement to Microsoft (NASDAQ:MSFT) Windows. At present, given their pricing strategy, it is also doubtful that they can take customers away from BlackBerry. Given their solutions are never cheap and competitors offer more for a lower price, in a competitive technology landscape, their pricing strategy will have difficulty achieving mass appeal across a diverse group of CIOs, CTOs and CFOs. Without the ability to gain the approval of all three kinds of company officers, I seriously doubt their ability to make a dent in enterprise.
Apple and IBM cannot answer the following questions from C-level officers effectively:
What can you do for us that the competition cannot?
Is your solution secure? Is it proven?
Is the Department of Defense using this product?
Does it support BYOD?
Will it save us time and money?
In comparison, BlackBerry can summarize its offerings succinctly to the C-suite:
We can provide an end-to-end solution or a flexible solution should you decide to use some of our technologies and also integrate some solutions from our competitors.
Our solution is secure and proven. We have been in the business of providing security for 30 years.
The DoD not only uses our products, we have the highest level of certification. The competition may announce they have the STIG, the ATO or the IOC. We are the only ones with FOC.
We currently support iOS, Android and BlackBerry. We will be supporting Windows later this year.
We are the lowest total cost market leader. It costs less to use our products than to use the competitors' products.
Source: BlackBerry Blog
As the graph above shows, BES5 and BES10 are cheaper to operate than transitioning to AirWatch, MobileIron and Good. One can conclude that unless IBM bucks the trend and is able to underprice BlackBerry and overdeliver, it will be stuck somewhere in the rank and file, probably on par with AirWatch in terms of client base (at best), and at worse? Worse than Good Technology as Apple is not vocally supporting BYOD and IBM's offerings will have limited appeal to enterprises that want BYOD.
A Mouse in the Big Apple
In contrast to Apple + IBM, BlackBerry's offerings will be flexible and cross-platform. To further maintain its footprint in enterprise, it is working on its weakest link: the United States. To refocus on enterprise, BlackBerry also needs to refocus on the US market. At 8 am EST today, John Chen gave the opening remarks at an event in New York City geared toward providing more information on the company's approach to security. Here are the highlights of the event:
BlackBerry acquires Secusmart, a company with a NATO contract to secure all their devices.
The protection of voice will be just as important as the protection of data.
Android malware protection will be provided via BlackBerry Guardian.
John Sims discloses that BES has 250 million users.
Dan Dodge says 50% of cars (roughly 45 million) now run QNX technology.
The company will be hiring again as it gears up for the new product releases later this year.
The focus on New York and then Washington later in the year is symbolic of BlackBerry's renewed commitment to enterprise and government. We live in interesting times as we witness a company with a full pipeline build momentum, build support and work on exciting new projects that will have far-reaching effects on the way we live and work.
Final Thoughts
As the stock ticked lower today in regular markets, I added to my position. What affords me a chance to continue to hold on to my $15 price target is the realization that BlackBerry is many steps ahead of Apple, IBM, and Google in enterprise. Today, they just swiped a valuable asset off the market and kept it out of reach of Apple, IBM, Google and Samsung. The company added Secusmart to its portfolio. Furthermore, another indicator that it is on the road to recovery was given by the hiring announcement. The company is growing, not shrinking. And by the numbers, this is very positive news:
Ford purchases 6,000 iPhones. BlackBerry gains 20,000 new German users of their devices. Net gain for BlackBerry: 14,000. Even if the US market is anti-BlackBerry, as long as Europe, Asia and the Middle East continues to purchase BlackBerry devices for enterprise use, BlackBerry will be on track for a spectacular year.
After hours, over 1.5 million shares traded hands. The largest single purchase and sale was done at $9.79 for 1.5 million shares.
Some are bullish, some are bearish. Given the amount of time and attention I give to thinking about my purchase, I remain bullish on BlackBerry.
Disclosure: The author is long BBRY. The author wrote this article themselves, and it expresses their own opinions. The author is not receiving compensation for it (other than from Seeking Alpha). The author has no business relationship with any company whose stock is mentioned in this article.