NXP Semiconductors (NASDAQ:NXPI) approached its earnings announcement near 52-week high prices, reported another strong quarter, and then sold off to close at $61.69. What kind of results did management discuss in conjunction with issuing guidance for Q3 of $1.30 per share in earnings? Upon reviewing the transcript, 13 analysts took part and at least five offered congratulatory remarks. Important new information also was included.
NXP CEO Rick Clemmer, who has spent over two decades at Texas Instruments (NYSE:TXN) prior to approximately five years at his ongoing role, is the source of the majority of information that follows (Q2 Conference Call). Another available resource is the Dutch firm's annual report, its Form 20-F. The document has a section listing Key OEM Customers and provides a means to know what companies have been using its products: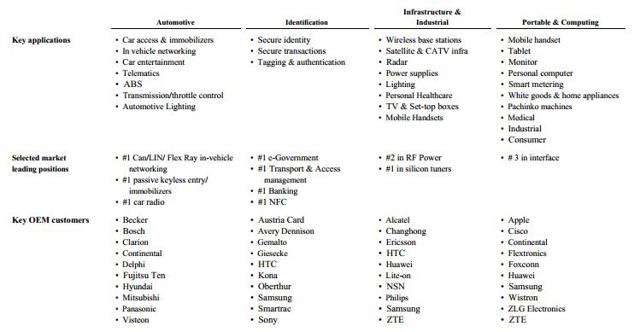 As many are aware, Apple Inc. (NASDAQ:AAPL) is among them, as shown in the bottom far right above. The personal technology products maker has implemented microcontroller ("MCU") technology produced through NXP's Portable and Computing ("P&C") Segment. Data from Q4 2013 shows P&C comprising 12% of revenues, and being the smallest component of High Performance Mixed Signal ("HPMS") chip operations. The loss of Apple - perhaps due to adoption of solutions that use lower power and extend battery life of mobile devices - would not only be a hit to earnings but affect the diversified strength of operations. Any worries there have been dashed for the time being.
Portable and Computing
Q2 results show P&C at 11% of revenues. However, NXP guided for a 40% increase. If realized, Q3 segment revenues should be close to $206 million. P&C would then account for close to 14% (Source: earnings press release, Standard Products extrapolated):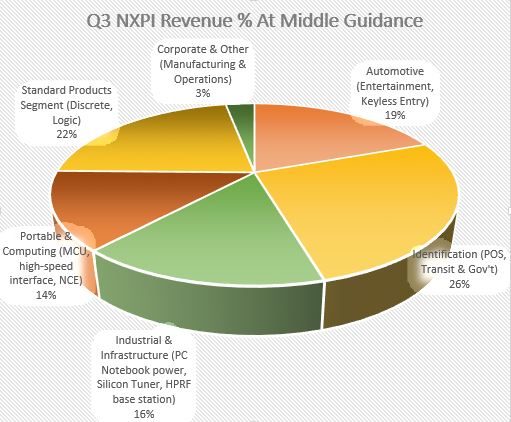 Reasons Clemmer provides for P&C acceleration include "broad based (growth) with design wins…Not just a single customer concentration...Smartphone and tablet…incremental …" It sounds like existing client Samsung (OTC:SSNLF), and probably another (or others), could be a new MCU partner (or partners) in order to compete with Apple's future devices. The Note 4 phablet should be released within months, probably to contest the iPhone 6. Further:
We think this is a sustainable systemic change of the fundamental core of the business where you will see mobile wireless and clearly the interface designs that we have had contributing in the MCU design wins…(There is) multi-market demand for both interface and NCE products.
Another possibility involving wearable technologies, such as new and sophisticated digital watches that are soon to be marketed, cannot be ruled out.
Automotive
The company is doing well now in terms of high end radio platforms and keyless entry. The Automotive Segment guided flat, though.
Turning to other new technology, cars can talk to each other, and also infrastructure, such as traffic lights, which is known as car to x communication. The car to x connectivity chip fits into the shark fin, where there are multiple antennae, on the roof of a car, according to NXP Vice President of Strategy Lars Reger.
Vehicle to x technology enables self-driving vehicles. Such automobiles would have "complete perimeter awareness." The technology supports features such as active lane departure correction. Another example is when a vehicle can know the status of stoplights ahead on the road. The necessary processing power currently fills a space the size of a shoe box. Here is a video clip showing how it is purported to actually help avoid accidents.
There are risks to security such as hacking through increased connectivity. NXP adds encryption, which is proven through all of its payment technology. It has recently announced a technology partnership with Australia's Coda Wireless and Cisco (NASDAQ:CSCO), a key customer.
The corporation also just announced a car-to-car design win that is due to security, not just communication. However, it is scheduled to go into production late in 2016, leaving time for change before any money is made. Clemmer says it establishes a "foundation in the thought leadership on vehicle-to-vehicle," and NXP is uniquely positioned to deliver a total solution. There have been discussions with other major auto OEMs that are said to be going very positively. Ford (NYSE:F) has been referenced in a presentation posted by NXP, and could be among them.
According to Ford, vehicle to vehicle connectivity can be retrofitted to cars in the future if it is passive. If it takes over braking and steering it requires factory integration. Vehicle to infrastructure is going to require refreshing of not only vehicles but roads, so it is not imminent.
Identification Segment
What some are probably fretting about is the ID segment, the largest proportionate source of revenues and until now clearly the stock's biggest catalyst. Its revenues are only up 1% YoY: from $339 to $343 million. An explanation is offered in the conference call's prepared remarks section:
…year ago was influenced by strong initial ramp on an initial stocking of our China banking business which…has an impact on the…comparison.
China is now estimated to be a 1.5 billion card opportunity, "…probably cutting the overall implementation by at least half." NXP specifies 20% penetration. It sounds as if there is no way around it there, though. China...
will not issue any cards that are not doing interface after the end of 2014 and they will not accept any cards that don't have the protection associated with it after 2015.
Despite mandates for 2015 implementation and indication that multiple domestic banks are deploying EMV cards, the "…overall ecosystem will be much slower to implement in North America…it will be rolled out over a number of years." The opportunity is currently specified to be 1.5 billion domestic cards also. However, penetration is forecast to require five to seven years.
Core ID, which should include EMV products, is 85% of total ID revenue. Emerging ID, which comprises Near Field Communication ("NFC"), is down 1% YoY. However, "A significant portion of growth…will come from the emerging ID business" in Q3, and would be consistent with an Apple implementation.
When an NFC system uses a Secure Element ("SE"), NXP then typically provides two chips in each device. In response to analyst questioning, Clemmer says the...
Secured element will deploy a significant share of that mobile wallet opportunity…certain customers just using the radio…they are trying to use software as the security and clearly that exposes it to additional hacking issues.
According to a teardown, an NXP 47803 controller powers the NFC capability of Amazon's (NASDAQ:AMZN) new Fire phone. There is no indication of a secure element.
Corporate and other
Worries about manufacturing also seem to be eased. Revenues attributed to "corporate and other" are up 55% YoY. SSMC, NXP's joint venture with Taiwan Semiconductor (NYSE:TSM), has produced $48 million in operating income, $61 million EBITDA, and possesses cash of $451 million. Further, SSMC has paid a Q2 dividend of $130 million.
Select Financial Data
The company reports that $153 million in FCF represented an 11% FCF margin. Net CapEx is specified at $89 million. CFO Peter Kelly estimates CapEx at 5.8% of revenue, mostly in the backend fabs.
Long-term debt is higher: at $3.5 versus $3.3 billion in June 2013. The applicable target ratio the company has been using is a net debt / TTM adjusted EBITDA under two, and it is specified at 1.97x in Q2 (75% unsecured and locked in at 3.8%).
NXP's results and fiscal stability cause speculation about a potential acquisition. In the event of one, management indicates that it would want to be back at 2x debt / EBITDA within 3 to 5 quarters. There is unlikely to be purchase in the $5 to $6 billion range.
Another Positive Aspect Of The Stock
Some of the things that are likeable about this company lie beyond its financial data and metrics. There has already been some discussion of its diversified product lines. There also has been mention of capital allocation in consideration of any potential acquisitions.
Relevant commentary is included in a January 2014 article interviewing the salient short seller Jim Chanos - who seems to have gone colder than some of my Seeking Alpha peers.
Corporate CEOs, with their massive share-buyback programs are in effect investing in the stock market rather than in expanding business opportunities at their companies, said Mr. Chanos.
Obviously the talent behind the P&C segment's success is an asset that has expanded opportunities. NXP's operating margin is 24.8%, up .6% QoQ, and the transcript records Kelly saying that any additional revenue raising operating margin above a 26% target would give leverage on Operating Expenditures ("OpEx") and be reinvested in research and development.
Incidentally, in Q2, NXP repurchased 3.8 million shares for $223 million ($58.68 per share), nearly 12.5% cheaper than their current price. Though a quarterly average count is used, when dividing net income of $273 million by 254 million (250 + 3.8), instead of 250 million shares, reported EPS would have been $0.02 lower at $1.07. The consensus estimate is recorded at $1.05 anyhow, and operational matters have been terrific.
So far this year, $681 million has been spent retiring stock, and previous prices paid have been lower. Continuation of the buyback would be a positive. The diluted share count is guided to remain at 250 million.
Retaining and growing R&D would also be a boon.
Price Target
Thomson Reuters consensus 2015 analyst estimates have moved up from $5.04 to $5.30 yesterday and $5.36 today, but the projected five-year growth rate has been lowered from 34% to a less suspect 22.9%. A sustained 12 month 15x P/E multiple should be a conservative projection, and a substantial discount to the current 16.55x for the S&P 500; and 19.25x for the Nasdaq 100, which includes NXPI. Multiplying 15 x $5.36, $80.40 is reasonable within twelve months before December 2015.
Further, the fundamentals behind long-term growth remain enticing. A price target that is at least 20% higher is comfortably supported.
Final Comments
NXP Semiconductors is a highly profitable, well-diversified company with multiple future prospects in the automotive, mobile computing and banking industries. While reporting another strong quarter there is indication of some shifting, including perhaps a slower growing domestic credit card opportunity. Nevertheless, the same pieces should remain in place and resultant, material design wins are becoming known.
Disclosure: The author is long NXPI. The author wrote this article themselves, and it expresses their own opinions. The author is not receiving compensation for it (other than from Seeking Alpha). The author has no business relationship with any company whose stock is mentioned in this article.
Additional disclosure: A long position may be initiated in AAPL, F over the next 72 hours.