In my earlier articles, Part I and Part II, I've written about how to select good companies to invest in and examples of 3 groups of good stocks. In this article, I'm going to write about examples of great stocks so that investors can understand how to use my Stock Selection Diagram more effectively.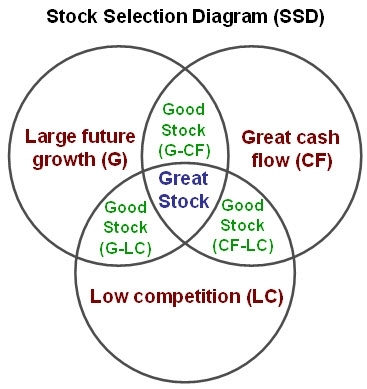 Ctrip.com International Ltd.
(NASDAQ:
CTRP
) is a travel
service provider for hotel accommodations, airline tickets and packaged tours in China. It also sells packaged tours that include transportation and accommodations, as well as guided tours in some instances. The Company aggregates information on hotels and flights and enable its customers to make hotel and flight bookings.
(Click all images to enlarge)

CTRP is in the online travel business in China which is a fast-growing industry and expected to continue to grow along with the Chinese economy in the future. The rise in the number of internet users in China is also an important factor that accelerates growth for CTRP.
CTRP's 4-year performance has shown a robust growth of net income at 40% per year. It is in the online business so it doesn't have to invest a lot in inventory. Furthermore, it gets cash from customers before it has to pay its suppliers which results in long-term positive working capital. It has spent RMB 125-178m in Capex which is very small compared to the RMB 340-1027 CFOA (Cash from operating activities).
From Alexa.com, CTRP is ranked 786th in world traffic and ranked 124th in China. This demonstrates that its website is well-known due to the fact that CTRP has become a big player in the industry. CTRP is getting bigger and gaining more bargaining power therefore it can get cheaper prices from its suppliers, hotels and airlines, which will make CTRP more cost competitive and make it even stronger. All of these, highly recognized brand, strong distribution network and cost leadership, render the company an invincible player in the industry.
CTRP can easily be considered a great stock. It spent in Capex just 25% of CFOA (34% of net income) in order to grow around 25-30% for the next 3 years. This leaves a huge free cash flow of 66% of net income which we might be able to expect the company to pay in terms of dividends or stock repurchases in the future.
Analysts have forecasted that CTRP will have EPS of $0.90, $1.24 and $1.56 in 2010-2012, respectively, which is around 30% growth per year. At $47.52 per share, the P/E ratio is at 53 times and the PEG is 1.76 times for the 2010 fiscal year.
Baidu, Inc. (NASDAQ:BIDU) is a Chinese-language Internet search provider. Baidu offers a Chinese-language search platform on its Website baidu.com. It provides Chinese-language Internet search services to enable users to find relevant information online, including Web pages, news, images and multimedia files, through links provided on its Websites.


Baidu.com is the number 1 search engine in China. From Alexa.com, it is ranked 6th in world traffic and ranked 1st in China. Baidu's revenues mostly come from online advertising, just like Google (NASDAQ:GOOG). Most of the Chinese use it every time when they want to find something on the internet.
Its competitive position in China is very strong, even Google can't compete with it. Furthermore, Its competitors are much smaller while Google's competitors, Microsoft (NASDAQ:MSFT) and Yahoo (YHOO), are neck and neck in many countries. There is no doubt that there will be no one who can compete with Baidu in the near future.
BIDU has had extraordinary growth for the past 4 years. Net income growth was 100% in 2007, 67% in 2008 and 42% in 2009. It has huge potential to grow in the future because of the fast increasing number of internet and smart phone users. Low cost of advertising on the internet compared to other media is also an important factor that drives the industry. There is plenty of room for BIDU to grow much bigger.
Speaking of cash flow, Baidu has very strong cash flow statements. It doesn't have to invest in inventory and has very low accounts receivable. These result in positive changes in working capital every year. BIDU can grow 35-50% annually while using only around 30% of CFOA. With no comparable competitor, and ample room for growth with great cash flow, BIDU can be considered a Great stock without any doubt.
BIDU's valuation
Analysts have forecasted that BIDU's EPS will be $0.97, $1.44 and $2.27 in 2009-2011, respectively. This represents around 50% annual growth. At $109 a share, BIDU's P/E ratio is 76 times for the 2010 fiscal year and the PEG is 1.51.
China-Biotics, Inc. (OTC:CHBT) is engaged in the research, development, production, marketing, and distribution of probiotics products, which are products that contain live microbial food supplements. The Company manufactures and sells several health supplements under the Shining brand in China.
All of these products have been approved by the Ministry of Health in China. In February 2010, China-Biotics, Inc. commenced production at its facility in Qingpu and began producing bulk additives products, which are sold to institutional customers, such as dairy manufacturers, animal feed manufacturers, pharmaceutical companies, and food companies.

There are non-cash items from changes in fair value of derivatives that have to be excluded to see the real net income. I've adjusted them in the table below.

Up until now, Chinese dairy manufacturers imported probiotics mostly from Europe and Japan. CHBT entered into the bulk additives probiotics industry over a year ago and just started production at its new plant in Qingpu. It is now the biggest domestic player in China.
The quality of its products is equal to or better than that of its foreign competitors while prices are 20-30% lower. Entry into the industry is very difficult because the standard of food production is so high; it requires high technology; and it is hard to get licenses from the government. CHBT's being a cost leader also gives it an advantage in terms of competitiveness.
The probiotics industry has been growing exponentially due to very high growth of yogurt and animal feed products. The probiotics consumption is predicted to grow from 3,400 tons in 2006, to 10,000 tons in 2010. (Source: Domestic Probiotics Market Analysis and Forecast Report by Beijing Leadership Management Consulting Co. Limited.)
Another source from Euromonitor has shown that, in 2009, China finally overtook Japan as the heaviest consumer of probiotic cultures, reaching over 10,000 tons (Actual consumption number reaches 10,000 tons faster than Beijing Leadership Management Consulting Co. Limited has predicted.) Euromonitor International predicts that by 2014 this will have risen to almost 18,000 tons, accounting for nearly 30% of global consumption. (Source: Euromonitor).
CHBT's net income growth is very high and stable. Net income growth has averaged 37% annually for the past 4 years, mainly from it supplement products. For the new market segment, bulk additives, CHBT has the largest capacity in China at 300 tons a year which represents a market share of only 2.xx% in 2010. When CHBT runs its 300-ton plant at full capacity in the next 4-5 years, it will have a market share of only 1.xx% of 18,000 tones in 2014. This means there is a lot of room for CHBT to grow very fast.
CHBT doesn't have to invest much in working capital as we can see that overall CFOA is a little higher than net income (excluding changes in fair value of derivatives.) Moreover, the probiotics industry is not a capital intensive business, so CHBT has invested around 50% of CFOA over the past 4 years in order to grow net income at least 50% annually for the next 4-5 years.
CHBT's valuation
My forecast is that CHBT's EPS will be $1.92, $3.33 and $5.23, during 2010-2012, which is 65% annual growth for the next 3 years. At $13.61, the P/E ratio is 7.1 times and the PEG is very low at 0.11. In my opinion, this is a great opportunity to buy a great stock at a very low price.
Conclusions
CTRP P/E 53 future growth 30% PEG 1.76

BIDU P/E 76 future growth 50% PEG 1.51

CHBT P/E 7.1 future growth 65% PEG 0.11
Great stocks usually have very high P/E ratios. In my opinion, they should be priced at least at a 30 P/E and some might be worth more than 50, depending on their fundamentals. So, to be successful in investing in great stocks, you need to buy them before others realize their potential or when there is a temporary problem which brings the price down to a cheap level.
CHBT is one great stock that is unknown to many investors. Additionally, it is having a temporary problem, which I have written about in my previous article, so we can buy it at a very low-price. I will give more details on CHBT in my next article.
Disclosure: Long CHBT