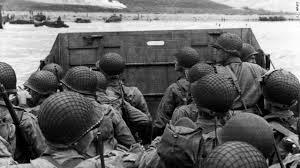 Picture: WWII Normandy Invasion. Source: CNN.com
Twitter, Inc. (NYSE:TWTR) released its Q2 earnings on Tuesday and totally blew away market expectations on revenue growth and key metrics for monthly active user ("MAU"), timeline views and advertising rates. Management indicated that the increase in MAUs was not driven by the World Cup soccer event; however, the World Cup did have an incremental impact on user engagement. On the article, D-Day For Twitter, I braced readers for a continued deterioration of the company's operating metrics, and flat to declining revenue sequentially:
In Q1 2014 Twitter had revenue of $250 million, of which $226 million (90%) was advertising revenue. That said, ad revenue per 1,000 timeline views was $1.44 for Q1 2014, up 94% annually and down 3% from a peak of $1.49 in Q4 2013. Twitter is in effect experiencing a double whammy - a decline in timeline views per MAU and a decline in ad revenue per 1,000 timeline views. I would expect the company to report a double digit increase in Q2 revenue annually, and flat to declining revenue sequentially.
Nonetheless, it was an excellent quarter and the market rewarded the company by driving the stock up $11 (29%) to $50 per share after-hours. For now, I will have to eat my words and give respect where it's due ... good thing I covered my short position at the end of Tuesday's trading.
Revenue
Monthly active users were $271 million, up 24% annually and 6% sequentially during the quarter.
Timeline views during the quarter were 173 billion, up 15% annually and 10% sequentially. Q2 2014 performance was also 9% above the company's peak of 159 billion in Q3 2013.
User engagement as measured by timeline views per MAU ticked up 4% sequentially. However, the metric was still 8% below the peak of 692 set a year ago.
Ad revenue per 1,000 timeline views was $1.60, a 100% annual increase and an 11% increase sequentially. It was also 7% above the previous peak of $1.49 set in Q4 2013.
Revenue of $312 million was 10% above analysts' expectations of $283 million. It also increased 124% annually and 25% sequentially. The sequential growth was partly driven by the increase in ad rates.
Earnings
Non-GAAP earnings per share was $0.02; analysts were expecting a loss of $0.01 per share.
On a GAAP basis, Twitter recorded an operating income loss of $150 million, versus an operating income loss of $41 million and $131 million for Q2 2013 and Q1 2014, respectively.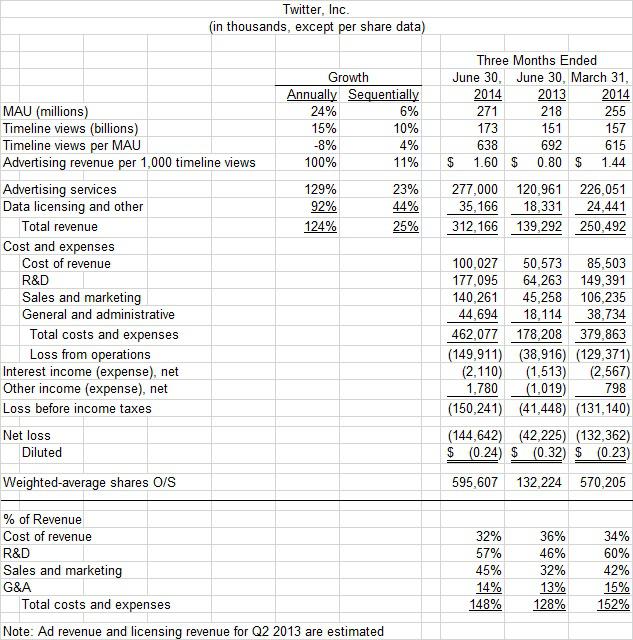 Conclusion
Twitter blew away revenue estimates and exceeded expected earnings during Q2 2014. Except for user engagement, the company's operating metrics surpassed previous high water marks. How much of its performance was driven by the World Cup, remains to be seen. That said, D-Day has been delayed for at least another quarter.
Disclosure: The author is short TWTR. The author wrote this article themselves, and it expresses their own opinions. The author is not receiving compensation for it (other than from Seeking Alpha). The author has no business relationship with any company whose stock is mentioned in this article. I have straddles on Twitter