The following is a list of stocks reaching 52-week highs during recent sessions. Judging by their earnings results relative to analyst estimates, it's clear that these stocks are being underestimated by analysts.

In other words, these companies have a track record of beating analyst estimates. Now that they've hit highs, will their winning streak continue, or is most of the good news already priced in?

A full breakdown of earnings relative to analyst estimates can be accessed here. Earnings data sourced from AOL Money, short float data sourced from Finviz.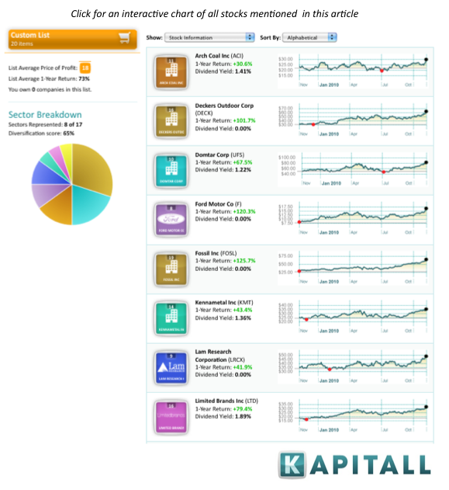 The list has been sorted by the average outperformance of analyst estimates.

1. WABCO Holdings Inc. (NYSE:WBC): Auto Parts Industry. Market cap of $3.23B. During the five most recent quarterly earnings releases, the company outperformed analyst estimates by an average of 119.17%. Short float at 0.69%, which implies a short ratio of 0.89 days. The stock has gained 112.65% over the last year.

2. Domtar Corporation (NYSE:UFS): Paper & Paper Products Industry. Market cap of $3.48B. During the five most recent quarterly earnings releases, the company outperformed analyst estimates by an average of 110.19%. Short float at 8.6%, which implies a short ratio of 5.3 days. The stock has gained 67.29% over the last year.

3. Ford Motor Co. (NYSE:F): Auto Manufacturer. Market cap of $55.75B. During the five most recent quarterly earnings releases, the company outperformed analyst estimates by an average of 106.14%. Short float at 8.23%, which implies a short ratio of 4.05 days. The stock has gained 117.58% over the last year.

4. Limited Brands, Inc. (LTD): Apparel Stores Industry. Market cap of $10.27B. During the five most recent quarterly earnings releases, the company outperformed analyst estimates by an average of 64.53%. Short float at 2.64%, which implies a short ratio of 1.77 days. The stock has gained 82.82% over the last year.

5. Royal Caribbean Cruises Ltd. (NYSE:RCL): General Entertainment Industry. Market cap of $9.23B. During the five most recent quarterly earnings releases, the company outperformed analyst estimates by an average of 63.94%. Short float at 7.87%, which implies a short ratio of 3.69 days. The stock has gained 99.26% over the last year.

6. Kennametal Inc. (NYSE:KMT): Machine Tools & Accessories Industry. Market cap of $2.88B. During the five most recent quarterly earnings releases, the company outperformed analyst estimates by an average of 56.21%. Short float at 5.2%, which implies a short ratio of 5.74 days. The stock has gained 45.29% over the last year.

7. Fossil, Inc. (NASDAQ:FOSL): Recreational Goods Industry. Market cap of $4.18B. During the five most recent quarterly earnings releases, the company outperformed analyst estimates by an average of 53.46%. Short float at 3.67%, which implies a short ratio of 2.47 days. The stock has gained 119.55% over the last year.

8. Westlake Chemical Corp. (NYSE:WLK): Specialty Chemicals Industry. Market cap of $2.39B. During the five most recent quarterly earnings releases, the company outperformed analyst estimates by an average of 52.33%. Short float at 9.56%, which implies a short ratio of 8.37 days. The stock has gained 42.46% over the last year.

9. Wynn Resorts Ltd. (NASDAQ:WYNN): Resorts & Casinos Industry. Market cap of $13.97B. During the five most recent quarterly earnings releases, the company outperformed analyst estimates by an average of 51.79%. Short float at 9.08%, which implies a short ratio of 2.37 days. The stock has gained 101.87% over the last year.

10. MetroPCS Communications, Inc. (PCS): Wireless Communications Industry. Market cap of $4.15B. During the five most recent quarterly earnings releases, the company outperformed analyst estimates by an average of 50.09%. Short float at 14.58%, which implies a short ratio of 6.37 days. The stock has gained 95.01% over the last year.

11. Deckers Outdoor Corp. (NASDAQ:DECK): Apparel Footwear & Accessories Industry. Market cap of $2.42B. During the five most recent quarterly earnings releases, the company outperformed analyst estimates by an average of 46.95%. Short float at 7.43%, which implies a short ratio of 2.8 days. The stock has gained 100.9% over the last year.

12. Solutia Inc. (NYSE:SOA): Specialty Chemicals Industry. Market cap of $2.36B. During the five most recent quarterly earnings releases, the company outperformed analyst estimates by an average of 44.34%. Short float at 6.02%, which implies a short ratio of 5.14 days. The stock has gained 70.79% over the last year.

13. Rockwood Holdings Inc. (NYSE:ROC): Specialty Chemicals Industry. Market cap of $2.73B. During the five most recent quarterly earnings releases, the company outperformed analyst estimates by an average of 43.72%. Short float at 3.73%, which implies a short ratio of 4.93 days. The stock has gained 68.22% over the last year.

14. Simon Property Group Inc. (NYSE:SPG): REIT. Market cap of $30.98B. During the five most recent quarterly earnings releases, the company outperformed analyst estimates by an average of 42.%. Short float at 4.19%, which implies a short ratio of 5.73 days. The stock has gained 56.16% over the last year.

15. Arch Coal Inc. (ACI): Industrial Metals & Minerals Industry. Market cap of $4.6B. During the five most recent quarterly earnings releases, the company outperformed analyst estimates by an average of 41.44%. Short float at 5.27%, which implies a short ratio of 2.33 days. The stock has gained 27.02% over the last year.

16. Polo Ralph Lauren Corp. (NYSE:RL): Apparel Clothing Industry. Market cap of $9.55B. During the five most recent quarterly earnings releases, the company outperformed analyst estimates by an average of 41.41%. Short float at 6.24%, which implies a short ratio of 4.32 days. The stock has gained 28.81% over the last year.

17. Peabody Energy Corp. (NYSE:BTU): Industrial Metals & Minerals Industry. Market cap of $15.57B. During the five most recent quarterly earnings releases, the company outperformed analyst estimates by an average of 41.24%. Short float at 3.51%, which implies a short ratio of 2.31 days. The stock has gained 35.66% over the last year.

18. Lam Research Corporation (NASDAQ:LRCX): Semiconductor Equipment & Materials Industry. Market cap of $5.86B. During the five most recent quarterly earnings releases, the company outperformed analyst estimates by an average of 40.42%. Short float at 4.37%, which implies a short ratio of 2.15 days. The stock has gained 39.72% over the last year.

19. Under Armour, Inc. (NYSE:UA): Apparel Clothing Industry. Market cap of $2.56B. During the five most recent quarterly earnings releases, the company outperformed analyst estimates by an average of 38.92%. Short float at 18.05%, which implies a short ratio of 8.66 days. The stock has gained 80.53% over the last year.

20. Natural Resource Partners LP (NYSE:NRP): Industrial Metals & Minerals Industry. Market cap of $3.06B. During the five most recent quarterly earnings releases, the company outperformed analyst estimates by an average of 37.21%. Short float at 0.41%, which implies a short ratio of 1.22 days. The stock has gained 43.6% over the last year.


Disclosure: No positions