In another solid earnings performance Comcast Corporation (NASDAQ:CMCSA) (CMCSK), the largest cable company and home internet service provider in the U.S., reported that it posted strong profits on a number of key cable fronts in the second quarter, including broadband, bundle products and business services. The strong financial performance caused the company to outperform the S&P 500 with 24.61% in total return over the last twelve months.
Another Impressive Performance from the Cable Business
Comcast experienced continuous momentum across the cable communications and content business during the second quarter of fiscal year 2014. The cable communications revenues increased 5.4% from $10.5 billion in second quarter of 2013 to $11 billion. This single mid-digit growth was primarily due to the best-reported quarterly customer results for both video and high-speed internet in six years and better-than-expected demand for its X1 service. During the quarter, the number of high-speed internet customers increased by 203,000.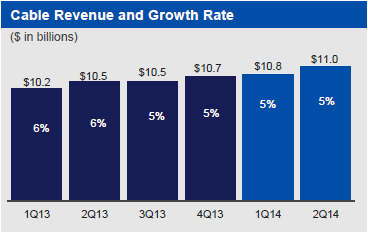 Source: Investor Presentation
The drop in video subscribers remained a challenge; however, this quarter the drop was comparatively less. Comcast lost 144,000 video subscribers in the second quarter, compared with the loss of 162,000 subscribers a year earlier. After years of decline, Comcast expanded its video subscriber base for the first time in the fourth and first quarters. Although, part of the increase in the first quarter was due to a change in how Comcast counts its customers. The business services segment showed tremendous growth and has become an important growth engine for the company. During the quarter, this segment's revenues increased 22.4% approaching a $4 billion annual run-rate.
NBCUniversal Group
The NBCUniversal Group's performance was fairly strong. Revenues were relatively flat at $6 billion, with growth in its cable networks, increased attendance at its theme parks, and broadcasting television groups offsetting declines in the film entertainment. Despite flat revenue growth, operating income received a healthy boost of 20% reaching $1.4 billion during the quarter.
Revenue from cable networks, including USA, Bravo and E! increased 2.6% to $2.47 billion. The broadcast unit, which includes NBC, Telemundo, and local stations generated 4.9% higher revenue to $1.81 billion.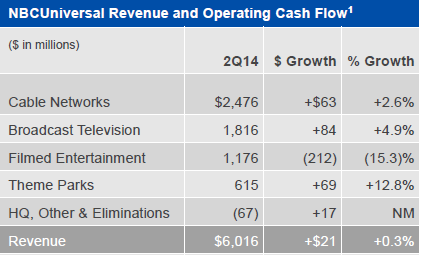 Source: Investor Presentation
The global entertainment industry is enjoying profitable performances and is growing larger. However, film studio Universal Pictures had a challenging time due to fewer releases in the quarter and bigger competitors. Film revenues declined 15.3% to $1.18 billion. Universal Pictures mustered a hit in "Neighbors," starring Seth Rogan and Zac Efron, but the studio did poorly compared to last year when it was riding high from its "Fast and Furious" and "Despicable Me 2" films.
The global theme park industry is growing at a good enough pace to offer attractive opportunities. Although the company's theme park business is a small portion of its total revenues, it has the opportunity to grow. Theme park revenues increased 12.8% to $615 million. More patrons visited the parks, particularly during the spring holidays. During the quarter, unit growth was gearing up for the recent opening of the Wizarding World of Harry Potter.
Why Comcast is Improving
Comcast's stock is showing upward movement and year to date the stock went up 6.4%. The company's strong consolidated results in the first two quarters of fiscal year 2014 lifted the stock price. Consolidated revenues for the quarter improved 3.5% to $16.8 billion primarily due to growth from almost all of Comcast's business segments.
The second quarter operating income rose 10.7% because the company reduced its rate of video-subscriber losses, added high-speed Internet customers and boosted profit of its NBCUniversal entertainment segment, thanks in part to a turnaround at its namesake broadcast network. Due to all of the factors above, the per share earnings increased at an impressive growth rate of 16.9% from $0.65 to $0.76 in the second quarter of 2013. Excluding a gain on the sale of an investment and transaction-related costs in the second quarter of 2014, per share earnings increased 15.4% to $0.75.

Source: Investor Presentation
Dividends and Financial Strength
Comcast's financial strength is reflected in its cash flow growth. Operating cash flows increased 7% from $5 billion in the second quarter of 2013 to $5.8 billion. Due to ongoing marketing for the X1 and business services fronts, cable capital expenditure is likely to keep climbing this year. Cable related capital expenditure climbed 20.4% to $1.5 billion in the second quarter and caused free cash flows to decline from $1.6 billion to $1.2 billion. These expenditures will further increase in the second half of 2014 to 14% of cable revenues, slightly up from 13% last year. These investments will further fuel earnings from the cable business.
Although Comcast's current dividend yield of 1.65% is one of the highest dividend yields, there is still room for growth. In the last three years, the company increased dividend payments by roughly 29.8% which is much higher than the industry dividend growth. Recently, Comcast increased its dividends by 15% due to robust momentum across all of its businesses. This growth is expected to continue because of its significant earnings growth and strong cash flow position.
Conclusion
Comcast has a trailing twelve months P/E of 20.24 times and it is trading at a forward P/E of 16.68 times and earnings CAGR of 17.37% for the next five years. Along with the PEG ratio of 1.15, Comcast appears to be a promising long-term pick and is undervalued compared to its growth potential.
Comcast's shares did not significantly increase this year but the company is still well-positioned to reach new highs going forward due to growth across the board. The growing dividends, share buybacks and potential upside make this stock an attractive investment option. Additionally, the management is investor-friendly and the company has an attractive valuation making Comcast a good pick for one's portfolio.
Disclosure: The author has no positions in any stocks mentioned, and no plans to initiate any positions within the next 72 hours.
Business relationship disclosure: The article has been written by a Gemstone Equity Research research analyst. Gemstone Equity Research is not receiving compensation for it (other than from Seeking Alpha). Gemstone Equity Research has no business relationship with any company whose stock is mentioned in this article.