Tor Minerals (Nasdaq: TORM) is a global specialty chemical company engaged in the business of manufacturing and marketing mineral products for use as pigments, pigment extenders and flame retardants used in the manufacture of paints, industrial coatings, plastics, and catalysts applications. TORM has operations in the U.S., Asia and Europe.
TORM's U.S. Operation, located in Corpus Christi, Texas, manufactures HITOX (high grade titanium dioxide), BARTEX, HALTEX/OPTILOAD and TIOPREM. The facility is also the Global Headquarters for the company. The Asian Operation, located in Ipoh, Malaysia, manufactures synthetic rutile (SR), HITOX and TIOPREM. TORM's European Operation, located in Hattem, Netherlands, manufactures Alumina-based products.
TORM's business is closely correlated with the construction industry and its demand for materials that use pigments, such as paints and plastics. This has generally led to higher sales in the company's second and third quarters due to increases in construction and maintenance during warmer weather. Also, pigment consumption is closely correlated with general economic conditions.
Situation Overview
TORM is a small provider of titanium dioxide (TiO2) products in what is currently an extremely tight market. TORM suffered greatly during the recent economic recession and had both declining margins and free cash flow. As a result, the company was not in compliance with the Consolidated Fixed Charge Ratio and the Consolidated Funded Debt to EBITDA Ratio covenants under its U.S. Credit Agreement with Bank of America as of December 31, 2008 and March 31, 2009. As a result, the Bank notified the company of its decision to terminate the Credit Agreement.
On February 16, 2010, BofA extended the maturity date on TORM's credit line from February 15, 2010 to August 15, 2010. TORM repaid the outstanding balance on its two Term Loans with the Bank in 2009, and as of June 30, 2010, the company had $500,000 drawn on the Line. In addition, the company was in compliance with the revised financial covenants for each quarter ended from June 30, 2009 through June 30, 2010. The company also obtained a 6% convertible debenture loan from a group of directors to ease financial pressure from the bank. TORM received a further extension of its facility from October 2010 to February 2011, it has $1m of borrowing capacity and is seeking to broaden its banking group.
The rapid turnaround in financial fortunes for the company is underpinned by an extremely tight market for titanium dioxide products. The market for titanium dioxide in the U.S. is controlled by very few producers. In 2009, titanium dioxide pigment, which was valued at about $2.7 billion, was produced largely by four companies at eight facilities in seven states. The estimated use of TiO2 pigment by end use was paint (includes lacquers and varnishes), 59%; plastic, 25%; paper, 10%; and other, 6%. Other uses of TiO2 included catalysts, ceramics, coated fabrics and textiles, floor coverings, printing ink, and roofing granules.
Owing to greatly reduced demand from the construction and automotive industries, global production of titanium dioxide pigment decreased significantly compared with that in 2008. Domestic production of TiO2 pigment was an estimated 1.2 million tons, a significant decrease compared with that of 2008. In 2009, numerous TiO2 pigment plants were closed or temporarily idled. In Savannah, GA, a 110,000-ton-per-year TiO2 pigment plant was idled. In Baltimore, MD, a 50,000-ton-per-year plant was closed. In January 2009, Tronox one of the leading global producers of TiO2 pigment filed for bankruptcy protection and has yet to finish the restructuring process. Most recently at the end of Sept 2010, force majeure was called at Millennium Chemical's TiO2 plant in Ohio, adding further strain to an already tight market.
Financial Review and Valuation
TORM's historical financial summary is presented below. As can be clearly seen, the company is in the early stages of having its best earnings in many years. Much of the earnings improvement can be attributed to a strong rebound in sales, and also significant operating leverage from a streamlined operating environment. TORM has eliminated over $1 million of SG&A expense in the past 5 years. On a base of 1.9 million shares outstanding, the benefit goes directly to shareholders.
Click to enlarge: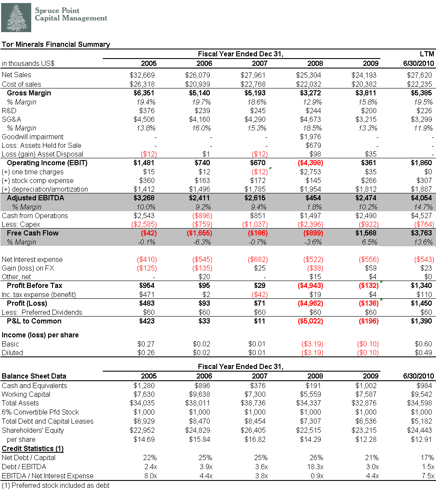 We have attempted to model the earnings potential for TORM. We simplify our analysis by estimating price and volume growth over the previous year. By analyzing industry pricing sources, we conservatively estimate a 15% increase in prices. During the depth of the economic recession, TORM operated its plants at only a 30% capacity utilization. So we've assumed a base case utilization of 70%, in-line with current U.S. capacity utilization figures. Applying a conservative 12x - 14x P/E multiple yields, a target for TORM's share price is in the $20 range. Note that our 12x - 14x multiple range is at a discount to current trading value for other TiO2 chemical companies as revealed in the table of relative trading values below.
Click to enlarge: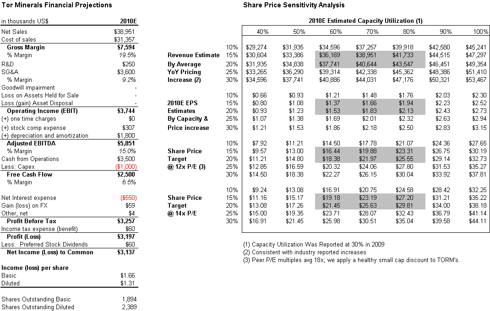 TORM's current valuation is not stretched by any means relative to their historical valuation. Given current profitability levels, TORM has room for meaningful valuation expansion.
Click to enlarge: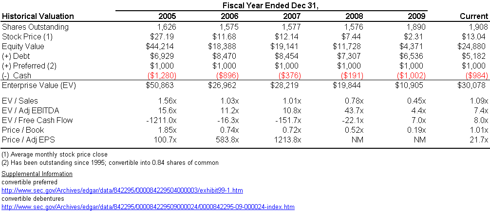 TORM trades at a meaningful discount to other chemical companies across all valuation metrics including Price/Book, P/E, and EV/EBITDA. We believe the discount reflects a meaningful 'micro cap discount' due to low trading liquidity of shares. Kronos is the purest play TiO2 comparable company, and trades at a meaningful premium to the other diversified peers. TORM also has the most under-leveraged balance sheet of the group, and will grow earnings the fastest, leaving more upside to shareholders, with less financial risk.

Click to enlarge:




Discussion of Key Risks and Potentially Mitigating Factors

1. Cyclical industry prone to periods of over/under-supply
Currently in a period of under-supply and increasing demand

Key U.S. TiO2 production facility in Ohio, operated by Millennium Chemicals, recently shut down due to force majeure and is exacerbating the situation

According to Huntsman, a new TiO2 plant has not been built in the past 15-20 years

Significant money moving into the TiO2 sector to expand capacity (see Kronos Worldwide's $300 million equity raise below)
2. TORM is a price follower, not a price maker in the industry
Prices currently rising across the industry and are expected to continue to rise well into 2011 by 20% or more (see below comments from Sherwin Williams (NYSE:SHW) conference call)
3. Financial restructuring with credit facility not yet fully completed
TORM has successfully extended maturity dates with BofA multiple times

Financial performance is improving

TORM has support of key shareholders who have shown willingness in the past to provide the company capital on attractive terms
4. Financial performance can be affected by raw materials and input costs (natural gas, SR)
Key input of natural gas is currently in large supply and at low prices

TORM has hedged natural gas in the past, but currently does not have any hedges in place

Key input of synthetic rutile (SR) is sourced from TORM's Malaysian subsidiary
5. Customer concentration
BASF Corporation (OTCQX:BASFY) represented 18.2% in 2009

TORM has been working to diversify its customer base. During the first half of 2010 TORM secured significant orders for specialty alumina products, which should further diversify the company's customer and product concentration in this category
6. Shares are generally illiquid with few outstanding, prone to big swings and perceived as a pump/dump stock
Insiders own a majority of the shares and have been very long-term holders of the stock. The largest holder, Bernard Paulson, has been involved with the company for nearly 20 years and has significantly added to his holdings in recent years, not decreased his holdings

TORM is a real company with real earnings; simple industry checks confirm it is not a pump/dump shell company

Small cap specialist Perrit Capital is also a shareholder as is Blackrock and Vanguard

Recommend size position accordingly
Note: TORM reports earnings on Nov 11
Market Color and Supplemental Information
Dupont Cites Strength in Titanium Dioxide (TiO2)
Huntsman Discusses Low TiO2 inventories and lack of new capacity build
Millennium Chemicals TiO2 Plant Shutdown
Excellent, Unbiased TiO2 Market Overview from the US Geological Survey

Extreme TiO2 shortage article

Kronos Raises almost $300m for TiO2 capacity acquisitions

Sherwin Williams Comments on TiO2 Shortages..Modeling 20%+ price increase for next year

Disclosure: Long TORM
Disclaimer: Information, including forecasted financial information should not be considered as a recommendation in relation to holding, purchasing or selling any securities named in this article. While due care has been used in the preparation of this analysis, actual results may vary in a materially positive or negative manner. Forecasts are subject to uncertainty and contingencies outside the control of Spruce Point Capital Management. As a result, each investor must make their independent determination on the suitability of an investment based upon his or her risk tolerance and financial objectives. Spruce Point Capital reserves the right to change its opinion and/or position of any securities mentioned in this article without advance notice.