The following is a list of stocks in rally mode, i.e. trading above their 20-day, 50-day and 200-day moving averages. All of these stocks have a large number of open call option contracts relative to put option contracts, i.e. bullish options market sentiment.

Options traders seem to think the upward momentum will continue, what do you think? Full details below.

Options data sourced from Schaeffer's, moving average data sourced from Finviz.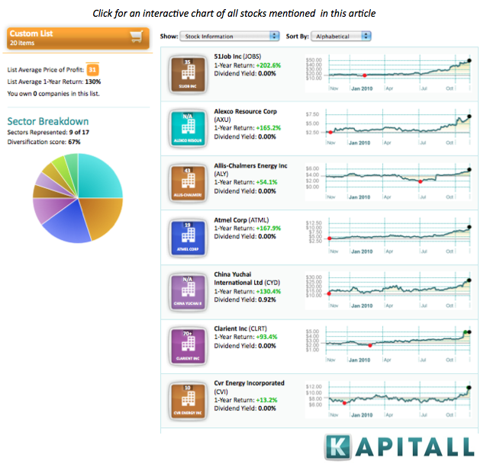 The list has been sorted by the Put/Call ratio.

1. Clarient, Inc. (CLRT): Medical Laboratories & Research Industry. Market cap of $442.61M. The stock is currently 14.28% above its 20-day MA, 30.79% above its 50-day MA, and 61.75% above its 200-day MA. Call open interest at 1,490 contracts vs. put open interest at 100 contracts (Put/Call ratio at 0.07). Short float at 7.65%, which implies a short ratio of 2.55 days. The stock has gained 93.41% over the last year.

2. MIPS Technologies Inc. (NASDAQ:MIPS): Semiconductor Industry. Market cap of $686.31M. The stock is currently 20.12% above its 20-day MA, 46.11% above its 50-day MA, and 135.86% above its 200-day MA. Call open interest at 56,701 contracts vs. put open interest at 5,277 contracts (Put/Call ratio at 0.09). Short float at 14.12%, which implies a short ratio of 3.5 days. The stock has gained 252.93% over the last year.

3. Harvest Natural Resources Inc. (NYSE:HNR): Independent Oil & Gas Industry. Market cap of $453.47M. The stock is currently 10.41% above its 20-day MA, 35.7% above its 50-day MA, and 71.24% above its 200-day MA. Call open interest at 26,289 contracts vs. put open interest at 2,727 contracts (Put/Call ratio at 0.1). Short float at 8.12%, which implies a short ratio of 5.98 days. The stock has gained 123.14% over the last year.

4. Pharmasset, Inc. (VRUS): Drug Manufacturer. Market cap of $1.37B. The stock is currently 14.35% above its 20-day MA, 30.4% above its 50-day MA, and 44.% above its 200-day MA. Call open interest at 4,649 contracts vs. put open interest at 515 contracts (Put/Call ratio at 0.11). Short float at 8.33%, which implies a short ratio of 12.07 days. The stock has gained 91% over the last year.

5. 51job Inc. (NASDAQ:JOBS): Staffing & Outsourcing Services Industry. Market cap of $1.36B. The stock is currently 11.67% above its 20-day MA, 30.94% above its 50-day MA, and 100.01% above its 200-day MA. Call open interest at 7,822 contracts vs. put open interest at 953 contracts (Put/Call ratio at 0.12). Short float at 2.31%, which implies a short ratio of 3.31 days. The stock has gained 202.64% over the last year.

6. Silicon Image, Inc. (NASDAQ:SIMG): Semiconductor Industry. Market cap of $522.8M. The stock is currently 26.76% above its 20-day MA, 42.05% above its 50-day MA, and 84.96% above its 200-day MA. Call open interest at 8,113 contracts vs. put open interest at 1,214 contracts (Put/Call ratio at 0.15). Short float at 3.52%, which implies a short ratio of 2.59 days. The stock has gained 215.28% over the last year.

7. North American Palladium Ltd. (PAL): Industrial Metals & Minerals Industry. Market cap of $836.04M. The stock is currently 22.33% above its 20-day MA, 36.9% above its 50-day MA, and 46.3% above its 200-day MA. Call open interest at 24,808 contracts vs. put open interest at 3,854 contracts (Put/Call ratio at 0.16). Short float at 2.81%, which implies a short ratio of 1.83 days. The stock has gained 119.77% over the last year.

8. Smith Micro Software Inc. (NASDAQ:SMSI): Application Software Industry. Market cap of $519.19M. The stock is currently 25.4% above its 20-day MA, 48.47% above its 50-day MA, and 60.37% above its 200-day MA. Call open interest at 3,929 contracts vs. put open interest at 760 contracts (Put/Call ratio at 0.19). Short float at 6.74%, which implies a short ratio of 5.71 days. The stock has gained 104.73% over the last year.

9. TransGlobe Energy Corp. (NASDAQ:TGA): Independent Oil & Gas Industry. Market cap of $1.01B. The stock is currently 39.37% above its 20-day MA, 60.87% above its 50-day MA, and 113.78% above its 200-day MA. Call open interest at 3,667 contracts vs. put open interest at 773 contracts (Put/Call ratio at 0.21). Short float at 0.22%, which implies a short ratio of 0.63 days. The stock has gained 312.81% over the last year.

10. Denison Mines Corp. (NYSEMKT:DNN): Industrial Metals & Minerals Industry. Market cap of $951.22M. The stock is currently 29.87% above its 20-day MA, 54.25% above its 50-day MA, and 86.88% above its 200-day MA. Call open interest at 1,688 contracts vs. put open interest at 361 contracts (Put/Call ratio at 0.21). Short float at 2.35%, which implies a short ratio of 5.39 days. The stock has gained 91.78% over the last year.

11. CVR Energy, Inc. (NYSE:CVI): Oil & Gas Refining & Marketing Industry. Market cap of $1.01B. The stock is currently 19.67% above its 20-day MA, 35.24% above its 50-day MA, and 42.41% above its 200-day MA. Call open interest at 388 contracts vs. put open interest at 91 contracts (Put/Call ratio at 0.23). Short float at 1.9%, which implies a short ratio of 6 days. The stock has gained 37.29% over the last year.

12. IMAX Corporation (NYSE:IMAX): Photographic Equipment & Supplies Industry. Market cap of $1.44B. The stock is currently 15.97% above its 20-day MA, 30.53% above its 50-day MA, and 40.28% above its 200-day MA. Call open interest at 33,346 contracts vs. put open interest at 8,375 contracts (Put/Call ratio at 0.25). Short float at 14.3%, which implies a short ratio of 7.69 days. The stock has gained 106.99% over the last year.

13. Hecla Mining Co. (NYSE:HL): Silver Industry. Market cap of $2.3B. The stock is currently 28.96% above its 20-day MA, 39.05% above its 50-day MA, and 59.53% above its 200-day MA. Call open interest at 285,509 contracts vs. put open interest at 78,615 contracts (Put/Call ratio at 0.28). Short float at 17.04%, which implies a short ratio of 5.38 days. The stock has gained 70.67% over the last year.

14. Alexco Resource Corporation (NYSEMKT:AXU): Nonmetallic Mineral Mining Industry. Market cap of $376.59M. The stock is currently 16.25% above its 20-day MA, 35.76% above its 50-day MA, and 86.06% above its 200-day MA. Call open interest at 232 contracts vs. put open interest at 75 contracts (Put/Call ratio at 0.32). Short float at 0.63%, which implies a short ratio of 0.92 days. The stock has gained 165.17% over the last year.

15. China Yuchai International Limited (NYSE:CYD): Diversified Machinery Industry. Market cap of $1.01B. The stock is currently 13.94% above its 20-day MA, 31.93% above its 50-day MA, and 54.54% above its 200-day MA. Call open interest at 11,844 contracts vs. put open interest at 3,839 contracts (Put/Call ratio at 0.32). Short float at 2.62%, which implies a short ratio of 1.55 days. The stock has gained 134.17% over the last year.

16. MedQuist Inc. (MEDQ): Healthcare Information Services Industry. Market cap of $353.82M. The stock is currently 17.% above its 20-day MA, 50.87% above its 50-day MA, and 80.06% above its 200-day MA. Call open interest at 787 contracts vs. put open interest at 261 contracts (Put/Call ratio at 0.33). Short float at 3.7%, which implies a short ratio of 4.11 days. The stock has gained 160.94% over the last year.

17. Allis-Chalmers Energy, Inc. (ALY): Oil & Gas Equipment & Services Industry. Market cap of $420.76M. The stock is currently 18.61% above its 20-day MA, 31.66% above its 50-day MA, and 62.78% above its 200-day MA. Call open interest at 869 contracts vs. put open interest at 298 contracts (Put/Call ratio at 0.34). Short float at 2.53%, which implies a short ratio of 1.85 days. The stock has gained 60.5% over the last year.

18. United Rentals, Inc. (NYSE:URI): Rental & Leasing Services Industry. Market cap of $1.23B. The stock is currently 13.43% above its 20-day MA, 31.76% above its 50-day MA, and 72.1% above its 200-day MA. Call open interest at 20,315 contracts vs. put open interest at 7,063 contracts (Put/Call ratio at 0.35). Short float at 15.82%, which implies a short ratio of 5.3 days. The stock has gained 109.69% over the last year.

19. Endeavour Silver Corp. (NYSE:EXK): Silver Industry. Market cap of $411.14M. The stock is currently 33.31% above its 20-day MA, 47.91% above its 50-day MA, and 74.57% above its 200-day MA. Call open interest at 2,712 contracts vs. put open interest at 949 contracts (Put/Call ratio at 0.35). Short float at 0.97%, which implies a short ratio of 0.81 days. The stock has gained 101.57% over the last year.

20. Atmel Corporation (NASDAQ:ATML): Semiconductor Industry. Market cap of $4.83B. The stock is currently 21.88% above its 20-day MA, 35.25% above its 50-day MA, and 79.1% above its 200-day MA. Call open interest at 26,821 contracts vs. put open interest at 9,464 contracts (Put/Call ratio at 0.35). Short float at 3.27%, which implies a short ratio of 1.55 days. The stock has gained 168.14% over the last year.

Disclosure: No positions