By Veibha Subramaniam
Executive Summary
Google (NASDAQ:GOOGL) (NASDAQ:GOOG) has had the first-mover advantage in internet advertising. It has been in this space since 2000 putting out search ads
Facebook (NASDAQ:FB) has been a late entrant in e-advertising. However, with Facebook releasing its mobile app platform, it has been able to take the lead in in-app advertising
Google has not been able to penetrate this market because it is a search service rather than an app which can be installed. Google has been trying to penetrate this market with the launch of Google+
With the type of acquisitions made by Facebook and Google over the past few years, it is evident that both the companies now have two different growth strategies and cannot be compared only on CPC and ad revenue
Facebook's mobile strategy has paid off giving it a FCF (free cash flow) growth of about 639% in 2013 and an earnings growth of an astounding 4560% in 2013
Facebook's acquisitions and strategy are growing more towards user engagement: (1) Recently, Facebook reached out to Helsinki-based Huuuge Inc., the maker of casino based games, to convince the team to build mobile applications with its tools (2) Facebook is introducing a "BUY" button to capture impulse purchases. User engagement and longer retention times will always command a premium value (3) Facebook acquired Live Rail - a company which offers premium publishers with technology to sell video inventory across all devices
Google's acquisitions and growth strategy involves increasing the touch points between Google and the consumer. Google is no longer just a search engine but is trying to get into internet of things, robotics, artificial intelligence. These acquisitions have been accretive to its strategy; however they are not yet accretive to its bottom line
Google's FCF (free cash flow) growth was about -15.32% in 2013 with an earnings growth of about 13.22% in 2013
Google is trading at 30X earnings while Facebook is at 90X earnings and is priced at a premium for the reasons enunciated above. Google has to still prove to the market that its out-of-the-box strategy will actually make money for its shareholders. It needs a success on the lines of acquisitions like YouTube , Android, and AdMob. It needs its acquisitions like DeepMind and Nest Labs to generate revenues
Recently Nest Labs announced a $555 milllion acquisition of Dropcam (July 17, 2014). Dropcam is a video monitoring and security company. Nest Labs with this acquisition is trying to become the central hub for connected devices at home
Internet Advertising Giants Growth of Google, Inc.: From search to in-app advertising
Google is a leader in digital ads which have been displayed on Google search pages since 2000. Google's value proposition is that it can display ads which match what the user is searching for or has previously searched for. The way the ads were displayed on a Google search page made it easy to migrate it to the mobile advertising space. Google bought AdMob (a mobile advertising network) in 2009 to further improve ad relevancy. In 2011, Google introduced app-install ads in mobile search. Consumers have been able to open pages within apps via organic search results on mobile since November, but now the company is offering this capability to paid search advertisers. On April 22, 2014 Google announced that it will allow app developers to buy ads promoting installed apps in paid mobile search and YouTube. This brings Google on a level playing front vis-a-vis Facebook on the different advertising options available to digital advertisers.

Source: CapitalCube
Facebook, Inc.: From right rail to homegrown ad network
Facebook on the other hand displayed ads on the right hand side (called right rail ads, 2009) and this was a huge problem for Facebook in the mobile space where the display area is very small. Facebook went on to allow ads in the News feed area (2012) which was the same as Google search ads. This was a huge win for Facebook. Facebook further provided in-app advertising in Q1 2014 for already installed apps which increased the revenue for Facebook mobile ads. Facebook introduced its homegrown mobile ad network on April 30, 2014. This will get Facebook on par with Google on its advertising offerings and resources for mobile advertising.

Source: CapitalCube
Google or Facebook - Which is better?
Technology, Reach and User Behavior are some of the dimensions along which Google and Facebook differ.
Technology
Google provides online video ads (supported by True view) which are now available in the Facebook universe (Facebook, Instagram, Whatsapp, Live Rail). Google makes more money with video ads as compared to search ads. YouTube's slice of Google's ad dollars is growing rapidly, too. Google's TrueView ads (ads which give viewers choice and control over which advertisers' messages they want to see and when) and AdWords tailored to mobile apps give Google the same functionality as Facebook's Applinks. In 2013, YouTube brought in nearly $2 billion in net revenue, accounting for 5.6% of Google's overall net ad revenue, according to eMarketer. By the end of this year, eMarketer predicts YouTube will represent 7.2% of its parent company's ad intake.
For Facebook, mobile ads now represent 59% of its overall ad revenues, up from 30% in Q1 2013. Its homegrown mobile ad network (Audience Network) may help Facebook achieve better ad relevancy. This would in turn increase its mobile advertising revenue. Facebook's acquisition of Parse in Sept 2013, has evolved in the release of Applinks. Applinks is said to deep link various apps which will help apps to talk to each other or make them searchable like a URL which has been released in July 2014. Live Rail (acquired in July, 2014) now gets Facebook's ad offering to the same level as Google.
Reach
As of August 2012, Google handled 100 billion searches per month, while Facebook had 1.23 billion monthly active users as of Jan 2014.
With the implementation of its mobile platform in Q1 2014, Facebook has been slowly increasing its presence in mobile ads - challenging Google's dominance in the digital advertising space (internet and mobile). This will lead to cannibalization of Google's ad revenues for some time.
Currently, in the advertising area, Facebook and Google are similar in their offerings to advertisers. The only differentiation is
| | |
| --- | --- |
| Google | Facebook |
| Tries to match advertisers with what people are doing online | Tries to match advertisers to a person's likes and dislikes |
| Dominant in the online space. Google's reported numbers in 2Q 2014 indicate that the number of paid clicks jumped up 33% on its own sites (google.com, YouTube.com) | Dominant in the mobile app space. Facebook's mobile ads represented 59% of its total ad revenue in Q1 2014, up from 30% YoY. |
Source: CapitalCube
Current User Behavior
The only parameter to watch for is usage statistics for Google and Facebook. According to a recent survey by GlobalWebIndex (May 2014), there has been a decrease in active usage of social platforms and an increase in photo sharing platforms like Instagram and Tumblr.
Search still seems to be a good precursor to user behavior as seen from a study conducted by Ipsos Media. Local searches are still relevant.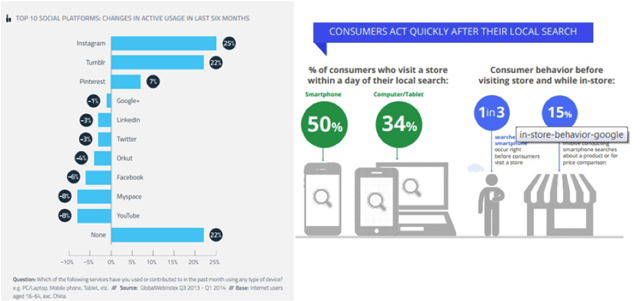 Source: GlobalWebIndex and Ipsos Media
The Future
In the near future the CPC (cost per click) for advertisers is going to decline; this will become a commodity price as can be seen in Google's current quarterly reporting. The volume of clicks have to increase for Facebook or Google to make money.
Google vs. Facebook: Stock Performance

Source: CapitalCube/QuoteMedia
When comparing both the companies over the past year, with respect to advertising, it can be seen that Facebook has been rewarded for its success in implementing its mobile platform, while Google has been punished for making out-of-the-box acquisitions that have been viewed as non-accretive. (Boston Dynamics, Deep Mind etc).

Source: CapitalCube/QuoteMedia
When comparing Google and Facebook over a two-year period (this is when Facebook started implementing its mobile strategy), it becomes evident that Facebook has caught up with Google and going forward both the companies will be rewarded for more land grab in the mobile ad space.
Google Snapshot

Source: CapitalCube
For the years 2012, 2103 Google's growth of COGS YoY have been higher than its Sales Growth YoY. This can be explained by Google's strategy of diversifying into new businesses like robotics (Boston Dynamics - Dec 2013), internet of things (Nest - Feb 2014), artificial intelligence (Deep Mind - Jan 2014) and Dropcam (July 2014).
Despite these acquisitions, Google is highly profitable to be able to provide a yearly Net Profit Margin of 20%. Obviously there is long-term strategy at work here to branch into new frontiers and verticals.
Facebook Snapshot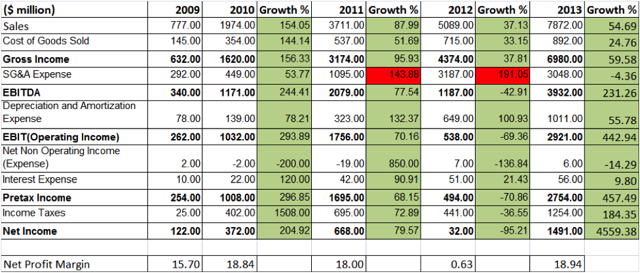 Source: CapitalCube
It is seen that the SG&A growth for 2011 and 2012 was very high because of the huge ramp-up for Facebook to build its mobile platform and its mobile ad network. This resulted in Net Profit Margin for Facebook to dip down to 0.63% in 2012.
Is it right to compare Facebook and Google on CPC?
The final conundrum: Can Google and Facebook be compared to each other in the advertising space? The answer is NO. This again reverts back to looking at the acquisitions made by Google and Facebook over the last 2 years and their growth strategy.
Google vs. Facebook - Growth Strategy and Acquisitions
Comparing the Net Profit Margin of both companies over the years - it is about 20% for the past 2 years.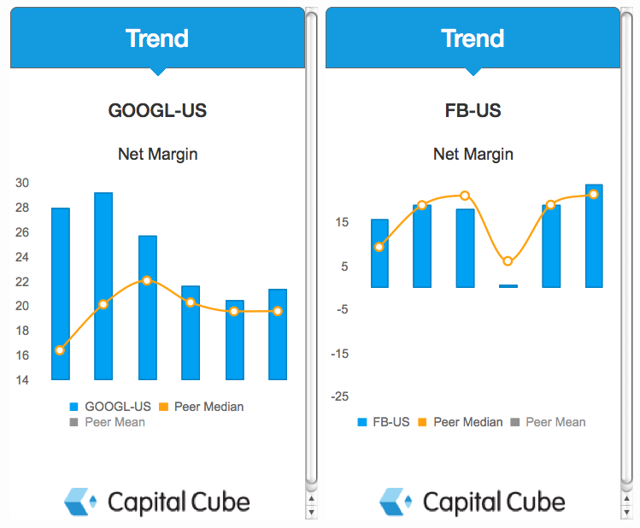 Comparing earnings growth of Google and Facebook, it can be seen that Facebook's acquisitions have been accretive to its bottom line. However, Google's acquisitions have not.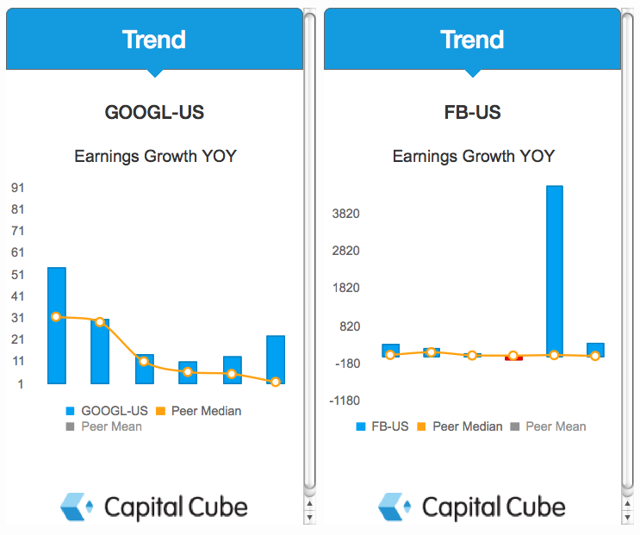 Google's acquisitions have been targeted to increase the touch points where the user uses a Google service (internet of things, robotics etc.). Facebook's acquisitions have been towards engaging its user experience and trying to get the user to come back to the Facebook page and increasingly staying there (mobile or internet). This is bolstered by Facebook's recent attempt to introduce a "BUY" button to capture impulse shopping.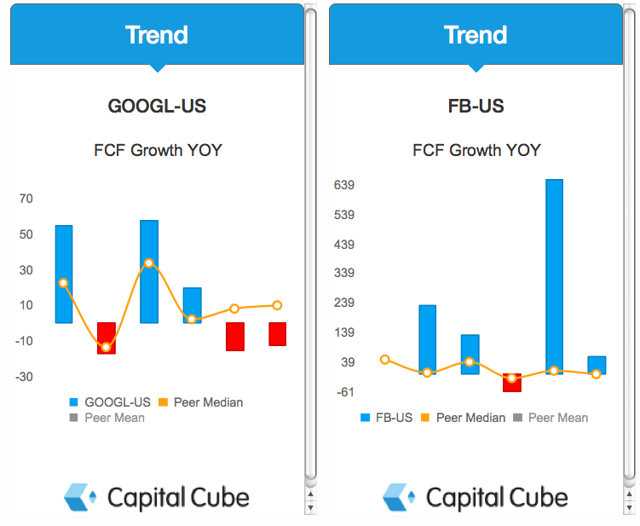 This is even more evident when looking at the FCF (free cash flow) growth rate for both the companies.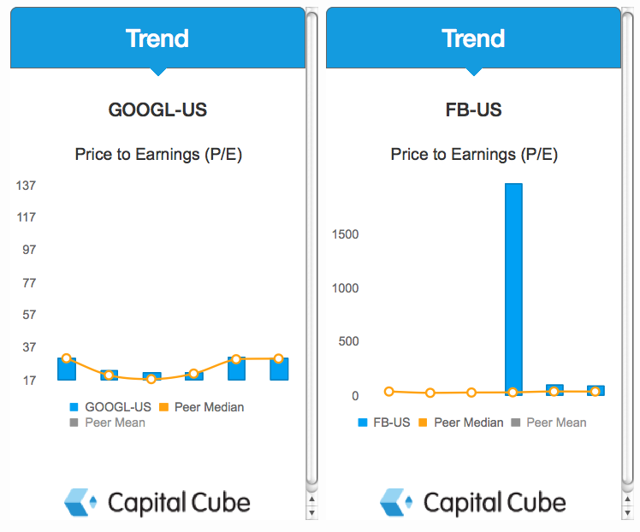 The reason that Google trades at around 30X earnings and Facebook trades at 90X earnings is mainly because Google has to prove that its out-of-the box acquisitions will actually start making money for Google. In comparison, Facebook has already started reaping profits from its mobile strategy.
Disclosure: The author is long GOOG, FB. The author wrote this article themselves, and it expresses their own opinions. The author is not receiving compensation for it. The author has no business relationship with any company whose stock is mentioned in this article.