Despite Silicon Labs (NASDAQ:SLAB) reported second quarter revenue and earnings per share that topped analyst expectations, its shares fell almost 15% since the company projected below consensus earnings for the third quarter.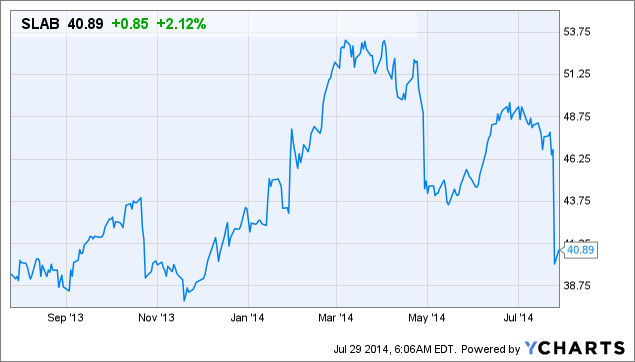 Currently the shares are trading around $41, which I believe is an excellent investing opportunity for longer term investors.
Earnings Overview
Silicon Labs, the sixth-largest semiconductor company in Austin as per ABJ's most recent list, is a producer of high-performance, analog-intensive, mixed-signal ICs. The company's diverse portfolio of patented semiconductor solutions offers customers significant advantages in performance, size and power consumption.
The company posted second quarter earnings of $14.2 million, or 32 cents per share, on revenue of $154.9 million, which included $5 million of patent sale revenue. In the second quarter of 2013, the company posted a profit of $12.6 million, or 29 cents per share, on revenue of $141.5 million. The year-over-year improvement of the company's top and bottom line indicates that the company's multi-year investment strategy in the IoT (Internet of Things) and Internet infrastructure has started bearing fruit.
The company said that it expects revenue in the third quarter would be in the range of $153 million to $157 million, and earnings per share in the range of 45 cents to 51 cents, which analysts believe is below consensus, as the average estimate on the street is revenue of $156.8 million and earnings of 54 cents a share.
Why the Correction Offers a Decent Investing Opportunity?
Silicon Labs is well-positioned to monetize IoT with its microcontroller, wireless and sensor products gaining traction in connected device applications for the IoT. I believe that the stock is worth looking into due to the following reasons:
The company witnessed growing adoption of its MCU, wireless and sensor products, and the IoT applications, which should continue to grow in the rest of the current fiscal and the next fiscal. Overall, MCU, wireless and sensor revenue grew to 31% of total product revenue in the second quarter. The company's IoT exposure was 15% of overall revenue in 2013, which is expected to grow to 20% in 2014.
Over last several years, Silicon Labs has diversified its product portfolio, both organically and through acquisitions. Recently, the company has acquired Milpitas, Calif.-based Touchstone Semiconductor for $1.5 million. Touchstone is an early-stage maker of low-power chips, the acquisition of which is expected to enhance SLAB's portfolio of low-power chips, embedded controllers, sensors and other revenue-leading products in the IoT market. The acquisition has helped SLAB sell about 70 new products originally developed by Touchstone.
The company recently hired IBM (NYSE:IBM) veteran Michele Grieshaber, who joined the company as the chief marketing officer. Grieshaber is also an adjunct professor at St. Edward's University teaching business ethics. She started working at IBM in 1995 and eventually became the vice president of IBM's demand programs where she used to oversee IBM's marketing initiatives. I believe that Grieshaber has the potential to boost Silicon Labs' sales to significantly higher levels. Although I don't expect that she will do miracles, I believe that she will gradually transform the company's sales initiatives to be more productive.
Competitive Advantage
Silicon Labs competes with Texas Instruments (NYSE:TXN) and Analog Devices (NASDAQ:ADI) in the semiconductor industry. Silicon Labs' competitive advantage lies in the fact that since its ICs are smaller and highly integrated, they could be supplied on a rapid basis. Another competitive strength of the company is that its IoT product portfolio includes energy-friendly solutions that help its customers reduce system cost and complexity. Further, its ongoing investment in Simplicity Studio development platform has significantly strengthened its competitive advantage.
Conclusion
Silicon Labs is attractively valued in terms of Price to Sales and Price to FCF compared to competitors like Texas Instruments and Analog Devices. I expect SLAB to reach $55 in the next 12 months.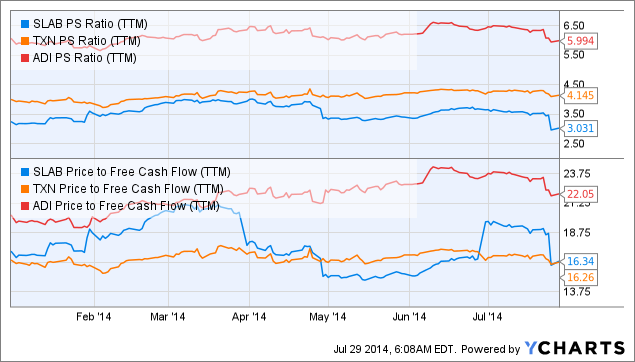 SLAB PS Ratio (NYSE:TTM) data by YCharts
In the near term, however, the stock is expected to consolidate around the current level, since it breached the 200 DMA convincingly at the downside. I think that medium-to long-term investors who can wait at least a year should buy the stock at the current price with more than 30% potential upside.
Disclosure: The author has no positions in any stocks mentioned, and no plans to initiate any positions within the next 72 hours. The author wrote this article themselves, and it expresses their own opinions. The author is not receiving compensation for it (other than from Seeking Alpha). The author has no business relationship with any company whose stock is mentioned in this article.