Over the last couple of days, Zillow (NASDAQ:Z) and Trulia (TRLA) have been the talk of the town as shares of both companies have combined to give investors returns of more than 87%.
In fact, over the last couple of trading days, the market capitalization of both companies has jumped close to $2.5B in a deal that is still pending and awaiting final approval from U.S. authorities. The graph below shows the euphoria that has taken place since last Thursday.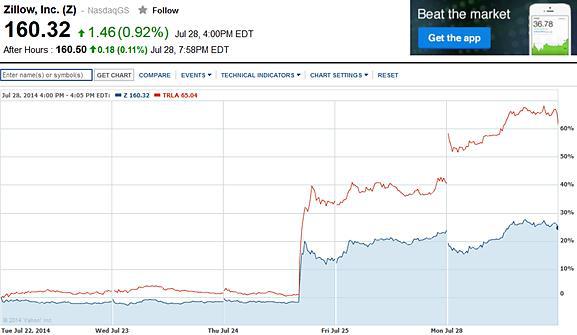 News of the announcement caught many short sellers by surprise and left many scrambling to cover their shares. According to the latest short interest report, close to 28% of the float was short in Zillow, with more than 35% in Trulia. Clearly short sellers were expecting shares to cool off and unfortunately for them, shares took an unexpected twist over the last week.
Based on what has transpired over the last couple of days, I wouldn't be one bit surprised to see a jump in the short interest figures as short sellers look to make up for lost gains as well as capitalizing on a quick pop and drop from the investor euphoria.
Zillow + Trulia = Growth Opportunity Or Short Opportunity?
Much has already been said about what kind of impact the merger would have between both companies. So without further ado, here is a quick recap of what has been said:
1) Both Companies Will Become Internet Advertising Juggernauts
2) The Merger Will Provide For Greater Pricing Power
3) Broader Distribution And Greater Access To Real Estate Data
4) Combining Resources Will Result In Faster Innovation
5) Both Companies Will Have Better Cost Control Measures
A merger between Zillow and Trulia would undoubtedly create a dominant search website for U.S. house hunters, while reshaping the online real estate industry in the process.
Together, Zillow and Trulia had more than 85 million unique visitors in June, accounting close to 89% of all traffic to the 15 most-visited real estate sites tracked by ComScore.
So what is the total cost of the merger and are there any downsides to this deal?
According to Zillow's press release Monday morning, the No. 1 real estate website (Zillow), agreed to buy the No. 2 real estate website (Trulia), for $3.5B in a stock-for-stock transaction. Even though there are many things to like about the acquisition made by Zillow, there are still some downsides that investors need to consider. Below are a couple of reasons that make a compelling case to go short.
Short Opportunity?
Shorting momentum stocks like Zillow, Tesla (NASDAQ:TSLA), Amazon (NASDAQ:AMZN) and Netflix (NASDAQ:NFLX), just to name a few, has been a tough go around for many short sellers. It seems like no matter what takes place (bad news), shares seem to press onward and upward.
This time was no different for Zillow as shares soared 30% over several days on the news that the Company was looking to purchase Trulia. The question now remains, will shorts be able to recoup the losses they have already suffered on Zillow's behalf? I believe so and here are a couple of reasons why.
Valuation, Valuation, Valuation
Looking at the numbers, one can make a great case of just how overvalued Zillow and Trulia are. So how do these companies compare to their peers and others within the industry? The table below shows just how expensive and overvalued these companies have become.
| | | | | | | | |
| --- | --- | --- | --- | --- | --- | --- | --- |
| | Market Cap | Net Income | Price/Sales | Price/Book | Forward P/E | Profit Margin | Operating Margin |
| Zillow | $6.4B | $-6.3M | 28.15 | 10.91 | 186.42 | -6.70% | -8.73% |
| Trulia | $2.4B | $-15.2M | 11.94 | 5.49 | 342.32 | -17.75% | -20.73% |
| Move | $601M | $-5.2M | 2.42 | 5.22 | 33.02 | -1.95% | -0.95% |
| Z/TRLA Peers | N/A | N/A | 9.3 | 7.2 | 46.4 | +19.66% | +28.10% |
| Industry Average | N/A | N/A | 4.7 | 3.1 | 23.0 | +11.16% | +18.81% |
* Figures as of July 28, 2014
When we compare Zillow and Trulia not only against each other, but against their peers and those in the industry, one can see right away that these companies trade at sky-high valuations.
Antitrust Issues (Merger Could Be Denied)
Antitrust Laws or "competition laws" as some call it, are statutes developed by the U.S. Government to protect consumers from predatory business practices by ensuring that fair competition exists in an open-market economy.
Let's face it, as consumers the more competition the better. Why is this the case? One word; Monopolies. For those of you that are new to the term, a monopoly is where a single company or group owns all or nearly all of the market for a given type of product or service. The absence of competition, often results in higher prices and lower quality products.
In the United States, there are many regulations that help to protect the free markets from being dominated by a single entity. When there is only one provider for goods or services, there seems to be a lack of incentive for companies to improve or meet the demands of its consumers. Governments attempt to prevent monopolies from arising through the use of antitrust laws.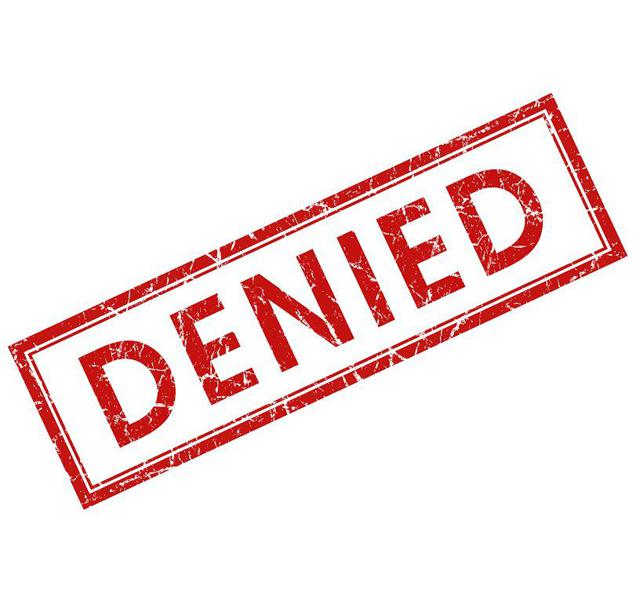 Over the years, a number of deals have failed to go through due to antitrust issues. For example, in 2011, AT&T (NYSE:T), tried to acquire T-Mobile (NASDAQ:TMUS), for $39B. To make a long story short, the deal went south due to pushback from rivals and regulators. On top of that, AT&T was required to pay T-Mobile a $4B breakup fee since the deal did not go through.
This just goes to show you that it isn't always fine and dandy in the M&A world. Late Monday evening, Trulia filed an 8-K talking about termination fees among other things.
Like I mentioned above, Zillow and Trulia still face some trouble in that they must get shareholder approval as well as passing regulatory scrutiny.
One thing that I would like to point out is Zillow's financials. If the deal does not go through for whatever reason, Zillow would be on the hook to pay Trulia $150M. Based on Zillow's latest financials, one can see that the Company had just $446M in cash/investments at the end of the first quarter. That means, the $150M breakup fee if paid, would wipe away 33% of Zillow's cash holdings. Not only that, but the +30% rise due to the merger speculations and announcements would send shares plummeting.
Where's The Profits?
Looking to find profits on Zillow's or Trulia's quarterly reports is like looking for a needle in a haystack. Abram Garver, managing director of BG Strategic Advisors talked about the outlook of the two money losing companies saying:
"Neither Zillow nor Trulia is profitable on an annual basis. Each Zillow visitor is worth about $89, while each Trulia visitor is worth about $48, based on the number of site visitors divided by the enterprise value, according to Abram Garver, managing director of BG Strategic Advisors. Only a small share of those visitors will lead to a home sale or lease with potential fees, he said."

..."At the end of the day, Zillow and Trulia have to make money, and neither do," Garver, whose company advises mergers in the $25 million to $200 million range. "What good are the eyeballs if you can't convert?"
Insider Selling
If you haven't already noticed by now, insiders seem to be selling as many shares as they can get their hands on these days. This definitely should bring up a red flag for investors in Zillow. If the leaders and executives of the company are taking their money out, then why should you keep your money in?
Investors will point out that there are many reasons that officers might sell their shares. For instance, they may need the money to pay their children's tuition, pay taxes, buy a house or to satisfy a debt. While this may be true, the fact that so many insiders have sold shares within such a short period of time leaves me wondering why.
Remember that insiders have access to every bit of information that you could ever want. So if they are selling shares then why aren't you? So much insider selling in such a short period of time has to be in the back of investors' minds as it's usually a warning sign that a fall is about to take place.
I don't mean to bash Zillow, but it seems as though insiders have no faith in the stock continuing on at these levels. I've seen insider selling before and this one takes the cake as insiders have sold hundreds of millions worth of stock over the last couple of years. Does that sound like confidence in a fast growing company to you?
Just in 2014 alone, insiders at Trulia have sold more than $28M worth of stock, with CEO Peter Flint unloading $11.2M in shares. Insiders at Zillow have almost tripled that, as insiders have sold more than $70M in stock since the beginning of the year. The company's CEO, Spencer Rascoff, unloaded $19.9M in stock and after his recent sales a couple of weeks ago, Rascoff doesn't own any Zillow shares directly.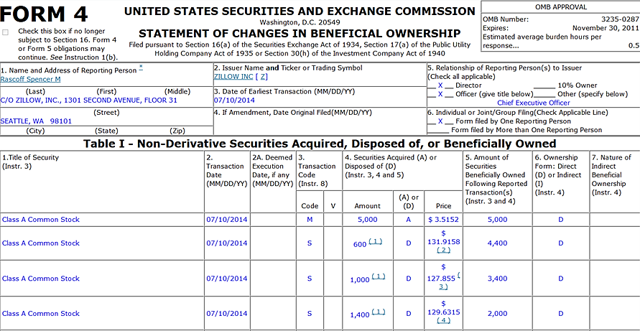 Conclusion
After quarter after quarter and year after year of losses, not to mention missing analyst estimates, these two companies got together to save themselves. What they managed to do was magnificent as both companies' values combined to soar more than $2.5B in less than a week.
With Zillow posting a loss last year and is expecting to report an even bigger loss this year, the huge run-up in price should attract a lot of short sellers and day traders. On top of that, Trulia has never been profitable, according to data compiled by Bloomberg.
I've been a fan of Trulia for a while now and even wrote an article to investors that shares would produce big gains in 2014. Well those gains have come to pass now and it's time to start locking in those profits. Much like the stock cycle; what goes up must surely come back down.
With valuations sky-high and with stock dilution around the corner (if the deal goes through), Zillow looks to be in a lose-lose situation in the short term. Of course Zillow has burned shorts before so if you do intend on shorting shares, make sure you are hedged in case those unexpected announcements pop up again. With earnings season just around the corner for both companies, Zillow and Trulia have high expectations placed upon themselves. Any blunders at these prices will have huge consequences. Even a great report could still send shares falling as investors ''sell on the news.''
As always, I'm providing you with my track record and other particular stocks that I recommend. The link provided will show you all of my picks, how they have fared, and where I think they will be going in the near future. I think you will find my track record to be very impressive and useful.
Disclaimer: Link
Disclosure: The author has no positions in any stocks mentioned, but may initiate a short position in Z over the next 72 hours. The author wrote this article themselves, and it expresses their own opinions. The author is not receiving compensation for it (other than from Seeking Alpha). The author has no business relationship with any company whose stock is mentioned in this article.