Firm Background
Crawford & Company (CRD.B, [[CRD.A)]]) is an insurance claims management provider to insurance companies around the world. The company's operations are straightforward – they assist insurance companies in evaluating, investigating, and managing claims filed by policy holders.
Industry Background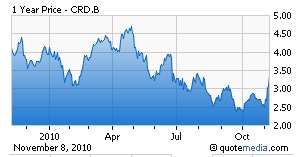 Because I never invest in a company whose operations I do not understand, let's take a moment to more fully describe what Crawford & Company does:
As you probably know, insurance companies underwrite policies. In other words, insurance companies provide insurance to a person (or business) and decide how much to charge for the policy. Let's assume you have an home insurance policy with State Farm. The essence of the agreement is that State Farm agrees to fix your house if something bad happens to it. In return for this agreement, you pay State Farm a premium. State Farm collects premiums from many individuals, thereby diversifying the risk because it is unlikely something bad will happen to more than a fraction of the homes State Farm insures. Ultimately, an insurance company hopes the premiums it collects are greater than the amounts paid out because bad things happened to insured homes.
In our example, if something bad happens to your house, you would file a "claim" with State Farm. A claim is simply a notification to the insurance company that something bad has happened to your house. It lets the company know it may be on the hook for fixing your house.
Generally speaking, insurance companies are specialists at assessing risk, setting premiums, and collecting premiums. Insurance companies often choose to outsource the evaluation, inspection, and processing of claims because these functions are often outside the insurance company's core competencies. Thus, an insurance company may contract with a claims management provider, such as Crawford and Company, to handle its many claims.
Crawford & Company's Niche
Crawford and Company's core specialty is in managing insurance claims. It makes money by handling the claims of many insurance companies. Since Crawford and Company handles lots of claims, the firm has developed expertise in claims management, allowing it to manage claims faster and cheaper than insurance companies. Thus, insurance companies turn to the claims management specialists (such as Crawford) to reduce their claims processing costs.
Why Crawford & Company's Current Stock Price Represents A Great Opportunity
Trading at $2.15 per share, one might be shocked to see that Crawford and Company reported a net loss of -2.23 per share in 2009. While this loss may seem huge compared to the company's stock price – and even might looks as if Crawford is headed for bankruptcy - the devil, as always, is in the details. While the slowness of the US economy has contributed somewhat to weakness in Crawford's revenue and net income, the real culprit behind the company's large losses are goodwill write-offs of approximately $145 million in 2009 (see Yahoo! Finance or read the SEC reports here).
Crawford was forced to take these non-cash charges because it paid too much in acquiring industry leader Broadspire. Consequently, Crawford was forced to reduce the amount of goodwill (the amount in excess of the market value it paid for Broadspire) it carries on its balance sheet, directly hitting the bottom line. However, when one factors out the non-cash goodwill charges, they realize that Crawford actually had positive net income in 2009.
The Turn
Now, perhaps you are not up on accounting principles and I've lost you. If so, simply read Crawford's latest earnings report (here). In it, you will find that since the company is no longer forced to write-down goodwill that it earned 24 cents in the last quarter. Further, management believes the firm will end FY2010 making between 43 – 47 cents per share. Assuming earnings come in at the low-end of 43 cents and applying Crawford's traditional P/E of 13.3x earnings, fair value seems to be about $5.71 per share - an increase of 166% over the current stock price.
The Opportunity
My valuation assumes no earnings growth in excess of that predicted by management. However, as the US economy recovers, insurance activity will again grow, and Crawford's will see greater demand for its services. Although I make no predictions regarding Crawford's share price two to three years out, it seems very likely it will be much greater than the 166% increase that should be realized when the company merely meets management's expectations.
In closing, I believe Crawford presents a low-risk, high-reward opportunity for significant capital gains over the next 1 – 2 years. Naturally, I encourage you to do your own diligence, but I have put my money where my mouth is, devoting a significant portion of my portfolio to this undiscovered diamond in the rough.
Disclosure: Long CRD.A