Two Fridays ago, Silver Standard (NASDAQ:SSRI) announced that it plans to spin-off its Snowfield and Brucejack projects to a new company called Pretium Resources for total consideration of $450 million in cash and shares. Not much more than a month ago we wrote the following:
When it was an ounces-in-the-ground accumulator, Silver Standard was arguably valued more highly by the market than the sum of its parts, so perhaps it shouldn't come as a surprise that having graduated to the coveted silver miner/developer status means the company is now seemingly valued at less than the sum of its parts. Silver Standard's management is acutely aware of this problematic situation and we expect them to monetize Snowfield and Brucejack in the near future…[emphasis added]
Pretium's IPO is planned for later this year, raising a minimum of $265 million and leaving Silver Standard with a significant equity interest in the new company which is to be run by Robert Quartermain. Mr. Quartermain served as the President and CEO of Silver Standard from 1985 through January 2010, and he is well known and well regarded within the industry. He remains a large shareholder of Silver Standard and it is great to see him getting involved once again.
Considering that Seabridge Gold (NYSEMKT:SA) is trading at a market capitalization of over $1.2 billion with its similarly-sized and located KSM project, Pretium is likely to be a hit especially as long as gold and silver stay hot. This of course means that the $450 million deal could soon be worth significantly more, and this is why the arguably-low price of $450 million doesn't much concern us. Meanwhile the cash portion of the deal will give Silver Standard plenty of freedom to quickly advance its enviable portfolio of silver exploration and development projects.
Most important at this stage is for Silver Standard to demonstrate profitability at its only operating mine, Pirquitas in Argentina. The project entered into commercial production in late 2009, and although growing pains were to be expected, production has not stabilized and cash costs remain quite high. Silver recoveries are improving but have a ways to go and the mine needs to demonstrate that it can eventually produce significant amounts of by-product zinc and more importantly, tin, as contemplated in the original feasibility study. If Silver Standard cannot demonstrate profitability at Pirquitas in 2011 at silver prices north of $20 per ounce then that will spell serious trouble for a company that opted to change its business model from ounces-in-the-ground-accumulator to producer.
But if costs at Pirquitas fall in line with expectations over the next 6-18 months, and the company can figure out how to improve recoveries of the problematic fine-grained tin resource, then we believe Silver Standard's fair value lies somewhere between $30 and $40 per share at current metal prices. This means that presently Silver Standard offers one of the more compelling valuations compared with its peer group of mid-tier silver producers (click to enlarge):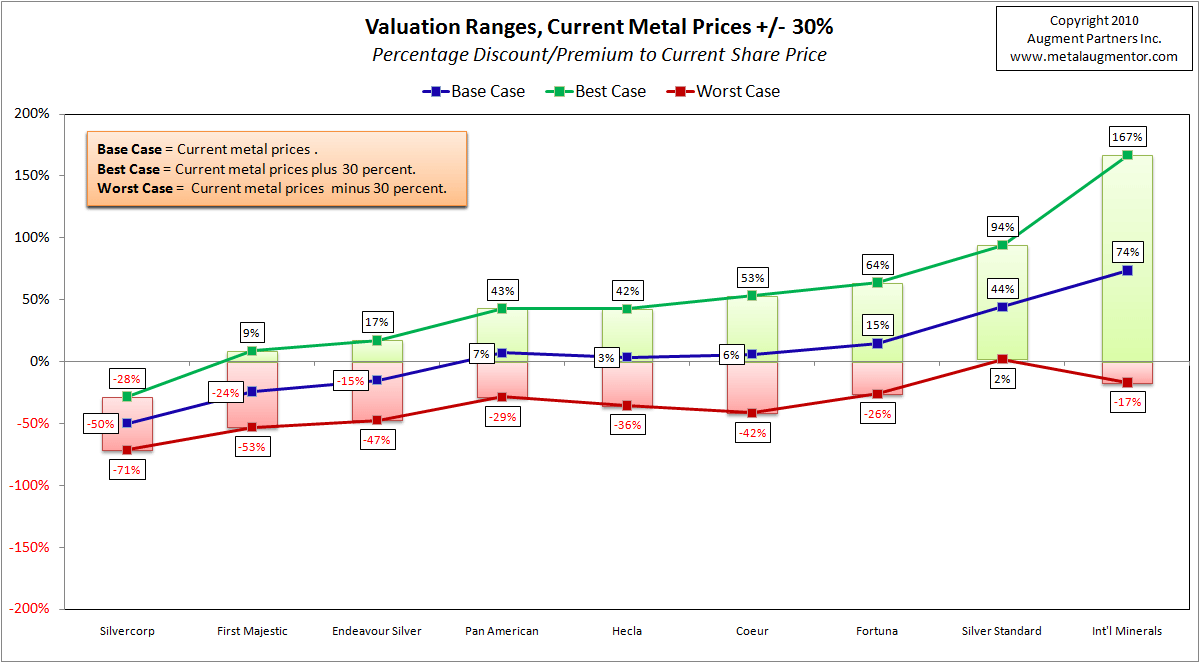 Note: International Minerals (OTC:IMZLF) looks solid on the surface, but the majority of its valuation relies on 4 development projects, two of which are located in Ecuador and are likely 3-5 years away from production. On the other hand we have First Majestic (OTC:FRMSF), which doesn't look so hot in the above chart but is arguably trading at a similar valuation as Pan American (NASDAQ:PAAS), Hecla (NYSE:HL), Coeur (NYSE:CDE), and Fortuna (FVITF.PK) given that First Majestic's significant Del Toro development project is not in our model due to the preliminary nature of production data. Rough numbers for Del Toro do suggest a significant boost to target valuation that tends to support the current share price. First Majestic is also likely benefiting from its cachet as the "purest" silver producer and anticipation of a U.S. listing in early 2011. Note that First Majestic is an institutional client of Metal Augmentor.
In conclusion, despite having moved about 50% higher since August, Silver Standard still offers good value. However, the remaining upside comes with a fair amount of execution risk, especially given what has so far been lackluster performance at Pirquitas. This can be overcome, but it will take time, and without any major near term price drivers besides possibly the IPO of Pretium, we are going to stick to our guns with the "take profits" call in in our most recent Avoiding a Hangover post. That way we get the best of both worlds, locking in some gains while continuing to hold some shares for further upside.
Disclosure: Long FVITF.PK, Long SSRI