VBI Vaccines: A Company Ready for BreakthroughA company that I have been accumulating shares in is VBI Vaccines (NASDAQ:VBIV). It is the kind of company that has an enormous potential for the future and one I like to get in before institutions start to load. I witnessed this in two other stocks that I have wrote about and was fortunate enough to get in before the big players started to get in. The biggest increase in share price (+300%) occurred in Neural Stem (NCUR) when I entered the trade at around $1.20 (Article can be read here). I believe VBI has the same potential at these prices.
The first thing that caught my attention with VBI Vaccines after the science was the team that has been assembled behind the company. The team starts with VBI Vaccines' renowned Chairman, Steve Gillis. Gillis was the founder of Immunex which sold to Amgen (NASDAQ:AMGN) in 2001 for $16 billion. Gillis then founded Corixa Corp and served as its CEO until it was acquired by GlaxoSmithKline (NYSE:GSK) for $300 million in 2005. Gillis is currently on the board of directors of Shire PLC (NASDAQ:SHPG), a $50 billion market cap company, and Bluebird Bio Inc (NASDAQ:BLUE). Gillis is also a Managing Director at ARCH Venture Partners, which has been an investor in VBI since its $35.7 million Series A round in 2007. That round was led by Clarus Ventures, another renowned biotech fund.
VBI Vaccines' CEO, Jeff Baxter, was a former senior vice president at GlaxoSmithKline and has 19 years of pharma experience.
The Science
VBI Vaccines is a biopharmaceutical company that is expanding vaccine protection in large underserved markets. The platform is known as eVLP which allows for the design of enveloped virus-like particle vaccines that mimics the target virus. Manufacturing has started and preclinical and Phase 1 studies are underway. The eVLP vaccines resemble viruses, however they are non-infectious. Furthermore, they do not contain any viral genetic material. As a result, they offer better and greater immunity than immunization. These vaccines can be used in numerous diseases including hepatitis, Rabies and many others.
The company is also studying another platform which is a thermostable technology. This enables the development of vaccines and biologics that can withstand storage or shipment in different and fluctuating temperatures.
VBI Vaccines is also working in developing a prophylactic to prevent Cytomegalovirus or CMV infection. CMV can cause serious problems if a woman has her first CMV infection during pregnancy, as the infection can spread to the unborn baby (known as congenital CMV).
It is estimated that one to two babies in every 200 will be born with congenital CMV in the UK. The potential for this vaccine is enormous as the economic cost of CMV in the US alone exceeds $2 billion annually. As can be seen in the picture below, the cases affecting children is enormous and this infection can also be passed to the mother.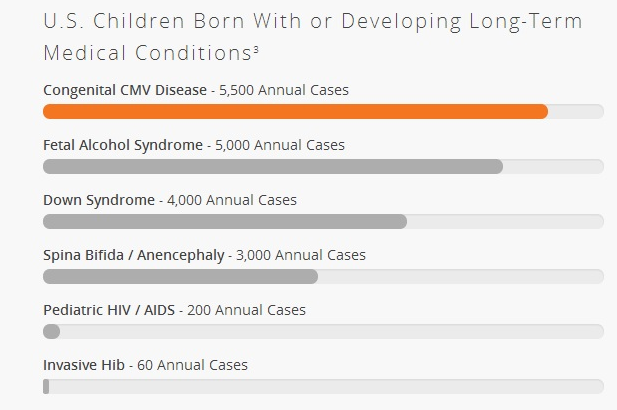 (Adapted from www.vbivaccines.com/technology/)
Preclinical Animal studies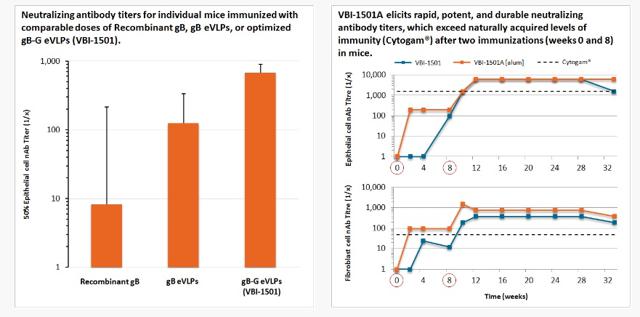 (Adapted from www.vbivaccines.com/technology/)
The picture above on the left shows how eVLP antigen improves responses relative to recombinant gB protein. Also VBI's modified form of gB (gB-G) further improves responses.
The picture on the right shows that after two vaccinations, VBI-1501A induces immunity that greatly exceeds a benchmark for naturally acquired CMV immunity.
Furthermore, the company is also studying Hepatitis C. VBIV is seeking to partner or co-develop its neutralizing HCV therapeutic vaccine candidate. Results in animal studies were also impressive.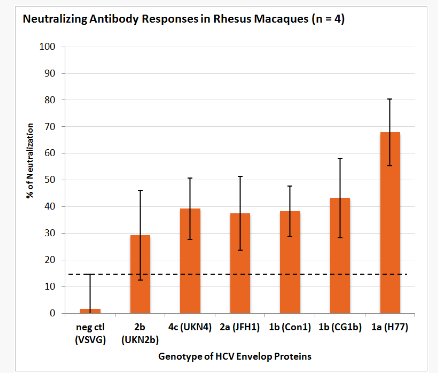 (Adapted from www.vbivaccines.com/technology/)
The picture above shows results after 12 weeks. The high percentage neutralization as seen in these non-human primates is impressive.
Publicly Traded Comps Show Potential Large Upside
A look at three comparable Nasdaq traded vaccine companies in Phase II of development shows market caps ranging from $300 million to $950 million. These three comps are Genocea (NASDAQ:GNCA), Inovio (NINO), and Novavax (NASDAQ:NVAX). Being in Phase II puts these three companies slightly ahead of VBI in its current development stage, but shows the upside from a valuation perspective that VBI appears poised for as it hits its milestones. With the investors and team behind VBI, the amount of money it has been funded with and currently has in the bank, and the strong results it has already shown in its pre-clinical data, it should just be a matter of progressing into Phase II in the near future. There should not be a concern of the company not progressing to that stage with its current pipeline.
I calculate there to be approximately 20 million shares outstanding in the company now post merger, based on the 8-K regarding the merger saying 8,554,535 shares issued to former VBI shareholders equating to 41.5% of the shares of Common Stock on a fully diluted basis after the merger. This gives VBI Vaccines a market cap today of ~$110 million. This appears to be quite a discount based on the comps above and the progression of VBI's pipeline with the exceptional management and investor team behind the company.
Risks Investing in VBI Vaccines
Every biotech stock that is undergoing research poses a big risk. VBI continues to incur large losses and has not yet realized a profit. Additional capital will be needed in the future for continuation of the studies which will further dilute current shareholders. The technology has big potential but the risk every potential investor has to weigh is that if this fails, significant share price depreciation could result. VBI is also attempting to compete in an intensely competitive field against some of the biggest companies in the world with very deep pockets. Should VBI continue to return positive data, though, it could become an attractive acquisition target for this very reason. It is also likely that VBI has a small float currently as a result of probable lockups and restrictions on common stock outstanding as a result of the recent merger. This can make for volatile moves in stock price.
For a more in-depth overview of both the company and its risk factors, see its latest annual report here.
Disclosure: The author has no positions in any stocks mentioned, and no plans to initiate any positions within the next 72 hours. The author wrote this article themselves, and it expresses their own opinions. The author is not receiving compensation for it (other than from Seeking Alpha). The author has no business relationship with any company whose stock is mentioned in this article.
Disclosure: VBIV is a member of the Seeking Alpha Corporate Visibility program. Learn more