In Malcolm Gladwell's book, The Tipping Point, the best-selling author wrote:
In the end, Tipping Points are a reaffirmation of the potential for change and the power of intelligent action. Look at the world around you. It may seem like an immovable, implacable place. It is not. With the slightest push-in just the right place-it can be tipped.
I have read most of Gladwell's books, and I consider The Tipping Point to be one of his best. As we learned in the book, there are three basic characteristics of change: (1) contagiousness, (2) little causes have big impacts, and (3) change happens not gradually but at one dramatic moment. As Gladwell explains:
The name given to that one dramatic moment in an epidemic when everything can change all at once is the Tipping Point.
Gladwell writes:
The tipping point is that magic moment when an idea, trend, or social behavior crosses a threshold, tips, and spreads like wildfire.
After reading over American Realty Capital Properties (ARCP) earnings transcript today, I could only think about the impact that the New York-based REIT will have with the recent closing on the Red Lobster transaction. The $1.5 billion sale-leaseback transaction has closed, so now around 12% of the company's revenue is being generated from 500 Red Lobster store rent checks. More specifically, the massive deal was orchestrated along with the private equity firm Golden Gate Capital.
The transaction was completed at a cash cap rate of 7.9% and a GAAP cap rate of 9.9%. The fee-simple assets have a weighted average lease term of approximately 25 years, and represent approximately 95% of the overall portfolio transaction value. The overall weighted average lease term of the portfolio is more than 24 years. The master leases include 2% annual compounded contractual rent escalations, which ARCP said provide built-in income growth.
Why is Red Lobster a Tipping Point for ARCP?
As most of you know, I have followed ARCP since its inception (IPO was in September 2011), and I have written quite a few articles on the transformational transactions. It's clear that the evolution of this REIT has been anything but boring, and I have stayed up many late nights working to get you the latest news on the high-growth REIT.
In my latest article (this week), I provided an in-depth analysis of Red Lobster in the hope to gauge the brand awareness of the seafood chain and determine whether or not the loyal customer base could be resurrected. It was overwhelmingly obvious that the Red Lobster brand is alive, but the new ownership team (Golden Gate) clearly has an uphill battle.
For ARCP investors, the Red Lobster deal posses risks and returns. The $1.5-billion portfolio has EBITDAR-to-rent coverage greater than 2.2x, and according to ARCP, should improve as sea food cost normalizes and the management team drives efficiencies. ARCP acquired the portfolio at 82% of replacement cost, and the previous owner (Darden) spent nearly $350 million (over the last 7 years) remodeling the stores.
Although I am concerned that 12% of my dividend payment is now being derived from a non-investment grade company, I am not troubled with the real estate itself(*). Having considerable experience in the commercial real estate sector, I am self-assured that the underlying land and improvements were acquired below value (as defined by the cost approach) and the equity created by the off-balance sheet deal more than compensates for the risk of a weaker tenant.
More importantly, I believe the Red Lobster deal represents a tipping point for ARCP for the following reasons:
Actions Speak: There aren't many REITs capable of closing such a large transaction, especially in the Net Lease sector. By partnering with Golden Gate, ARCP has now proven that it can execute deals with corporate entities like Darden Restaurants (NYSE:DRI). From the day the Red Lobster deal was announced (May 16th), it took ARCP just around 74 days to close the massive transaction. That demonstrates to "Corporate America" that ARCP is a legitimate capital partner capable of delivering billions of off-balance sheet capital quickly and efficiently.
Legitimize the Brand: Net Lease REITs are different from many of the other REIT sectors in that there is very little expense recapture. The specialized Net Lease sector is really more of a banking (or finance) model, and that means that relationships are critical to organic value creation. Just like Wells Fargo (NYSE:WFC) and Bank of America (NYSE:BAC), who both grow deposits and create spreads by loaning back out the capital, the Net Lease REITs grow capital (issue shares) and rent it back out to the tenants. Thanks in large part to the demand created by the non-traded REITs, the Net Lease sector has become a legitimate asset class, and ARCP is now the 1,000-pound gorilla and a proven aggregator.
(*) Since dividends are paid from cash, ARCP's Cash Rents for Red Lobster are only 7% of rents and therefore, substantially less than the 12% referenced above. Straight-line rents for Red Lobster are abnormally high due to the 25-year lease term and 2% compounded annual escalation.
The Latest Earnings
So far this year, ARCP has originated, put under contract or closed and underwritten more than $6 billion of deals. To put that in perspective, ARCP has underwritten more than the assets under management of many of its Net Lease peers. In addition to size, ARCP discussed its unique Cole Capital platform on the earnings today. David Kay, president (and soon CEO in October) explained:
Another obvious difference between us and our peers is our broker-dealer Cole Capital which provides us with the unique access to an alternative equity source. This enables us to generate EBITDA without the need for balance sheet leverage, with key selling agreements currently in place for Cetera, Cambridge, First Allied and our largest partner LPL give me great confidence that our capital raise will be consistent with our projections. Over the past quarter Cole Capital has been a source of many questions but I will let the results for the coming two quarters speak for themselves.
For the second quarter, ARCP's revenues were $382 million and Adjusted Funds from Operations (or AFFO) was a $198.6 million, or $0.24 per share, fully diluted share, which represented a 26% increase from the same period last year. ARCP said it was "confident with the guidance range for the full year of 2016 of $1.13 to $1.19 per share."
Many investors were rattled with ARCP's recent equity offering; however, David Kay cited the company's continuing deleveraging effect on the balance sheet:
With plenty of uncertainty in the global economy heading into the summer, reducing our leverage was the right choice, although not the most popular choice. I am confident that our management team and the board made the right decision to raise equity and reduce our overall financial risk. Certain circumstances require hard decisions, and there will be many more in the future.
Based on moves to reduce leverage, lengthen debt maturities, increase the company's tally of unencumbered assets and extend its credit facility, Brian Block, ARCP's CFO, explained:
... our discussions with the rating agencies will include the potential for future upgrades of our credit rating as our company matures.
Kay forecast a "larger bond offering" toward the end of 2014, adding that he expects "very, very attractive-type pricing." Asked about obstacles to higher credit ratings, Kay explained:
I'd say the only thing that the rating agencies can point to is seasoning, and I think what we continue to remind them, as well as the rest of the market, is that our team, of acquisition, due diligence, accounting, finance, has all been with the company for a very long time, just in pieces.
While those pieces merged into the larger ARCP in a series of transactions, Kay added:
These people have been in place, running these same properties, for a very long time, and we need to not only educate them but educate the rest of the world as well.
I believe the Red Lobster deal is a "tipping point" for ARCP, and with over $2 trillion of opportunities in the highly fragmented Net Lease sector, I suspect we'll continue to see more transactions like Red Lobster. Maybe Olive Garden? Maybe Target? Maybe Cracker Barrel? Whoever the next big tenant will be for ARCP, it's clear that Red Lobster was the "tipping point", and I expect to see this company grow "like wildfire".
ARCP closed at $13.23, up 1.93% for the day. Since my purchase on June 13th, shares are up 10.62%.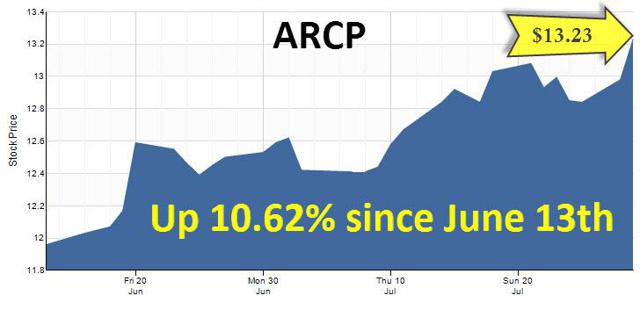 For more information on REIT investing, check out my monthly newsletter HERE.
Sources: SNL Financial and F.A.S.T. Graphs.
Disclaimer: This article is intended to provide information to interested parties. As I have no knowledge of individual investor circumstances, goals, and/or portfolio concentration or diversification, readers are expected to complete their own due diligence before purchasing any stocks mentioned or recommended.
Disclosure: The author is long O, DLR, VTR, HTA, STAG, UMH, CSG, GPT, ARCP, ROIC, HCN, OHI, LXP, KIM, WPC, DOC, UDF, EXR. The author wrote this article themselves, and it expresses their own opinions. The author is not receiving compensation for it (other than from Seeking Alpha). The author has no business relationship with any company whose stock is mentioned in this article.