Dean Foods (NYSE:DF) is the largest dairy producer in the US. Seems like the cow got out of the barn this quarter as earnings collapses and the CFO is now resigning.
Earnings: Decreased 51% to $24.3 million ($0.13 per share) from $49.7 million ($0.27 per share) YOY.
Revenue: Increased 11% to $3.05 billion.
Actual Versus Wall Street Expectations: DF missed Wall Street expectations for $0.21 a share. (Bloomberg).
Notable Stats:
Operating income for the Fresh Dairy Direct-Morningstar business dropped 33%.
The price of class II butterfat (an ingredient in creamer and ice cream products) rocketed 70%.
Did You Hear That?
Chief Executive Officer Gregg Engles said:
In the near term we expect our Fresh Dairy Direct- Morningstar business to remain challenged as the retail environment continues to be very competitive.
Official Company Earnings Release: Read all the details here.
Commentary: Shares of Dean Foods are down 15%. As you can see, shares have been in a long term downtrend and have now broke through a critical level of price support.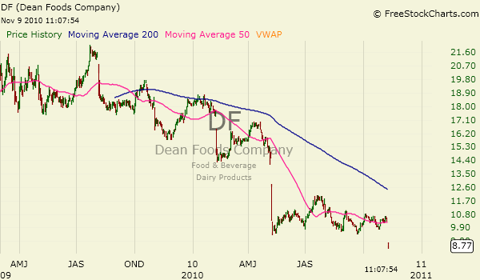 (Click to enlarge)
Disclosure: No position