By Mike McDermott
Despite an impressive late-summer rally in the broad equity markets, pharmaceutical companies have been relatively complacent. In recent weeks, the broad industry has begun to look vulnerable as several large-cap names have taken on water.
One would think that a US Republican victory would help support the industry. Calls to repeal the healthcare reform act, along with the traditional "business friendly" perception of the party should have helped to support investor confidence.
But emerging global tensions over currency policy along with trade agreements may be too much of a weight for these largely global corporations. The Pharmaceutical HOLDRS (NYSEARCA:PPH) has experienced heavy volume in the last several weeks and is in danger of dropping below a key inflection point.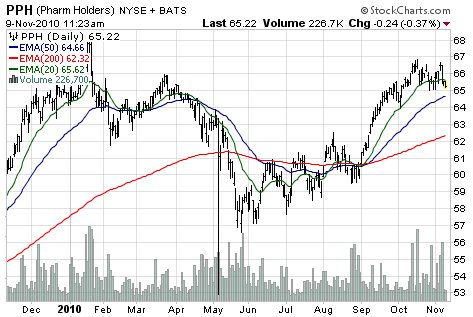 (Click to enlarge)
A breakdown of the ETF reveals that there are actually only 15 companies represented in the basket, with the top three names accounting for roughly 60% of the market value:
Johnson & Jonson (NYSE:JNJ) – 24.6%
Pfizer Inc. (NYSE:PFE) – 18.3%
Merc & Co. Inc. (NYSE:MRK) – 16.7%
A look at the individual components shows a significant disparity between the performance and quality of the different components:
Johnson & Johnson
It appears that JNJ represents the strongest company out of the four. While JNJ is classified as a pharmaceutical, it's interesting to note that the company actually received the majority of its revenues from "Medical Devices & Diagnostics." This might help account for the fact that the company enjoys not only a more attractive stock pattern than its peers, but also a premium Price Earnings multiple.
During the third quarter, the company saw revenues decline by 1% - a metric that was partially affected by previously announced recalls of some children's medicines. One particular plant appears to be responsible for the defects and JNJ may very well be ready to put this situation in the past.
William C. Weldon, CEO, said:
We have made considerable progress, and are working diligently to reopen what will be a state of the art facility. Working across our production network, we have begun restoring the supply of some of the impacted children's medicines, which will increase in the coming months.

Analysts appear largely optimistic about the company's pipeline of upcoming products which should impact revenues and earnings in 2011. While the company is only expected to grow earnings by 5% next year, investors appear relatively pleased with a low debt level and a dividend yield near 3.4%.
So despite the poor trading environment for the overall pharma sector, JNJ appears to stand out as the leader above its battered peers.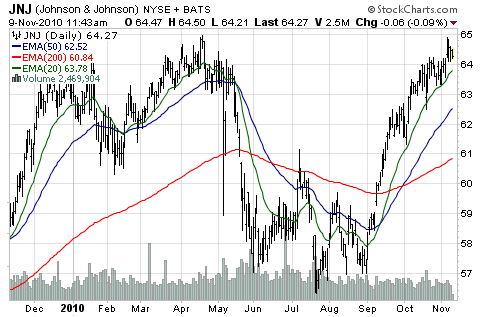 (Click to enlarge)
Pfizer, Inc.
Pfizer has seen a healthy increase in earnings over the past year after its acquisition of Wyeth. Third quarter revenues were up 39% over last year (largely reflecting the addition of Wyeth's products) and the company reported adjusted Earnings Per Share of 54 cents which is an increase of 6% over last year.
For the third quarter, PFE announced earnings that largely beat expectations, but investors were disappointed with sales figures which were hurt by generic competition for Lipitor. The increase in earnings was driven largely by cost cutting – a trend seen across many different industries…
Analysts are particularly concerned that the Lipitor issue could become a much larger disappointment in coming quarters when the company loses marketing exclusivity in the US. The antidepressant Effexor XR is also fighting generic competition and has been a weight on PFE's profitability.
Pfizer currently sports an earnings multiple near 7.5. While most value investors would consider this an attractive price, the uncertainty surrounding earnings has been eroding investor confidence. Analysts currently expect just 3% growth in earnings next year and those estimates have been dropping.
PFE recently broke below the 50 EMA and appears vulnerable to additional selling. A dividend yield of 4.2% may help support the price, but the yield only goes so far considering the broad uncertainty.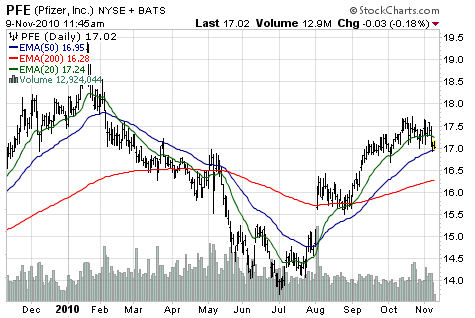 (Click to enlarge)
Merck & Co., Inc.
Similar to Pfizer, Merck & Co. was able to beat analyst expectations for third quarter profits by cutting costs. Revenues, on the other hand, were hurt by generic competition. Management tried to focus on positive merger data with Schering-Plough as synergies are continuing to be realized:
Richard T. Clark, CEO, said:
Our key products are performing well, and at the same time we are launching new products, advancing our robust R&D pipeline and achieving our important merger synergies. One year later, Merck is a much stronger, unified organization that is well-positioned for the future.

Analysts appear to buy into the optimism as the consensus expectations for next year include earnings growth of 13%. But investors appear worried about the generic risks and have sent the stock trading lower since the earnings announcement.
The company also continues to work through its legal liability surrounding the Vioxx lawsuit. In the third quarter, the company set aside $950 million in a reserve account ahead of an expected resolution of the investigation. The company had previously agreed to pay $4.85 billion to cover liability lawsuits, but this additional reserve is expected to cover any criminal judgement from the Attorney General.
MRK is currently trading just below the 200 day average after breaking below its consolidation range from the month of October. The action is accompanied by strong volume which indicates institutional liquidation. So despite the single digit earnings multiple, it appears the path of least resistance is lower at this time.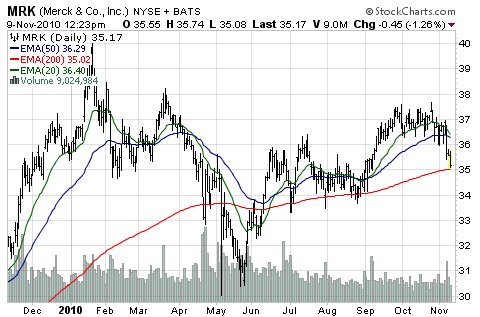 (Click to enlarge)
Trade Opportunities
There are a number of ways to play the emerging weakness in this sector. Today, Jack and I took a short position in PPH as the ETF broke down below our inflection point.
Considering the difference in constituents within the ETF, another alternative would be to short PFE and MRK which are showing relative weakness, while balancing out the trade with a long position in JNJ. Obviously the securities will be correlated, but JNJ enjoys a different set of fundamental drivers and bears less generic risk than its counterparts.
Aggressive traders might consider buying the PPH January $65 puts which are currently offered near $2.35. The bid/ask spread is relatively wide so a limit order is necessary, but the opportunity to make a significant return is attractive, and owning puts is possible in qualified accounts such as an IRA.
In short, the industry appears to have significant fundamental risks to it – and the stock prices of individual constituents are beginning to reflect the poor environment. Considering the parallel risks in the broad indices, a short position in a number of pharmaceutical names could work very well for the next several months.
Disclosure: As active traders, authors may have positions long or short in any securities mentioned. Full disclaimer can be found here.