With the Fed forcing market participants to be cautious ahead of their announcement, the commodity space is relatively calm. We would be wary of buying precious metals at this point because it is apparent that the Federal Reserve is going to have to continue "tightening" over the next year, even if that means there are no increases in interest rates. Easy money is ending, but it seems that there are still many looking to funds like the SPDR Gold Shares (NYGLD) as a way to protect from inflation still. The smart move is to look to oil as an inflation hedge.
Chart of the Day:
Each day this week gold has gotten weaker and weaker. We would not be surprised to see another move lower, especially if the Fed takes a more hawkish stance or there is a change in the way members of the FOMC vote. These are the things that investors need to be watching for.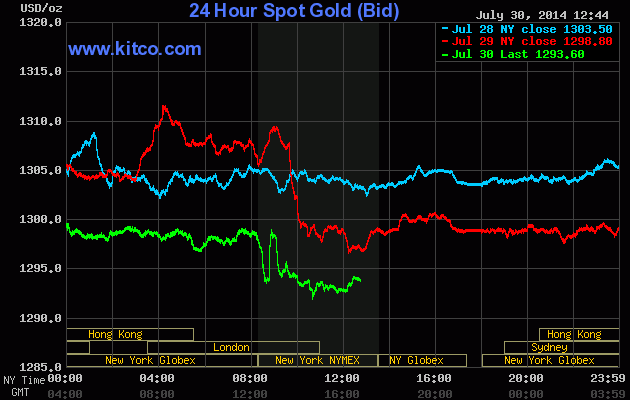 Source: Kitco
Commodity prices are as follows (at time of submission):
Gold: $1,294.40/ounce, down by $3.90/ounce
Silver: $20.615/ounce, up by $0.032/ounce
Oil: $100.77/barrel, down by $0.20/barrel
RBOB Gas: $2.8497/gallon, down by $0.0212/gallon
Natural Gas: $3.769/MMbtu, down by $0.055/MMbtu
Copper: $3.2445/pound, up by $0.0255/pound
Platinum: $1,481.50/ounce, down by $3.00/ounce
All The Right Moves
With activism having ramped up its focus on the energy industry and taken large stakes in some well known companies, it is no surprise that we are seeing certain names make moves to maximize shareholder value and clean up the balance sheets. Two names which have continued to make moves are Chesapeake Energy (NYSE:CHK) and Hess Corporation (NYSE:HES). These are two separate stories, with Chesapeake's activist shareholders pushing the company to live within its cash flow while also exiting many of the complicated financial arrangements which were made under previous management. The situation at Hess was a different story, where management needed a wake-up call and some guidance to reinvigorate the company's shares which had become undervalued due to the lack of focus.
The news from Chesapeake yesterday is not going to get anyone excited, but it highlights management's continued focus on unwinding complicated financial transactions when beneficial as well as their ongoing efforts to streamline the acreage portfolio. In case you missed it, the press release can be found here, and discusses how Chesapeake is repurchasing all of the outstanding shares of its CHK Utica, LLC in a $1.26 billion deal. This will eliminate $75 million in payments to third parties and also allows Chesapeake to retire a high cost instrument.
If this move above $100/share can hold, look for Hess to continue its move higher in the short-term.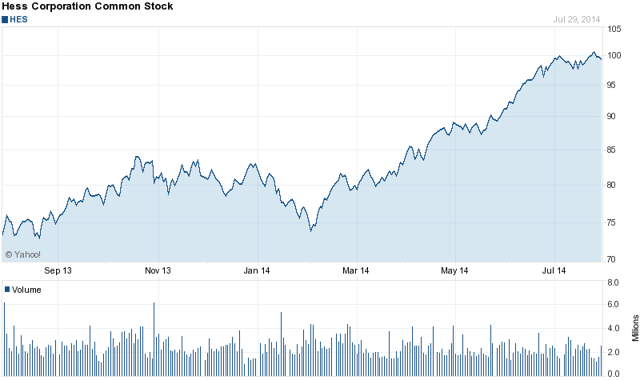 Source: Yahoo Finance
What investors are cheering today is Hess Corporation's earnings beat and news that the company hopes to hold an IPO in early 2015 for assets they will put into a MLP. The MLP was part of the proposal from the activist investor, Elliot Management, and will include assets from the company's operations in the Bakken. Pipeline, transportation and storage facilities will be included in the entity and should provide diversified streams of revenue.
Hess shares also broke through the $100/share resistance level and if the shares can remain above that level and build support, the potential downside we have previously discussed should no longer be a worry.
US Steel Surprises
In the last year, we went bullish on US Steel (NYSE:X) and saw an initial rise before many of the gains were lost on another move lower. While the global economy has done ok, domestic steelmakers have continued to face pricing pressures and economic headwinds which have saddled performance as well as stock prices.
Today's beat has taken US Steel and some of its competitors to either fresh 52-week highs or very near those levels. It is quite bullish that the stock has broken through $28/share, but now it is important to see some base building.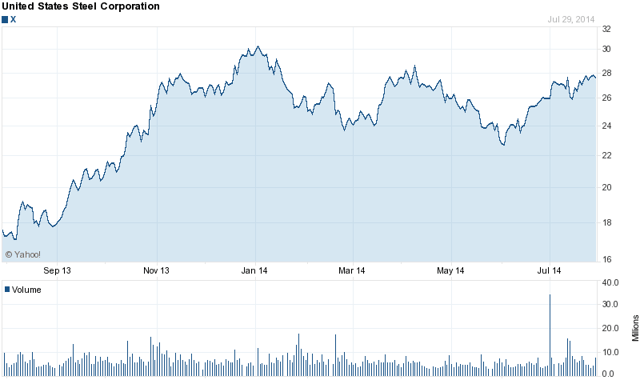 Source: Yahoo Finance
Many were expecting a loss this quarter, but adjusted EPS actually came in as a positive number. As if that was not enough good news for shareholders, management guided higher for the next quarter and had positive comments regarding the current state of the industry and US Steel's outlook. Shares are up about 20% today and this has us wondering about the state of other steel companies that have yet to report, such as AK Steel (NYSE:AKS).
Disclosure: The author has no positions in any stocks mentioned, and no plans to initiate any positions within the next 72 hours. The author wrote this article themselves, and it expresses their own opinions. The author is not receiving compensation for it (other than from Seeking Alpha). The author has no business relationship with any company whose stock is mentioned in this article.