The following is a list of 6 FDA decisions with bullish options sentiment.

To create the list, we started with a universe of biotech stocks that have FDA decisions scheduled over the next month. We then narrowed down the list to focus on the top 6 stocks in terms of the Put/Call ratio (based on open options positions).

In other words, all of these stocks have large call option open interest relative to put option open interest, i.e. more bullish options sentiment, ahead of these FDA decisions.

FDA calendar data sourced from RTT News, options data sourced from Schaeffer's.
Click for expanded images: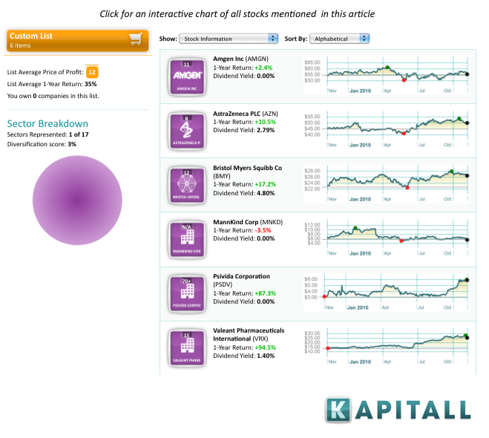 The list has been sorted by the Put/Call ratio.

1. pSivida Limited (PSDV): Drug Delivery Industry. Market cap of $110.81M. FDA decision on Iluvien for Diabetic Macular Edema expected on Dec 29. Call open interest at 1,094 contracts vs. put open interest at 81 contracts (Put/Call ratio at 0.07). Short float at 0.58%, which implies a short ratio of 1.24 days. The stock has gained 89.84% over the last year.

2. AstraZeneca PLC (NYSE:AZN): Drug Manufacturer. Market cap of $71.18B. FDA decision on Vandetanib for treatment of patients with advanced medullary thyroid cancer expected on January 7. Call open interest at 17,155 contracts vs. put open interest at 6,480 contracts (Put/Call ratio at 0.38). Short float at 0.44%, which implies a short ratio of 5.96 days. The stock has gained 17.3% over the last year.

3. Valeant Pharmaceuticals International (NYSE:VRX): Drug Delivery Industry. Market cap of $8.02B. FDA decision on Ezogabine for the adjunctive treatment of adults with partial onset seizures expected on November 30. Call open interest at 63,679 contracts vs. put open interest at 25,107 contracts (Put/Call ratio at 0.39). Short float at 5.96%, which implies a short ratio of 4.92 days. The stock has gained 113.28% over the last year.

4. MannKind Corp. (NASDAQ:MNKD): Biotechnology Industry. Market cap of $691.23M. FDA decision on inhaled insulin drug Afrezza for diabetes expected on Dec 29. Call open interest at 141,552 contracts vs. put open interest at 76,182 contracts (Put/Call ratio at 0.54). Short float at 18.61%, which implies a short ratio of 8.15 days. The stock has lost -1.77% over the last year.

5. Amgen Inc. (NASDAQ:AMGN): Biotechnology Industry. Market cap of $52.76B. FDA decision on Prolia (denosumab) for treatment of bone metastases expected on November 18. Call open interest at 263,747 contracts vs. put open interest at 186,511 contracts (Put/Call ratio at 0.71). Short float at 2.04%, which implies a short ratio of 3.51 days. The stock has gained 2.53% over the last year.

6. Bristol-Myers Squibb Co. (NYSE:BMY): Drug Manufacturer. Market cap of $45.69B. FDA panel to review Yervoy for proposed indication of treating advanced melanoma (expected on December 2). Call open interest at 225,294 contracts vs. put open interest at 163,470 contracts (Put/Call ratio at 0.73). Short float at 2.64%, which implies a short ratio of 4.24 days. The stock has gained 24.55% over the last year.

Disclosure: No positions