MARCELLUS AND UTICA PIPELINES
Production from the Marcellus Shale has consistently beat medium-term forecasts for growth by a country mile. For instance, in Mobius's May 2012 presentation, "The Coming Wave of Natural Gas Demand," we cited a very optimistic Penn State outlook that called for 6.4 bcf per day Marcellus output for 2014, and 13 bcf/day by 2020. For perspective, June 2014 Marcellus actual dry gas production was 15.0 bcf/day. Marcellus operators have overcome infrastructure limitations and declining gas prices, and benefited from low operating costs and leaps in drilling rig productivity. Midstream operations have kept up with drilling to get the gas gathered and sent to markets, building some six bcf/d of new processing capacity to handle the additional natural gas liquids stripped from the gas. For some areas, liquids alone provide sufficient revenue to support continued drilling; insufficient take away capacity for natural gas has temporarily depressed prices in central Pennsylvania. Development of the Utica shale in Ohio has begun in earnest. By 2020, we now expect some 24 bcf/day of combined Marcellus and Utica production. Where will all this gas go?
NEW SUPPLY, NEW DEMAND
Marcellus production has captured Northeast markets, displacing production from the Gulf Coast and western Canada. The addition of Utica into the mix will continue the trend, with penetration into Midwest and eastern Canadian markets. Gas moving east from the Rockies and Alberta will be squeezed out of these markets, and Gulf Coast and Mid-Continent sources will compete for market share. A build out of gas-fired power plants, a "Manufacturing Renaissance" borne of relatively inexpensive energy that make U.S. exports competitive globally, LNG exports, exports to Mexico, and the displacement of remaining heating oil use in New England are some of the major new and expanding markets for natural gas across the U.S.
EXPANSION INTO NORTHEAST MARKETS
Long haul pipelines (Tennessee, Texas Eastern, and Transco) now supply Northeastern and Mid-Atlantic markets with Marcellus gas produced in Pennsylvania and West Virginia. This first step was relatively simple: connection of new gathering systems into existing mainlines. By the end of 2014, Marcellus access to regional markets will reach 13.6 bcf/day.
RESTRUCTURING THE GRID
The influx of gas from Marcellus has begun a massive restructuring of the U.S. pipeline grid in the eastern U.S. and has impacted gas flows to markets coast-to-coast. Gathered from public sources of information, Mobius has identified some 51 pipeline projects that originate in the Marcellus or Utica regions. The projects fall into several categories including: backhaul, bi-directional flow, reversals, expansion of capacity, extension of market reach, and greenfield projects. These 51 project listings do not include the massive work being done to gather and process gas from newly developing fields or all of the many projects undertaken to enhance pipeline interconnectivity to provide multiple options for market access.
BACKHAUL
Backhaul is an exchange of gas deliveries for receipts at the normal origination point for gas flow and the exchange of receipts for deliveries at the termination end. It is a simple substitution needing no equipment modifications, requiring only that there is sufficient gas moving forward to displace the backhaul delivery volume. In addition to Columbia and REX projects in operation, Texas Gas recently completed a sale of firm backhaul capacity from Pennsylvania back to Louisiana.
BI-DIRECTIONAL FLOW
A bi-directional set up gives a pipeline greater flexibility to make deliveries at varied points on its system, and can allow for simultaneous but opposite flow patterns in segments of the pipeline. A bi-directional configuration requires substantial system modifications to metering equipment and compressors to enable flow in two directions. These modifications allow pipeline shippers to respond to seasonal market variations, whether securing cheaper supplies or selling into higher priced markets. REX is committed to becoming a bi-directional pipeline, as is Columbia Gulf and Texas Eastern in its southern Pennsylvania pipeline segment.
REVERSALS
The pipeline systems serving the Northeast were originally built to move natural gas in one direction only. Over the decades, many of the pipeline systems met demand growth by adding new 36" or 42" diameter pipes to expand capacity in parallel corridors. A pipeline may affect a permanent reversal of one or more of these pipelines while leaving the others alone to achieve bi-directional service.
The reshuffling of supply and demand pairings will leave a significant portion of south-to-north pipeline capacity permanently underutilized. Recognizing this fact, a number of pipelines are laying plans to permanently reverse the flow direction of their system to take Marcellus and Utica gas down south to serve industrial demand in Louisiana and the upper Texas Coast, LNG exports, and new power generation. These sorts of projects are dependent on continued growth in Marcellus and Utica supply, realized development of industrial consumption on the upper Gulf Coast, and robust exports combined with production declines in higher cost production regions, such as the offshore Gulf of Mexico. This category of reversals is in the exploratory stage to determine if shippers are ready to make the financial commitment necessary to proceed with the various projects. Pipeline companies eyeing reversal of elements of their system include Tennessee Gas Pipeline, Texas Eastern, NGPL, ANR, and Texas Gas.
Transco plans a reversal of its mainline to serve an expected boom in new gas power plant construction in the Mid-Atlantic and Southeast, as many older coal-fired plants are retired by 2016 for compliance with EPA Air Toxins and Transport Rules. Transco plans to implement mainline reversal in stages and has filed with FERC for the first two phases of reversals into Virginia and North Carolina.
GREENFIELD PROJECTS
The expected abundance of cheap gas from the Marcellus and Utica shale plays have opened up the potential for greenfield pipeline construction to expand into regions of the U.S. that previously may have been captive to one supply basin or even to one major pipeline system. The potential for greatly reduced electricity rates and the resulting surge in manufacturing for previously depressed regions provide the impetus to expand gas deliveries into such areas.
Several greenfield pipeline projects have filed with FERC for authority to proceed. These are The Constitution Pipeline, connecting New England into Marcellus gas, OPEN (Ohio Pipeline Energy Network) which will connect Utica gas into Midwestern and Eastern Canadian markets; and U2GC (Uniontown to Gas City), Utica gas for interconnection with southbound transportation projects. Other significant projects include Rover and NEXUS, taking Utica gas into markets in Michigan and on to the Dawn Hub in Ontario; Renaissance Pipeline to serve Atlanta; and Sabal Trail to serve Florida. Mountain Valley Pipeline and the conceptual Spectra Energy Pipeline would compete with Transco for the expanding Mid-Atlantic generation market.
CAPACITY EXPANSIONS/EXTENSIONS
Numerous projects are on the board that seek to increase capacity in existing systems by adding additional compression to increase flow or by "looping." Pipeline looping is a technique that increases flow by adding one or more parallel pipe segments to existing pipelines at strategic locations to de-bottleneck constraint points. An example is the AIM project in New England that seeks to increase capacity on Algonquin Pipeline in time for the winter of 2016-17. Spectra's Atlantic Bridge will provide alternate supply sources for Algonquin and Maritimes pipeline in conjunction with the AIM project.
MANY PROPOSALS
In the figure below, projects that have filed for Federal Energy Regulatory Commission (FERC) approval are typically projects that are substantially ready to proceed with defined objectives, have made substantial progress in the design and engineering process, and secured firm financial commitments. Pipelines that have conducted Open Seasons have gauged support for their project and are in early stages of development. Open Seasons may seek binding or non-binding expressions of commitment from potential shippers, and may be conducted repeatedly before consolidating sufficient support to proceed. "Announced" projects are those in the earliest stages of development, and look to begin discussions of a project concept prior to conducting an Open Season.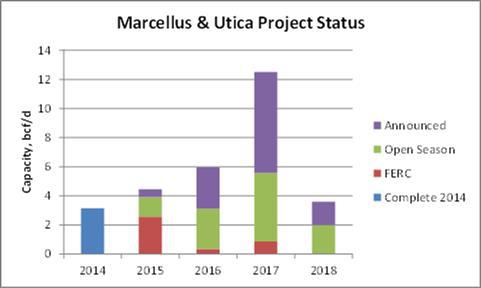 Figure: Marcellus and Utica gas pipeline projects represented by project status.
The sum of capacity for all projects listed is approximately 30 bcf/d. This number represents new capacity that has been or will be completed in 2014, and projects proposed through 2018. Not all of these projects will be undertaken, and if undertaken not all will be completed in the stated time frame. The FERC must approve projects prior to construction; however, market forces will determine the eventual success of each project.
The information in this report is purely the opinion of the author, as of the date of this report, and does not represent a recommendation to buy or sell by the author or by Mobius Risk Group LLC. Information and data have been obtained from sources considered reliable; however, Mobius Risk Group LLC does not guarantee that the information is accurate or complete.
Disclosure: The author has no positions in any stocks mentioned, and no plans to initiate any positions within the next 72 hours. The author wrote this article themselves, and it expresses their own opinions. The author is not receiving compensation for it. The author has no business relationship with any company whose stock is mentioned in this article.