Healthcare is complex, isn't it?
Most investors, specially when they start looking at this sector, find themselves overwhelmed with information and technical jargon. After all, who on earth knows what a "active comparator is" and does "masking" has anything to do with the Mardi Gras!?
Usually, when confronted with the complexity, the average investor either tends to invest without much knowledge, relying on gut feelings or (sometimes) useless TA; or simply passes on, and decides to invest his hard earned dollar elsewhere. There is still a third option, which passes by looking at the entire sector, searching for investing opportunities among the thousands of options available. And by God, there sure are a lot of them!
I skate to where the puck is going to be, not where it has been.
Wayne Gretzky
This statement is valid for hockey, soccer, football, most of the other sports and, as you would have guessed, for investing.
Too many investors try to know everything about every company they face, losing valuable time, many times chasing unprofitable situations, while letting the hidden diamonds escape their analysis. In the healthcare sector, with so many companies and sub-sectors, this is even more expected to happen.
Therefore, how to apply Mr. Gretzky's statement to our healthcare investing plan. Where, in this vast and complex space, will the "puck" go?
Which 3 main trends are surfacing in this sector?
The healthcare landscape is an ever evolving area, with new business models arising, regulatory changes happening, increased competition and new opportunities appearing at each new turn. For the savvy investor, there are 3 market tendencies that will (and already are) dominate the medium term activity of the sector:
1) the presence of an increased generic and biosimilar competition;
2) the need to cut costs, specially via outsourcing; and,
3) the emergence of new business models, where specialty pharma will play an important role.
In this article I will address the first of these opportunities.
Generics & Biosimilars
In the generic battlefront, being a more mature competitive space , there are already a few big companies dominating, of which I prefer the cases of Teva (NYSE:TEVA), Actavis (NASDAQ:ACT) and Hospira (NYSE:HSP). Of the three, Teva seems to be the one with better prospects, trading at a lower multiple and with a more solid pipeline.
However, when it comes to biosimilars, the situation is a bit more complicated. Until now, only one company managed to file one biosimilar application at the FDA. Sandoz, a division of Novartis (NYSE:NVS), is on the verge of being the first company to have a biosimilar approved in the U.S., thanks to a biosimilar version of Amgen's (NASDAQ:AMGN) Nuepogen (filgrastim), which will be marketed under the name Zarxio. If this happens (it's more a question of when than if, to be fair), Novartis will put the foot on the door of the North American market, and I do believe that this will have a positive long-term impact on the company's stock performance.
In 2013 Sandoz represented about 16% of Novartis' total revenues, with a value around $9.2 billion. Of that, biosimilar sales were of $420 million, which, despite being a mere 4.5% of total revenues, was already 10% of the differentiated products part of the business.
As the following image shows, this part of business has been growing over the years.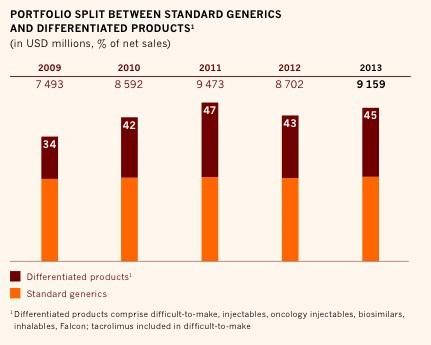 As I mentioned above, Sandoz is on the verge of seeing Zarxio approved by the FDA. As of last year, Nuopogen North American revenues were close to $940 million. It has been discussed throughout the industry that, unlike the case of small molecules, in the field of biologics the generic competition won't be able to gain so much market share (at least in such a comparably short period of time). Some analysts refer that the new biosimilar drugs will only be able to be sold at a 30% discount compared to the original biologic. So, considering that Zarxio will be able to gain a equivalent 30% market share within the first year and a half, we can predict revenues closer to the $300 million barrier for 2015. If that will be the case, we are talking about 70% revenue increase just within the Sandoz Bio subdivision.
Furthermore, Sandoz's pipeline is one of the most interesting ones in the biosimilar field, targeting some of the most respected blockbusters on the market, and many of them already in Phase III stage. The image below depicts which original biologics (in light blue) are targeted by Sandoz pipeline candidates. Just to give you some perspective, Humira is currently the third most sold drug in U.S.A., with revenues above $5 billion in 2013.
Should I enter Novartis now?
At the moment, Novartis trades at a multiple of 22.5, which is slightly above industry average. However, if we consider 2015 expected earnings, the projected P/E stands around 16x.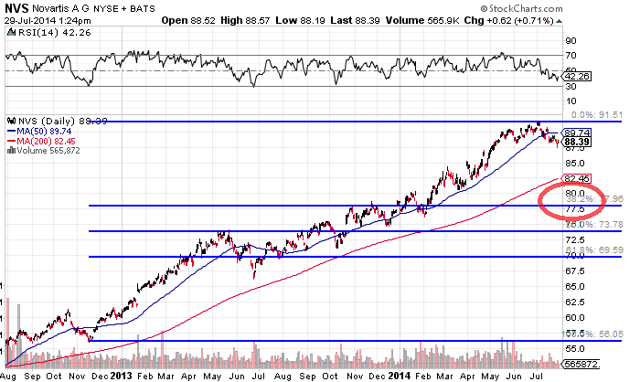 Novartis' graph shows a clear uptrend over the last 2 years, with the stock rising almost 65% in this period. Has you know, going against the flow is always a very hard thing to do, however that doesn't mean we have to buy on the exact top. That being said, and believing that we are up for a correction in the S&P, by applying a Fibonacci Retracement to the stock evolution, it's my belief that entering the stock around the $75/$80 value, which corresponds to a 10% correction, will be the best entry point in the short/medium term.
Disclosure: The author has no positions in any stocks mentioned, and no plans to initiate any positions within the next 72 hours. The author wrote this article themselves, and it expresses their own opinions. The author is not receiving compensation for it (other than from Seeking Alpha). The author has no business relationship with any company whose stock is mentioned in this article.