CBS reported slightly better than expected results in 3Q10 (see earnings report here and earnings call transcript here). Revenues fell a little short of expectations at $3.3 billion. Estimates called for an additional $60 million. However, excellent margins led to EBITDA of $667 million, ahead of estimates for $642 million. The operating beat flowed through to EPS and the adjusted EPS of 35 cents beat the consensus of 31 cents.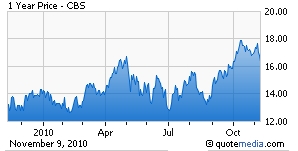 Perhaps the biggest news on the day, however, was the announcement of a $1.5 billion share repurchase program. This is a meaningful amount against market cap of $12 billion. The street was expecting a share buyback this year though timing and amount was uncertain. I think the Street will like this news. Some investors may have been looking for an increased dividend instead of or in addition to a share repurchase. Management noted the share repurchase does not preclude a later dividend increase.
At the segment level, revenues were ahead at Cable Networks, inline at Outdoor, barely light in Entertainment, and short of expectations at Publishing and Local Broadcasting. Advertising gains at the CBS Network, local TV and radio stations, and billboards look as I expected so I am not sure where the shortfall comes from. TV stations were up 25%. I little more there maybe was expected.
Segment operating income saw better than expected results in Entertainment, Cable Networks, Publishing, and Outdoor. Local Broadcasting fell short.
CBS offered 4Q10 guidance commentary with a very positive tone although I am not sure it was better than already high expectations. The CBS Networks is in very strong position given its ratings performance with scatter up over 35%. Online display advertising is pacing up mid-teens. Local TV stations are up over 20%, Radio is up double digits and Outdoor is up high single digits.
For 2011, management provided a laundry list of positives including the strong network upfront and still strengthening scatter, lower programming costs in primetime and for sports, higher retransmission revenues, better Outdoor contracts, expense savings from 2010 restructuring actions, and lower interest expense. It seems to add up to more than the current consensus of 7% EBITDA growth. Tough comps due to political advertising are definitely a headwind, however.
I like the results, the share buyback, and the tone of the conference call. However, the slight revenue miss and some of the segment numbers not hitting estimates (remembering others exceeded) could keep investors cautious. Lots of media companies reporting good but not perfect quarters have seen their shares trade lower. I don't think that should be the case at CBS but I've been misfiring in my takeaways of this quarter's earnings calls. [UPDATE: CBS shares traded lower following the report and have continued to pullback, reaching a decline of more than 7% as of this writing]
Disclosure: CBS is widely held by clients of Northlake Capital Management, LLC, including in Steve Birenberg's personal accounts. Steve is sole proprietor of Northlake, an SEC-registered investment advisor. CBS is a net lon position in the Entermedia Funds. Steve is co-portfolio manager of the Entermedia Funds, owns a stake in the Funds' investment management company, and has personal monies invested in the Funds.