Over the past few years, China Minsheng Banking - Minsheng - (OTCPK:CGMBF) has gone from a growth company sell-side analysts love to being China's Lehman (potentially speaking at this point) due to its heavy involvement with wealth management products (WMP)/inter-bank market. Recall that some of WMP in China are "disguised loans" that ultimately carry credit risks as the funds are channeled to risky borrowers such as highly geared property developers and mining companies. Hence, its PB valuation has de-rated substantially from avg 1.37x in 2010-11 to avg 0.96x in 2013-YTD. However, in short, Minsheng is one of the companies that intrigue me the most.
Bull's case: Is Minsheng the most misunderstood growing bank?
I was having a conference call with Minsheng's Head of IR last Thursday. One big takeaway is the conviction from the IR about the huge potential of micro and small enterprises (MSE) loans. For the record, this is not the first time I heard about this. The vision of Minsheng's chairman is to expand the share of MSE loans from 26% of total loans to 50% in the next 3-5 years. Recall that Minsheng started its MSE loans back in 2008/09; hence, the CAGR of MSE loans has been at an amazing 73% in 2009-13, vs. Minsheng's CAGR of 15% in total loans during the same period. Hence, track record wise, Minsheng has proven its execution capability in MSE loan segment.
During the conference call, the IR explained that the reason they like MSE loans, apart from its untapped huge potential, is its higher loan yield (7.8-8.4%, vs. avg loan yield of 7%) with lower NPL risk. The IR did not disclose specific NPL ratio for MSE loans, but said that NPL for retail loans (into which MSE loans are classified) was only 0.64%, vs. 0.94% for corporate loans (overall NPL ratio was 0.87% in 1Q14).
Coming from an Asian background where micro lending is proven a lucrative business in some Asian countries, I could understand Minsheng's ambition to be a dominant MSE lender, if higher loan yield with lower NPL risk is true. In the call, the IR explained the high-risk area in China is called "middle market loans." The IR quoted 2.71% NPL ratio for middle market loans. The difference between MSE and middle market loans is on average loan size: Rmb 1.8 mn/account for MSE, Rmb 10 mn/account for middle market loans. Furthermore, in its book, Minsheng classified middle market loans into corporate loan (vs. retail loan for MSE), which it justifies on the ground of much larger company size as the borrowers' profile.
Hence, if MSE loans are indeed a lucrative business (with reasonable NPL risk) in China, the market clearly misunderstands Minsheng's business model/value proposition. Looking at 2011-13 P&L where Minsheng managed to grow its MSE loans tremendously, I found that Minsheng's net profit CAGR was a stellar 23%, vs. the sector's 15% (average 13% for Chinese Big Four banks). Recall that during 2011-13, Minsheng faced bigger headwinds such as NIM contraction and WMP regulation that forced Minsheng to unwind some WMP (reduced fee income consequently).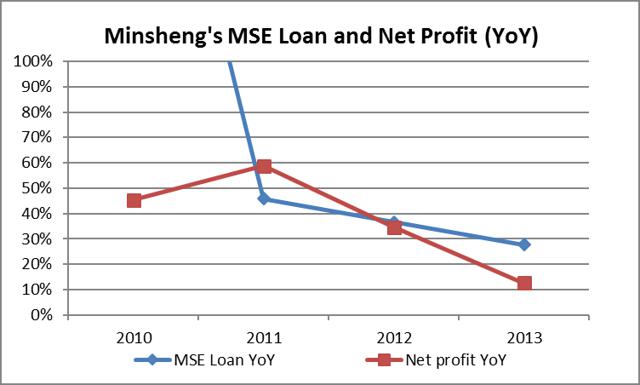 Bear's case: Being a savvy "earnings operator" and asset quality risk a major concern
Minsheng has been labeled by some investors as China's Lehman (potentially speaking). However, Minsheng has shown itself as a savvy earnings operator (showing a very good earnings growth). For instance, in 2012, due to two policy rate cuts, Minsheng managed to mitigate NIM contraction by more than doubling its inter-bank assets to earn more revenue. Moreover, its non II has been growing at 71% CAGR in 2010-12, thanks to heavy involvement in WMP sponsorship (close to 50% of its fee income is WMP related).
Therefore, the bears would say that Minsheng being a savvy earnings operator is a major risk if China's banking system blows up. For example, these bears are not comfortable with Minsheng's WMP exposure (Rmb 453 bn as of Dec 2013, 229% of total equity) although management claims these products are non-principal guaranteed, earning fee income only. As a matter of fact, the bears now can point out that there are additional Rmb 192 bn WMP products (on top of Rmb 453 bn), which are classified under "structured entities sponsored by third party institutions" disclosed in the notes to 2013 F/S. These structured entities products did not exist in 2012.
As for asset quality, it's true that NPL ratio has been contained at 0.87% as of Mar 2014, from 0.63% as of Dec 2011. The 0.87% NPL ratio is much lower than it was in 2006-08 (1.2-1.25%). The IR guides for stable NPL ratio for 2014 Y/E, citing improved economy.
However, if we look deeper, there are signs that Minsheng understates its NPL. As an illustration, overdue/total loans ratio doubled from 0.86% as of Dec 2011 to 1.74% as of Dec 2013. Recall that overdue loan is cash flow based, while NPL is based on bank/auditors' assessment. Hence, overdue/NPL ratio went from 137% in 2011 to 204% in 2013. Furthermore, NPL ratio is "smoothed out" by written-off loans. Minsheng's loans write-off more than quadrupled to Rmb 4 bn in 2013, from only Rmb 861 mn in 2011. As a result, net charge off/gross loans rose from 5 bps only as of Dec 2011 to 22 bps as of Dec 2013.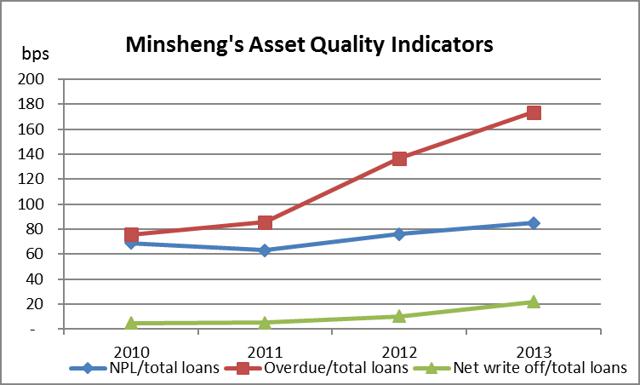 Valuation
As stated earlier, Minsheng's PB has de-rated substantially. It now trades at only 0.86x 2014 PB despite a 29% share price rally since Mar's low. Its 3-yr PB average is 1.01x (implying 17% upside potential if Minsheng trades at its 3-yr PB average).
Over a longer 3-year time horizon, whichever camp (the bulls vs. bears) will prevail remains to be seen, suffice it to say. To be a fundamental believer of Minsheng over a longer term, I want to see much lower overdue/written off loans in the next quarters. At this junction, practically speaking, I opine that Minsheng is a Trading Buy as it's one of the best stocks to ride in a Chinese market rally (which I believe is playing out). I personally don't foresee Chinese banking system to blow up in a 6-12 month time frame, especially when investor/government is focused on China's pro-growth policy.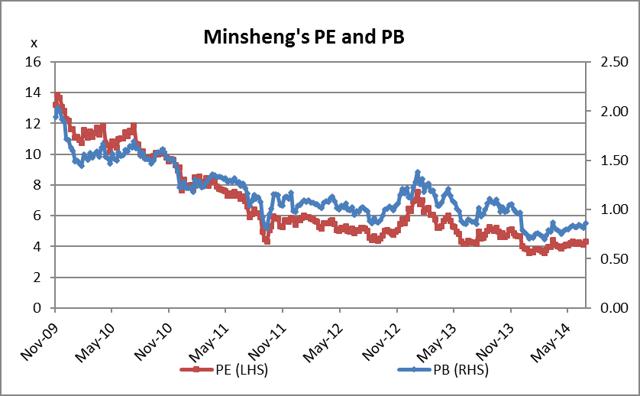 Brief Company Background
Founded in Beijing by primarily non-state-owned private enterprises in 1996, Minsheng is the newest bank among major banks in China. Currently, it's the ninth largest bank in China in terms of total assets and the only truly private/non SOE run among top 10 largest commercial banks in China. As of Dec 2013, Minsheng had over 600 branch offices located in 32 major cities in China. Minsheng is listed on HK and China stock exchanges, with OTC & ADR trading for US investors.
Conclusion
Minsheng has gone from a loved growth company to China's Lehman (potentially speaking) over the past few years. There are two polarizing camps (nothing in between): either bull's or bear's case. The bulls argue that Minsheng is the most misunderstood growing bank given untapped huge potential of MSE loans in China. The bears counter-argue that Minsheng being a savvy "earnings operator" and its asset quality risk are two major concerns. Given low valuation and investors' focus on China's pro growth policy, practically speaking, Minsheng is the perfect high beta stock to ride amid Chinese market's rally.
Disclosure: The author has no positions in any stocks mentioned, and no plans to initiate any positions within the next 72 hours. The author wrote this article themselves, and it expresses their own opinions. The author is not receiving compensation for it (other than from Seeking Alpha). The author has no business relationship with any company whose stock is mentioned in this article.
Editor's Note: This article covers one or more stocks trading at less than $1 per share and/or with less than a $100 million market cap. Please be aware of the risks associated with these stocks.