I have found a Chinese Company, founded in 2001, Headquartered in Beijing, but incorporated in the US, and organized under Wyoming state law, that has 85 distributors that operate in over 65 cities and 28 provinces in China. 75% of these distributors have been with them over 5 years. It is currently selling BELOW cash value. They have $2.99 in cash per share, ($91M as of most recent 10K) selling at roughly $2.50, with a small, manageable amount ($14M) of debt, mainly on low int real estate loans. The current Ratio is over 8, meaning they have plenty of liquidity for short term operations. The stock has had a high in Jan10 of $11.23, but is now at the 52wk lows.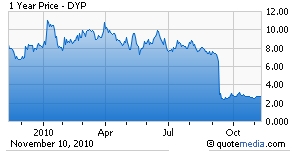 I'm calling Bottom, with the first purchase at $2.35, and buying. If you look at the Balance sheet, with high cash, low debt, the market is disregarding other assets such as $41M in property, plant and equipment, the accounts receivable balance due of almost $50M, and the value of the company to generate cash in the future through their sales and distribution network. $14M of Assets is in actual Real Estate, a long life asset, with $32M in other assets such as vehicles, office furniture, and the like. The stock price is not reflecting any of this, and is actually below the cash. Gross margins for their products run over 50%, and 5 year CAGR is 42%, accelerating with YoY of 29%, impacted by both higher margin products, and increasing sales volume.
This is a microcap company ($76M), with 30.5M shares, but a very low public float of less than 8M shares due to high insider interest over 57%. Trading at 40% of BV/ 61% of trailing twelve month sales, and a very low forward P/E of 2. Diluted earnings per share were $1.04 in 2009, and are $.67 so far in 2010. The majority shareholder is Duoyuan Investments, a company wholly owned by Wenhua Guo, the original founder and CEO, but who stepped down to be chairman of the board, and now CEO again. They also produce a large majority of their key components thru an in-house subsidiary, Hunan Machinery. Sounds good so far?
They are out of compliance with SEC reporting, the 10K is late, and they filed a NT10-K on 28 Sept to notify their inability to timely file the 10K. There is no dividend, nor has there ever been one. They recently fired their Auditor, Deloitte Touche, as the independent registered public accounting firm because they found about $3M of irregularities in expenses relating to sales promotions. There was a huge disagreement about dismissing the Auditor, and following this decision, the Chairman of the Audit committee (Zhang), the then CEO (Holbert), and the CFO (Suh) all resigned. Of course, this looks fishy to the public, and the stock dumped. At this time, we don't know for sure why the Auditor was fired. It could be they wanted information that the CFO/CEO did not want to provide. Expense relationships with distributors, leases, or suppliers perhaps were not available, or could not be provided. This is not necessarily something illegal happening. Remember, it is over $3M, a relatively small sum. This is about loss of Management credibility.
The timing technicals are ideal, with an extreme oversold RSI of 22, upturning MACD, and second bottom test. I think selling has abated, and the stock is being rebought. The low float has excaberated the selloff, but the largest shareholder is now the CEO again, and has the most incentive to restore credibility. They also, as of March 10, have a net op loss carry forwards of $3.1M in US income tax losses, from prior periods that can be used to offset future taxes. They expire in 2027, if not used.
The company I'm describing is Duoyuan Printing, (NYSE: DYP), and is one of the largest non-government owned major offset printing equipment and solutions providers in China, and is a play on the recovery from current Accounting issues and continued expansion of China's rapidly expanding printing and packaging industry. China's printing market, with China GDP at 9%, is the fastest growing in the world, and third largest behind US and Japan.
Disclosure: Long DYP