What a rally it's been.
Small-cap stocks had a strong run in September, posted decent gains in October, and have marched higher still since November 1st. With momentum on the small cap investor's side, let's take a look at what's been working, and consider what's ahead in the last two months of the year.
But first, a quick check on the one-year chart of the Russell 2000 Small Cap Index.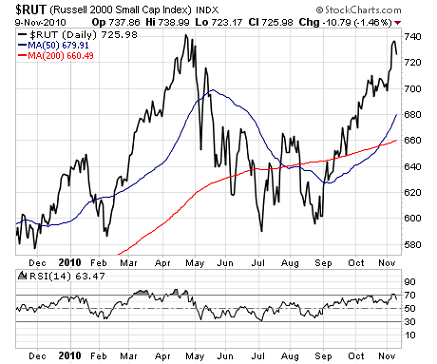 Despite the fall run, the index has yet to break through its spring high just over 740. The index is now bumping up against resistance, and while it's close to overbought according to the RSI indicator (a reading above 70 generally indicates overbought conditions), it's not as stretched as the nearly straight move higher would suggest.
Now that the first week of November is in the books, and the midterm election uncertainties are behind us, the haze has lifted a little as we head into the final trading days of 2010.
Over the past two months small-cap stocks have certainly staged an impressive comeback. After recessions small caps tend to post the strongest returns - right now they're definitely in recovery mode.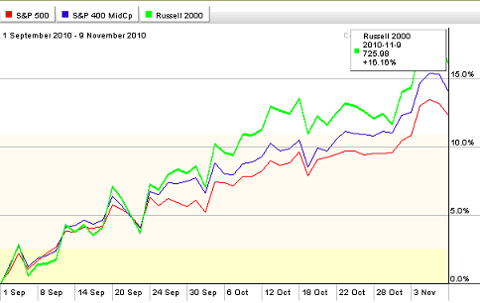 (Click to enlarge)
Even while the performance of the S&P 500 has grabbed headlines lately, small caps have produced far better returns. The chart above shows that since September 1 small caps, as measured by the Russell 2000 small cap index, have outpaced both mid and large cap stocks by returning over 16 percent.
One hot sector has been tech. Technology stocks have been carrying much of the recovery in large-cap stocks, and the same is holding true among small caps. The tech-heavy Nasdaq Index has outpaced the Russell 2000 since September 1, rising nearly 18 percent.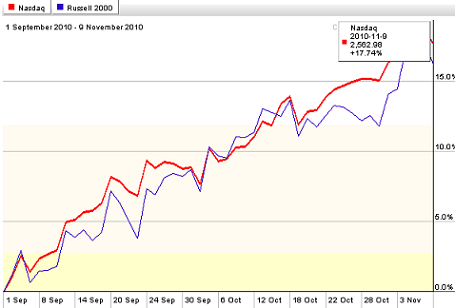 The Wall Street Journal recently pointed out that what's helping to fire up tech is not only the economic recovery, but also growing demand overseas. The ever present lure of takeover potential has also helped to boost technology stocks.
While iconic investors such as Warren Buffet have too much cash to invest in truly small companies (what a problem to have, right?), even he has exposure to 'smallish firms' with great growth potential, including under $10 billion market cap companies such as M&T Bank Corp. (NYSE: MTB), Torchmark Corp. (NYSE: TMK) and Nalco Holding Co. (NYSE: NLC).
Bloomberg notes that Buffett is now sitting on $34.5 billion in cash. If he's in the acquisitive mood, one sector I'd wager to say he'll probably be looking into is technology.
I believe that the strength in technology stocks will only continue and recommend investors continue to increase exposure to this sector. I don't have any specific stocks to recommend today, but a quick check of the top performers since September 1 hints towards what's hot right now.
Early investors in Motricity (Nasdaq: MOTR), a provider of mobile internet services that went public in June, have been rewarded with a return of nearly 300 percent over the last two months.
Two 'doubles' have been 3D Systems (Nasdaq: TDSC), a developer of 3-D technologies, and MedQuist (Nasdaq: MEDQ), which develops medical transcription technologies. Both stocks are up 100 percent since September 1.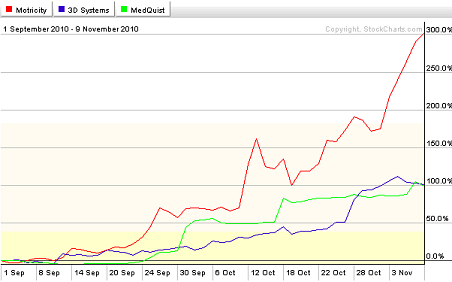 Tech stocks in the Small Cap Investor PRO portfolio have also been a strong performer of late. Currently open technology stock recommendations have posted returns of 56 percent and 17 percent, with our latest addition from last Friday up nearly 10 percent already.
I believe these tech stocks all have multi-bagger potential. With the recovery gaining steam and strong growth potential, small cap technology stocks are a sector you absolutely must have exposure to.
Disclosure: No positions