The market was hinting at going higher until the Treasury bond auction concluded in a very lackluster manner. I still sense stocks want to move higher, but are grappling for leadership. I think the next big move after food inflation will be energy, with crude making a move toward $100.00 a barrel. In addition to currency shenanigans, a driver could be the global economy, which should also finally move the needle for shippers. The Baltic Dry Index could begin to make a meaningful move after dragging for a very long time. Right now, the index is range-bound and off a lot from highs reached earlier this year and last year. A breakout through 3,100 could spark a move to 4,200.
Click charts below to enlarge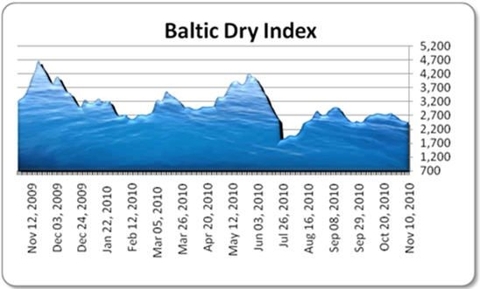 The problem for the market is the domestic economy. The jobs market saw hires increase, but job openings decreased to 2,929,000, which means there are 5 unemployed people for every job opening. That ratio is a long way from the 1.8 ratio when the recession began in December 2007.
Credit, that grease that makes the economic wheel go around, is still elusive. For September, consumer credit edged up $2.1 billion, the Street was looking for a decline of $3.0 billion. The government continues to do the heavy lifting, with its non-revolving credit at $189.6 billion up from $89.8 billion in 2005.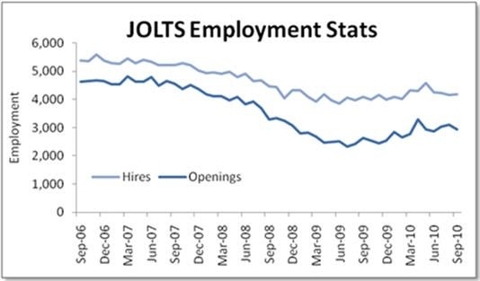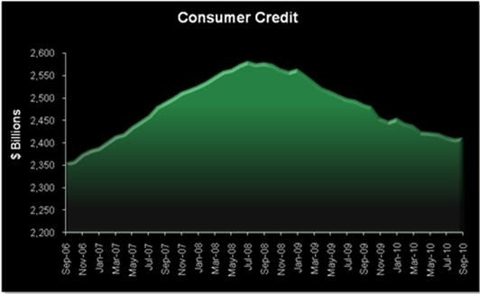 Disclosure: No positions