Ever since Apple (NASDAQ: AAPL) and IBM (NYSE: IBM) announced their recent tie-up, investors and traders alike are trying to ascertain the prospective impact on enterprise mobility giant BlackBerry (NASDAQ: BBRY). While some believe that BlackBerry is unfazed by this news, others are convinced that the recent dip in its share price presents a buying opportunity. Short-term bulls, however, may be wrong this time.
What happened?
Fellow contributor Bill Maurer recently published an article noting that BlackBerry's short interest had declined to a 52-week low in early-July. But this is an inconclusive analysis, and initiating long positions based on it can potentially yield unexpected results.
Short interest is basically the quantity of shares investors and traders have sold short, that are yet to be covered. A sudden spike in the figure highlights bearish market sentiment. This figure is compiled on a daily basis, but stock exchanges reveal these numbers on a bi-monthly basis. Some third party online vendors provide this data on a daily basis, albeit for a fee.
The figures that Mr. Maurer referred to, were published on 15 July. The news about IBM and Apple joining hands broke out on that very day, to which the market reacted on the following day. BlackBerry's shares tumbled 10% on July 16.
This essentially means that bi-monthly short-interest data involving BlackBerry's recent plunge, is yet to be revealed. To gain insights about the current market sentiment, therefore, we need to track the daily short interest as well. I appended BlackBerry's historical bi-monthly short interest data, with today's data, to gain a clearer picture.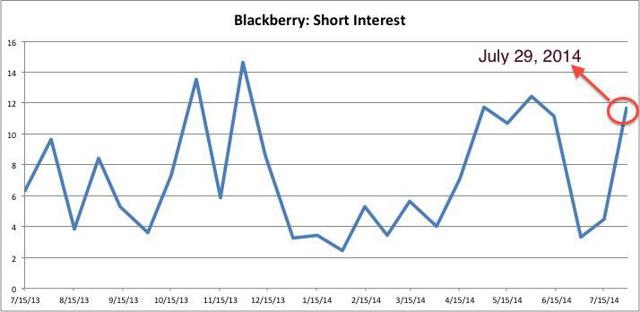 (Source: NASDAQ, Shortvolume)
As illustrated in the chart above, BlackBerry's short interest had declined substantially over the last month. The metric, however, is currently hovering near its 3-month high. In simple terms, this means that short positions have piled up sharply, and that traders are expecting BlackBerry's stock price to tumble further.
The timing of this sudden rise in short interest also indicates that traders and speculators believe that the recent Apple-IBM deal will impede BlackBerry's growth. The bearish market sentiment can, in theory, repress its stock prices going forward.
Reason for bearishness
BlackBerry's OS10 is perhaps the safest mobile platform. But owing to limited product offerings, infrequent hardware upgrades and cross-compatibility issues between BES10 and BES5 servers, the Canadian smartphone vendor has lost its market share to Apple.
A recent report by Good Technology reveals that iOS devices accounted for 73% of all enterprise mobile activations in the fourth quarter of fiscal year 2013. And by joining hands with IBM, the corporate duo will introduce more than 100 enterprise-focused business apps. This should, in theory, further strengthen Apple's enterprise market position.
BlackBerry's mobile device management division accounts for about 60% of its overall revenue. So naturally, the intensifying market competition is being seen as a threat to the Canadian smartphone vendor. The deal can hamper BlackBerry's growth, and delay its prospective turnaround.
Final thoughts
Until BlackBerry enters a similar deal to expand its enterprise mobility suite, increasing competition from Apple will most likely continue to snatch away its market share -- something that can send its share price lower. Risk-averse investors, therefore, might want to take BlackBerry's rising short-interest as an early warning sign, and reduce their exposure to the company accordingly.
Disclosure: The author has no positions in any stocks mentioned, and no plans to initiate any positions within the next 72 hours. The author wrote this article themselves, and it expresses their own opinions. The author is not receiving compensation for it (other than from Seeking Alpha). The author has no business relationship with any company whose stock is mentioned in this article.