Ever since Baytex Energy (NYSE:BTE) closed on its acquisition of Eagle Ford based Aurora Oil & Gas, it seems as if the stock has regained its footing, moving from around $40 to the current range of $44 to $46 per share. As I noted in an earlier article, this acquisition was a major event for Baytex, allowing it to expand its footprint into a liquids-rich play, increase its dividend, and diversify its production between the US and Canada. However, Baytex's portfolio was now in need of some pruning. The company has spread itself a bit too thin and needed to focus more on its core areas.
Baytex to sell its Bakken/Three Forks assets to SM Energy
On July 29, Baytex announced that it was selling its North Dakota assets to SM Energy Company (NYSE:SM) effective July 1, 2014. Below are some of the key stats of the transaction:
Purchase price: $357 million (USD $330.5 million)
Net proceeds after tax: $275 million
Average production: 3,200 BOE/D
Price per flowing BOE: $111,600
Proved plus probable reserves of 53.5 million BOE (81% liquids)
Baytex noted that funds from this transaction will be used to pay down debt.
Overall, it seems as if Baytex got a fair price for these assets. These 3,200 BOE/D represented around 5% of Baytex' pre-Aurora production.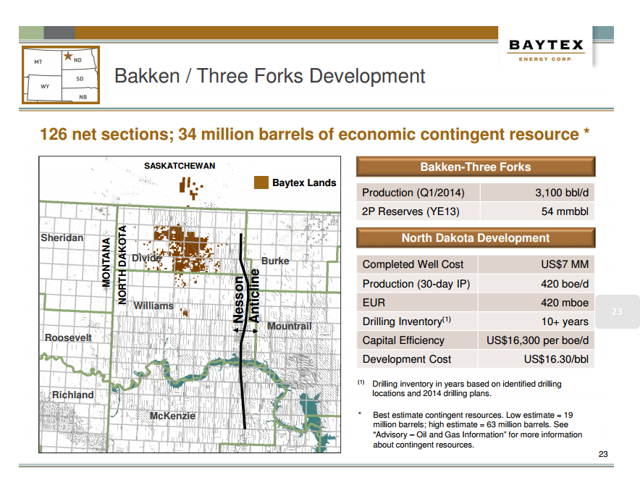 Rationale for the sale
This transaction and other forms of portfolio streamlining were hinted at by the company as early as the Q1 2014 conference call. Baytex explicitly mentioned in a July presentation (page 26) that it was identifying assets for possible divestiture.
I think this move is a good one for Baytex. While the production was profitable, it was located outside its core areas of competency such as the Lloydminster Heavy Oil, Peace River Oil Sands, and now the Eagle Ford. Furthermore, the Bakken represented a tiny fraction of Baytex' asset base and was a non-factor in terms of capital deployment.
From its recent release, Baytex will now be dedicating up to 65% of its second half capex budget to the Eagle Ford, with the rest slated to maintain and or slightly grow the oil sands/heavy oil production. Indeed, the Bakken was not even mentioned as a possible growth area.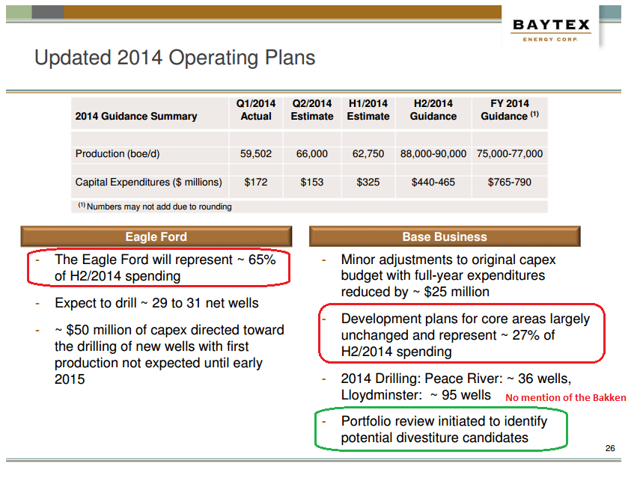 Conclusion: Baytex is still a good pick among the Canadian E&Ps
Along with Pengrowth Energy (NYSE:PGH), Baytex remains one of my favorite names in the Canadian E&P sector. The company recently awarded investors with a 9% dividend hike, from $0.22 to $0.24 per month ($2.64 to $2.88 per year). At current prices, Baytex yields about 6.0%.
Furthermore, Baytex's management seems ecstatic regarding the potential of the Eagle Ford production. These assets are located in the prolific Sugarkane Field, right in the sweet spot. These are some of the best producing acres in the region, with improving drilling efficiency and completions. I expect to hear more about this after the company reports its Q2 2014 results tomorrow (July 31).
Disclaimer: The opinions in this article are for informational purposes only and should not be construed as a recommendation to buy or sell the stocks mentioned. Please do your own due diligence before making any investment decision.
Disclosure: The author is long BTE, PGH. The author wrote this article themselves, and it expresses their own opinions. The author is not receiving compensation for it (other than from Seeking Alpha). The author has no business relationship with any company whose stock is mentioned in this article.