CXPO Pre Call Thoughts:
Setting the stage:

2Q production was 30 MMcfepd.
3Q best estimate is 40 MMcfepd
Early October run rate was 45 MMcfepd

4Q Guidance: should get a sequential leg up due to:

a recently announced Upper Cook Mountain discovery,

another two completions that may be turned to sales by now in East Texas,

and potentially from volumes from their first Eagle Ford well.


In other words, volumes look to be attempting to turn the corner after a capex slumber induced slump earlier this year.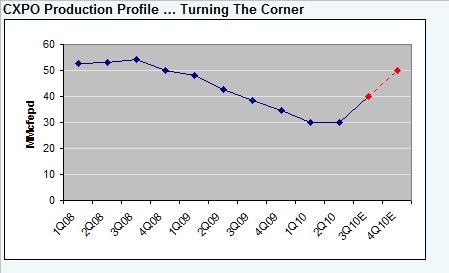 This first Eagle Ford test, the HK operated Windham #1H, may or may not be flowing back by the time of today's call. The well is in Bee County and is likely to be in the wet gas window (northern Bee – see map below). Bee County is not HK's typical stomping ground as it is east of Hawkville (LaSalle and McMullen Counties) and south and west of their Black Hawk wells which have shown good oil results (Karnes and DeWitt Counties).

This is in an area where PXD has drilled some big recent wells, including one just north in Karnes County and another on the edge of Bee County, now on trend with a string of 2,000 BOEpd IP wells.

CXPO has a 20% working interest in the well and has 1,160 net acres in the area if this works. The rest of their Eagle Ford acreage is to the west in Zavalla and Dimmit Counties (close to HK's Red Hawk area).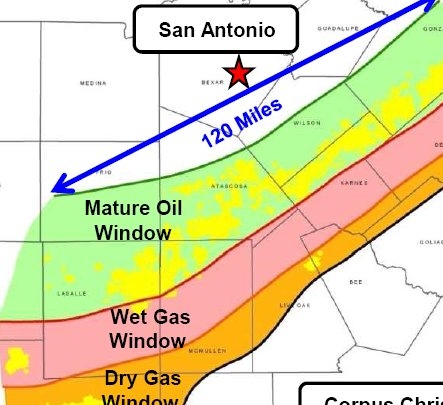 The results during drilling (shows) were apparently good enough for the rig to be moved to a second location 2.5 miles away, which should now be at TD. So, maybe some drilling results on the first well, though that's the operator's call and a little color on the second well.
Nutshell: I'm not about to fall in love here, but I like to see an underdog fight higher as much as the next guy. It'll be interesting to see if they guide to my 4Q number of 50 MMcfepd, as that would put them on track to make the mid point of guidance set out at the beginning of the year of 35 to 39 MMcfepd. Other points of interest on today's conference call will be the aforementioned Eagle Ford results, and their plans for their Niobrara acreage, which is in close proximity to one of NBL's best - if not their best - well in the play to date. CXPO has 12,000 net acres that could be punted (and used to develop and acquire more land in South Texas … a tough thing to accomplish given the current lease prices) or partnered, which would be my preference given that the they are largely HBP and could farm out an interest to their neighbor NBL. Lastly, expect some Q&A activity centering on the recent Chinese capital infusion at $5 and what those guys saw that made them feel like paying a premium when they obviously didn't have to (see Q3 financial results here).
Disclosure: Long CXPO, EOG