The following is a list of high volume gainers with bullish option market sentiment, i.e. a large number of open call option positions relative to put option positions.

For each stock, we'll list the Relative Volume indicator, which expresses Wednesday's trading volume as a multiple of the 3-month average volume.

Relative Volume data sourced from Finviz, options data sourced from Schaeffer's.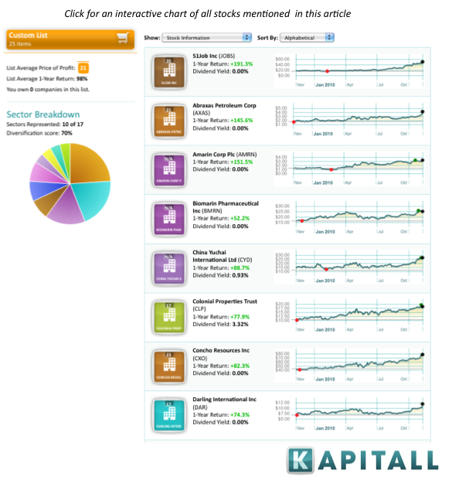 The list has been sorted by the Put/Call ratio.

1. Titan Machinery, Inc. (NASDAQ:TITN): Specialty Retail Industry. Market cap of $391.81M. Wednesday's Relative Volume at 1.73, with the stock gaining 1.53% during the session. Call open interest at 2,597 contracts vs. put open interest at 364 contracts (Put/Call ratio at 0.14). Short float at 14.07%, which implies a short ratio of 8.29 days. The stock has gained 104.57% over the last year.

2. Amarin Corporation plc (NASDAQ:AMRN): Drug Manufacturer. Market cap of $323.08M. Wednesday's Relative Volume at 3.79, with the stock gaining 9% during the session. Call open interest at 241 contracts vs. put open interest at 39 contracts (Put/Call ratio at 0.16). Short float at 1.01%, which implies a short ratio of 0.74 days. The stock has gained 151.54% over the last year.

3. 51job Inc. (NASDAQ:JOBS): Staffing & Outsourcing Services Industry. Market cap of $1.41B. Wednesday's Relative Volume at 3.43, with the stock gaining 5.52% during the session. Call open interest at 8,995 contracts vs. put open interest at 1,456 contracts (Put/Call ratio at 0.16). Short float at 2.31%, which implies a short ratio of 3.11 days. The stock has gained 191.29% over the last year.

4. MAP Pharmaceuticals, Inc. (NASDAQ:MAPP): Drug Manufacturer. Market cap of $443.27M. Wednesday's Relative Volume at 7.97, with the stock gaining 0.47% during the session. Call open interest at 2,435 contracts vs. put open interest at 400 contracts (Put/Call ratio at 0.16). Short float at 6.37%, which implies a short ratio of 13.35 days. The stock has gained 71.92% over the last year.

5. Denison Mines Corp. (NYSEMKT:DNN): Industrial Metals & Minerals Industry. Market cap of $930.83M. Wednesday's Relative Volume at 3.57, with the stock gaining 3.4% during the session. Call open interest at 2,353 contracts vs. put open interest at 397 contracts (Put/Call ratio at 0.17). Short float at 2.35%, which implies a short ratio of 4.65 days. The stock has gained 80.26% over the last year.

6. North American Palladium Ltd. (PAL): Industrial Metals & Minerals Industry. Market cap of $796.23M. Wednesday's Relative Volume at 2.27, with the stock gaining 4.25% during the session. Call open interest at 28,346 contracts vs. put open interest at 5,047 contracts (Put/Call ratio at 0.18). Short float at 2.81%, which implies a short ratio of 1.69 days. The stock has gained 102.25% over the last year.

7. Darling International Inc. (NYSE:DAR): Cleaning Products Industry. Market cap of $991.99M. Wednesday's Relative Volume at 3.72, with the stock gaining 4.34% during the session. Call open interest at 1,775 contracts vs. put open interest at 319 contracts (Put/Call ratio at 0.18). Short float at 3.11%, which implies a short ratio of 5.18 days. The stock has gained 74.35% over the last year.

8. Packaging Corp. of America (NYSE:PKG): Packaging & Containers Industry. Market cap of $2.6B. Wednesday's Relative Volume at 3.03, with the stock gaining 0.36% during the session. Call open interest at 18,043 contracts vs. put open interest at 3,297 contracts (Put/Call ratio at 0.18). Short float at 1.07%, which implies a short ratio of 1.26 days. The stock has gained 32.53% over the last year.

9. Limelight Networks, Inc. (NASDAQ:LLNW): Business Services Industry. Market cap of $782.95M. Wednesday's Relative Volume at 6.39, with the stock gaining 2.84% during the session. Call open interest at 17,402 contracts vs. put open interest at 3,495 contracts (Put/Call ratio at 0.2). Short float at 2.56%, which implies a short ratio of 1.57 days. The stock has gained 141.21% over the last year.

10. Smith Micro Software Inc. (NASDAQ:SMSI): Application Software Industry. Market cap of $518.16M. Wednesday's Relative Volume at 1.78, with the stock gaining 1.75% during the session. Call open interest at 3,898 contracts vs. put open interest at 796 contracts (Put/Call ratio at 0.2). Short float at 6.74%, which implies a short ratio of 5.49 days. The stock has gained 101.06% over the last year.

11. TransGlobe Energy Corp. (NASDAQ:TGA): Independent Oil & Gas Industry. Market cap of $1.02B. Wednesday's Relative Volume at 2.42, with the stock gaining 2.08% during the session. Call open interest at 3,805 contracts vs. put open interest at 824 contracts (Put/Call ratio at 0.22). Short float at 0.22%, which implies a short ratio of 0.55 days. The stock has gained 325.77% over the last year.

12. Abraxas Petroleum Corp. (NASDAQ:AXAS): Independent Oil & Gas Industry. Market cap of $316.98M. Wednesday's Relative Volume at 2.74, with the stock gaining 1.72% during the session. Call open interest at 851 contracts vs. put open interest at 202 contracts (Put/Call ratio at 0.24). Short float at 5.77%, which implies a short ratio of 9.48 days. The stock has gained 145.56% over the last year.

13. SunOpta Inc. (NASDAQ:STKL): Processed & Packaged Goods Industry. Market cap of $488.57M. Wednesday's Relative Volume at 2.13, with the stock gaining 1.35% during the session. Call open interest at 555 contracts vs. put open interest at 143 contracts (Put/Call ratio at 0.26). Short float at 0.14%, which implies a short ratio of 0.24 days. The stock has gained 134.8% over the last year.

14. Hecla Mining Co. (NYSE:HL): Silver Industry. Market cap of $2.25B. Wednesday's Relative Volume at 3.19, with the stock gaining 5.29% during the session. Call open interest at 319,036 contracts vs. put open interest at 94,222 contracts (Put/Call ratio at 0.3). Short float at 17.04%, which implies a short ratio of 4.77 days. The stock has gained 61.33% over the last year.

15. BioMarin Pharmaceutical Inc. (NASDAQ:BMRN): Biotechnology Industry. Market cap of $2.6B. Wednesday's Relative Volume at 2.12, with the stock gaining 0.72% during the session. Call open interest at 8,166 contracts vs. put open interest at 2,433 contracts (Put/Call ratio at 0.3). Short float at 11.78%, which implies a short ratio of 13.53 days. The stock has gained 52.16% over the last year.

16. China Yuchai International Limited (NYSE:CYD): Diversified Machinery Industry. Market cap of $998.84M. Wednesday's Relative Volume at 6.39, with the stock gaining 0.19% during the session. Call open interest at 12,468 contracts vs. put open interest at 3,889 contracts (Put/Call ratio at 0.31). Short float at 2.62%, which implies a short ratio of 1.56 days. The stock has gained 91.84% over the last year.

17. McDermott International Inc. (NYSE:MDR): Heavy Construction Industry. Market cap of $4.01B. Wednesday's Relative Volume at 1.63, with the stock gaining 0.88% during the session. Call open interest at 41,209 contracts vs. put open interest at 12,977 contracts (Put/Call ratio at 0.31). Short float at 1.22%, which implies a short ratio of 1 days. The stock has gained 43.4% over the last year.

18. Concho Resources, Inc. (NYSE:CXO): Oil & Gas Drilling & Exploration Industry. Market cap of $7.8B. Wednesday's Relative Volume at 1.53, with the stock gaining 0.24% during the session. Call open interest at 19,586 contracts vs. put open interest at 6,183 contracts (Put/Call ratio at 0.32). Short float at 4.49%, which implies a short ratio of 5.66 days. The stock has gained 82.31% over the last year.

19. TrueBlue, Inc. (NYSE:TBI): Staffing & Outsourcing Services Industry. Market cap of $765.32M. Wednesday's Relative Volume at 2.02, with the stock gaining 4.32% during the session. Call open interest at 413 contracts vs. put open interest at 140 contracts (Put/Call ratio at 0.34). Short float at 3.06%, which implies a short ratio of 6.03 days. The stock has gained 32.09% over the last year.

20. Regis Corp. (NYSE:RGS): Personal Services Industry. Market cap of $1.24B. Wednesday's Relative Volume at 1.75, with the stock gaining 1.7% during the session. Call open interest at 14,420 contracts vs. put open interest at 5,360 contracts (Put/Call ratio at 0.37). Short float at 14.54%, which implies a short ratio of 9.73 days. The stock has gained 32.37% over the last year.

21. Gran Tierra Energy, Inc. (NYSEMKT:GTE): Independent Oil & Gas Industry. Market cap of $2.B. Wednesday's Relative Volume at 1.54, with the stock gaining 5.93% during the session. Call open interest at 4,593 contracts vs. put open interest at 1,788 contracts (Put/Call ratio at 0.39). Short float at 0.45%, which implies a short ratio of 1.11 days. The stock has gained 52.92% over the last year.

22. USEC Inc. (USU): Industrial Metals & Minerals Industry. Market cap of $644.3M. Wednesday's Relative Volume at 2.12, with the stock gaining 2.36% during the session. Call open interest at 37,751 contracts vs. put open interest at 15,441 contracts (Put/Call ratio at 0.41). Short float at 14.95%, which implies a short ratio of 9.92 days. The stock has gained 37.32% over the last year.

23. Colonial Properties Trust (NYSE:CLP): REIT. Market cap of $1.43B. Wednesday's Relative Volume at 4.45, with the stock gaining 2.1% during the session. Call open interest at 560 contracts vs. put open interest at 240 contracts (Put/Call ratio at 0.43). Short float at 4.58%, which implies a short ratio of 5.18 days. The stock has gained 85.24% over the last year.

24. Solutia Inc. (NYSE:SOA): Specialty Chemicals Industry. Market cap of $2.53B. Wednesday's Relative Volume at 3.9, with the stock gaining 9.79% during the session. Call open interest at 10,570 contracts vs. put open interest at 4,546 contracts (Put/Call ratio at 0.43). Short float at 6.02%, which implies a short ratio of 5.06 days. The stock has gained 80.91% over the last year.

25. Pharmacyclics Inc. (NASDAQ:PCYC): Drug Manufacturer. Market cap of $368.53M. Wednesday's Relative Volume at 1.52, with the stock gaining 0.48% during the session. Call open interest at 45,880 contracts vs. put open interest at 19,775 contracts (Put/Call ratio at 0.43). Short float at 8.01%, which implies a short ratio of 9.86 days. The stock has gained 230.85% over the last year.

Disclosure: No positions