Background:
Investing in a company like Facebook (NASDAQ:FB) is a whole new world to me. I come from a school of thought in line with the Grahams and Buffetts of the world and look for large margins of safety in quality companies. I've never bought a stock with a P/E over 20 or one that does not pay a dividend.
However, FB has me intrigued. At 26 years old, I found myself looking at my asset allocations and felt inclined that I could afford to dedicate a portion of my portfolio to something that was a swing for the fences, something with huge growth prospects even if it lacked my beloved margin of safety. In this pursuit, I decided to give Facebook an extra-long look. A lot of people invest in companies like FB because they enjoy the product and know the name. I am not one of those people - I don't have a Facebook account and I'm not sure what exactly WhatsApp is. I do however recognize a quality company when I see one and love a good growth story.
This article is not intended sell you on Facebook's growth prospects as they are well documented and if you're reading this, you are probably already well aware. I will recap them briefly here as my line of thinking and thus the narrative for this article makes the assumption that these potential revenue streams will come to fruition but - the main goal of this article is to demonstrate why my thinking as a value investor sees FB as a safe bet. This article is for those that love the idea of FB's stock and revenue prospects but are telling themselves that they just cannot get on board with such an "overvalued" stock.
Growth:
There are two major growth indicators for FB. Its user base and revenues. Looking first at its active user base, FB is still seeing tremendous growth - especially outside of the U.S. & Canada.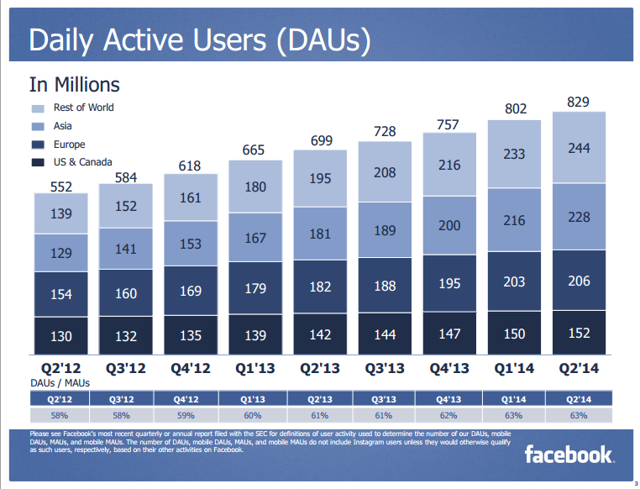 This is huge, especially considering there are some figures floating around that users in Asia tend to be in more of a purchasing mindset when using social networking sites.
The next growth story for FB is in its revenues: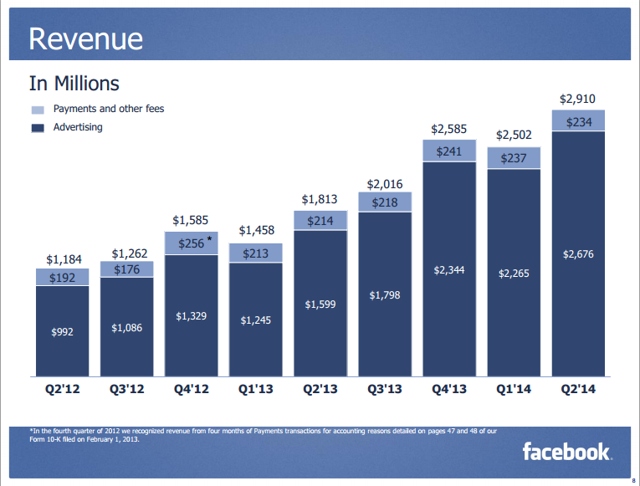 Again, you've probably heard the story on this growth and it's been fantastic. With this past performance and all the potential future revenue streams, I have never questioned Facebook's ability to generate and increase earnings.
Value:
As a value investor I don't usually invest in companies that I have to pay a huge premium for growth. However, I don't usually see many companies that are as transcendent or have as many fantastic attributes as FB. My primary goal is to invest in quality companies at a price that is fair to me and leaves me a margin of safety. FB does not have a huge margin of safety right now by traditional standards. Using Benjamin Graham's formula with the consensus estimates of 37% growth - that leaves a 2% margin of safety. Much smaller than the usual margin of safety I look for. For me, I like to see at least 33%, for others its 50-66%. In all likelihood, by the time I'd be able to invest in Facebook with that type of margin of safety, the growth story will have long been over. So knowing all of this, why is FB still a buy for me?
The Company:
The first desirable aspect of FB for me is as I said above - Facebook is a well-run, quality company. Mark Zuckerberg maintains his customer focused goals and consistently reminds us all that building a quality environment that people will use and love is more important than rushing into monetizing that product. You saw this in their delay to display ads right away on news feeds. You see this by Instagram and messenger not being fully monetized.
In addition, the company has a strong balance sheet and maintains low debt with a LT debt/equity ratio at 0.01 and with ever increasing cash flows will likely never need the debt.
These factors in addition to the consistent earnings and the remainder of the management team there lead me to believe this is a quality company with exponential growth potential that I would like to own.
What about the margin of safety?
For me, Facebook's safety net is their ever growing user base, huge cash reserves, and nearly recession proof product. These three points make me believe that the projected growth is just a matter of when and not if.
First looking at the user base, currently at 829 million active users. To put that in perspective, that is over 2.5x the entire United States population. That's 11% of the world's population according to Statistic Brain. Has that much of the world ever agreed on anything, let alone one product?
The second is the huge surplus of cash that Facebook has accumulated which gives them flexibility to fend off competitors and branch out into other areas just like some other beloved companies like Apple (NASDAQ:AAPL), Amazon (NASDAQ:AMZN), and Google (NASDAQ:GOOGL) for example.
The third is the actual product. Is there any economic hard time or geopolitical event that would cause people to stop using Facebook? I cannot think of one.
These three items put my mind to ease when thinking about any of the potential hang-ups I have with Facebook.
1. What if something else comes along and replaces Facebook?
2. The number of potential users, has to be finite - doesn't it? What happens when it is maxed out?
3. What happens if there is another recession?
All of these concerns can be answered with the points I outlined above. Facebook has such a large user base that it has created a substantial moat and huge barrier of entry that it would be extremely hard for any competitors to make a significant challenge to Facebook. In addition, FB has the cash reserves to outspend, acquire, and fend off competitors that way. They can also use that huge surplus of cash to venture into new businesses - all companies must pivot and change what they do at some point. Facebook's user base and financial stability have it well poised to take that on pivot, whatever it may be and I trust this management team to figure that out, whenever the time comes.
The final concern of another looming recession is a big one for me and part of the reason I am a value investor. I need the safety in case of a recession or economic downturn. But upon looking deeper at Facebook, I feel confident in their ability to weather any widespread economic downturns. At its core - Facebook, Instagram, and WhatsApp cost nothing to users. Employed, unemployed, rich, and poor alike will all use Facebook. Obviously though, Facebook does not make its money from users - it does from customers, the companies buying their space for advertisement. To see how the internet advertising business fares during a recession I looked for further than Google's Q4 earnings reports; mainly at their paid clicks revenue figures which increased 18% year over year during the peak of the recession. Looking at another competitor, Yahoo (YHOO) in the same timeframe as a significantly less innovative company, only saw a 2% decrease in their revenues excluding TAC. While not incredibly scientific, this leads me to believe that the business of selling online advertising space is a business well poised to handle some economic turmoil - especially by a company like Facebook.
Summary:
To me, this is one company that I feel confident that I need to buy now to get the value I desire in two years. I do not feel there will be an opportunity to buy into this growth at the deep discount that I usually seek. Instead, I find my margin of safety in Facebook's competitive advantages - scale and cash - which lead me to believe that the growth and future revenues are a sure thing.
From a pure valuation stand point, the 2 year forward P/E ratio of about 25x, the current 2% margin of safety, and the low PEG ratio justify this as a good value considering how safe the growth rate appears to be.
The last remaining question is when. Listening to the earnings call and still hearing Mark Zuckerberg speak about how it is more important to create quality products and environments that people enjoy to use first, before monetizing them is music to my ears as an investor looking to buy into a quality company. As a potential shareholder though, that sounds to me that at some point - that strategy will at some point disappoint investors when the company is unwilling to monetize a product as scheduled for the sake of getting it right first. When that happens, there will be a pullback and I will jump into Facebook with both feet and this value investor cannot wait.
Disclosure: The author has no positions in any stocks mentioned, and no plans to initiate any positions within the next 72 hours. The author wrote this article themselves, and it expresses their own opinions. The author is not receiving compensation for it (other than from Seeking Alpha). The author has no business relationship with any company whose stock is mentioned in this article.