In the current low-growth macro environment where many companies struggle to generate meaningful top-line growth, Federated National Insurance's (NASDAQ:FNHC) 2Q14 100%+ premium growth accompanied by 200% EPS growth is downright astounding. Fabulous fundamentals aside, there are other reasons why we think Federated may be the best of the domestic Florida Insurers or DFIs. Not least among them is the company's excellent reinsurance program, which is a credit to management considering the catastrophic risks embedded in Florida property insurance. However, despite great numbers and quality management, we are not excited about Federated going forward.
We outlined our basic concerns with DFIs yesterday in our earnings preview on the group. Our key industry concern of long-term profitability was discussed on FNHC's earnings conference call yesterday. The call also shed light on a few other issues worth mentioning.
Premium growth in the quarter was driven by an 80% increase in policy count on a year-over-year basis. There has probably been some population/building growth in Florida, but it is mostly a zero sum game. That means that policy growth came from market share gains as opposed to market growth.
Management cited customer service as a differentiating factor while discussing growth drivers on the call. We believe customer service is a strong point; however, we don't think it is enough of one to drive 80% growth. We find current explanations for growth incomplete and, though not quite a red flag, certainly puzzling.
We generally have a very favorable view of FNHC's reinsurance programs, but we were not happy to hear about the pending potential to accrue profits related to reinsurance structures. We view the profits as 'conditional' in that they can be reversed in the event of a future storm. Further, while the accruals lower GAAP expenses, the cash cost of reinsurance remains the same until the end of the contract, which could be several years down the road. We think it is unfortunate that FNHC has adopted the practice as it adds an element of hocus-pocus to what is generally a very good reinsurance program and expense structure.
Perhaps the most important disclosure on the conference call came in response to a very simple question. A caller asked management to break down the business model into its constituent elements with costs stated as a percentage of premiums.
This is a critical question not only for FNHC, but all DFIs, including Heritage Insurance (NYSE:HRTG), HCI Group (NYSE:HCI), United Insurance (NASDAQ:UIHC), and Universal Insurance (NYSEMKT:UVE).
The table below gives several views of the underwriting business model. It includes the 2Q14 results compared to the range of averages management gave on the call.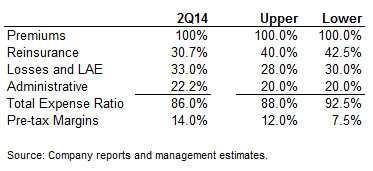 We find the table very illuminating. It shows that the current financial results are above management's long-term expectations for the business model. Relative to the lower bounds, it is nearly double expectations. This is particularly important in that reinsurance costs and loss expenses are low by historical standards.
The long-term total expense ratio is expected, with potentially significant variation, to range from 88% to 92.5%, implying pre-tax margins of 12% on the upper end and 7.5% on the lower end. It is clear that in the context of long-term expectations, current results reflect cyclical highs rather than sustainable earnings power. To our minds, this implies limited upside to fundamentals and plenty of downside risk.
Management provided detail regarding margins on the call noting that policies added after annual reinsurance negotiations lend an element of operating leverage as reinsurance costs are fixed. If policy growth is high in calendar 4Q, for example, the result is lower reinsurance costs as a percentage of premiums. This, in part, accounts for the lower than average reinsurance costs.
Management stated that reinsurance costs as a percentage of premiums will rise in a slower growth environment. In other words, the operational leverage currently evident in performance will go into reverse The growth issues anticipated to surface at some point are being addressed by other initiatives. However, negative operating leverage is still a concern would be particularly painful if it coincided with increases in reinsurance costs and loss expenses.
Conclusion
Federated may be the best in the DFI group, but we see several warning clouds on the horizon for the company. Policy growth is driving very good fundamentals and fantastic comparisons with previous periods, but we find it troubling that we can't quite explain the growth to our satisfaction. We reinsurance profit-share schemes are gimmicky. Although management is very upfront about how the process works, the sad news is that profits accrued via reinsurance structures may prove illusory.
Lastly, the conference call revealed that the business model is currently operating on high-octane fuel. The benefit of low expense structures is being amplified by growth-driven operating leverage. The long-term business model is expected to be significantly less profitable. Reinsurance and loss expenses are at both below historical averages. We think future variance is likely to drive cost structures up and margins down.
In the final analysis, FNHC's business model - and other DFIs, for that matter - generate single-digit pre-tax margins, on average. Margins are currently higher, but could easily be pressured significantly lower.
Despite good management and growth rates that sparkle in the darkness of a lackluster economic recovery, we do not think FNHC is attractive at current levels. The fine results appear baked into the stock. In our view, a price-to-book multiple of 2.3x is just too high a price to pay for what appear to be cyclically high returns, not sustainable earnings power.
Disclosure: The author is short UVE. The author wrote this article themselves, and it expresses their own opinions. The author is not receiving compensation for it. The author has no business relationship with any company whose stock is mentioned in this article.