Introduction
We are looking at Advance Auto Parts (NYSE:AAP) because of the company's consistent growth recently, and what it stands to benefit from a growing economy. We believe current valuation metrics do not reflect the potential that is still available for AAP. Even with the 50% increase over the last year, Advance Auto Parts has room to run as the economy accelerates and its growth rate increases further.
Company Overview
Advance Auto Parts retails aftermarket automotive parts, such as accessories, batteries, and maintenance items. It is focused primarily on the U.S. market. Some of its key statistics are as follows, courtesy of Yahoo Finance:
Trailing P/E - 21.9
PEG Ratio - .95
P/S - 1.2
ROE - 28.4
Advance Auto Parts is expected to report earnings on August 14th. The thirteen analysts covering the company have a consensus EPS forecast of $2.01. AAP has surprised on the upside each of the last four quarters. If EPS estimates are met for this quarter, the $2.01 would represent a 26% increase over the same quarter last year.
Implications of an Improving Economy
Obviously, growing GDP is good on the aggregate for businesses. Growing the economy means more people can spend more money on goods and services. For Advance Auto Parts and other aftermarket car repair retailers, growth in revenue may slow as more Americans purchase new cars, lessening the need for repairs. This would imply that these specialty retailers will suffer from an improving economy. And with aging cars hitting a record of 11 years old this year, more people may start purchasing new cars at a greater clip.
We believe that Advance Auto Parts can still continue its high growth rate for the foreseeable future, though. As one of the largest aftermarket automotive retailers, Advance Auto Parts is primed to take advantage of the growing economy, not suffer from it. People will still need car repairs, and even with consumers buying new cars, still others will stop putting off getting their air filters changed.
Last quarter, revenue grew 47% year-over-year and the company raised its total-year EPS target range to $7.30-$7.50, compared to last year's EPS of $5.32. The company's success last quarter was driven by the acquisition of General Parts, as well as an increase in comparable same-store sales of 2.4% and the opening of new shops. We expect AAP to continue this steady growth heading into its earnings release on August 14th.
Upside Potential
Advance Auto Parts is an above-average retailer with below-average valuation. While AAP experienced 47% revenue growth last quarter, the industry as a whole saw only a 5% increase. Its P/E of 22 is just below the industry average of 23, but the exceptional growth the company is experiencing warrants a greater premium. Looking at AAP's PEG of .95, this is also below the industry's 1.04 average. In fact, we believe that AAP's steady growth warrants a premium of at least that of its competitor Pep Boys (NYSE:PBY), which has a PEG of 1.81, even though its last quarter's earnings decreased $.04 from the same quarter last year.
Assuming that a more appropriate PEG ratio is reached, say a conservative 1.5, we can calculate a price target for Advance Auto Parts that would more appropriately reflect its growth. Doing so yields a target of roughly $200. This is over $75 above its current price of $124 as of this writing, a 60% upside.
A recent correction in the stock price represents a prime opportunity to take advantage of the company's surge in value over the past year.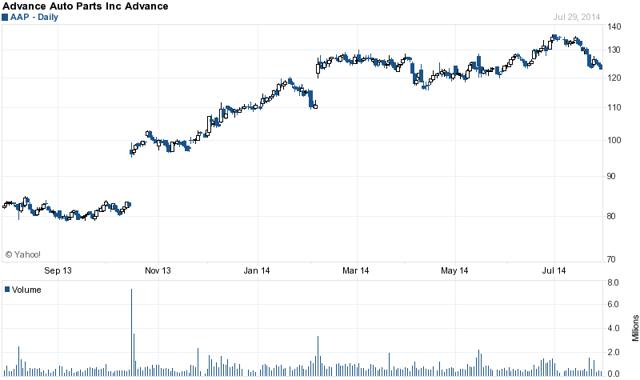 Source: Yahoo Finance
Conclusion
We believe that the growing economy is a good thing for Advance Auto Parts, not a detriment. Car owners will still need repairs, and will take advantage of overall increasing incomes to purchase parts they have been putting off during the recovery. While unemployment has steadily fallen and the economy has continued to emerge, AAP still reported huge growth last quarter, negating the view that an improving economy would hurt the aftermarket retailer. We expect nothing less for this quarter, which is why we see a $200 price target as of current expectations.
Disclosure: The author has no positions in any stocks mentioned, and no plans to initiate any positions within the next 72 hours. The author wrote this article themselves, and it expresses their own opinions. The author is not receiving compensation for it (other than from Seeking Alpha). The author has no business relationship with any company whose stock is mentioned in this article.